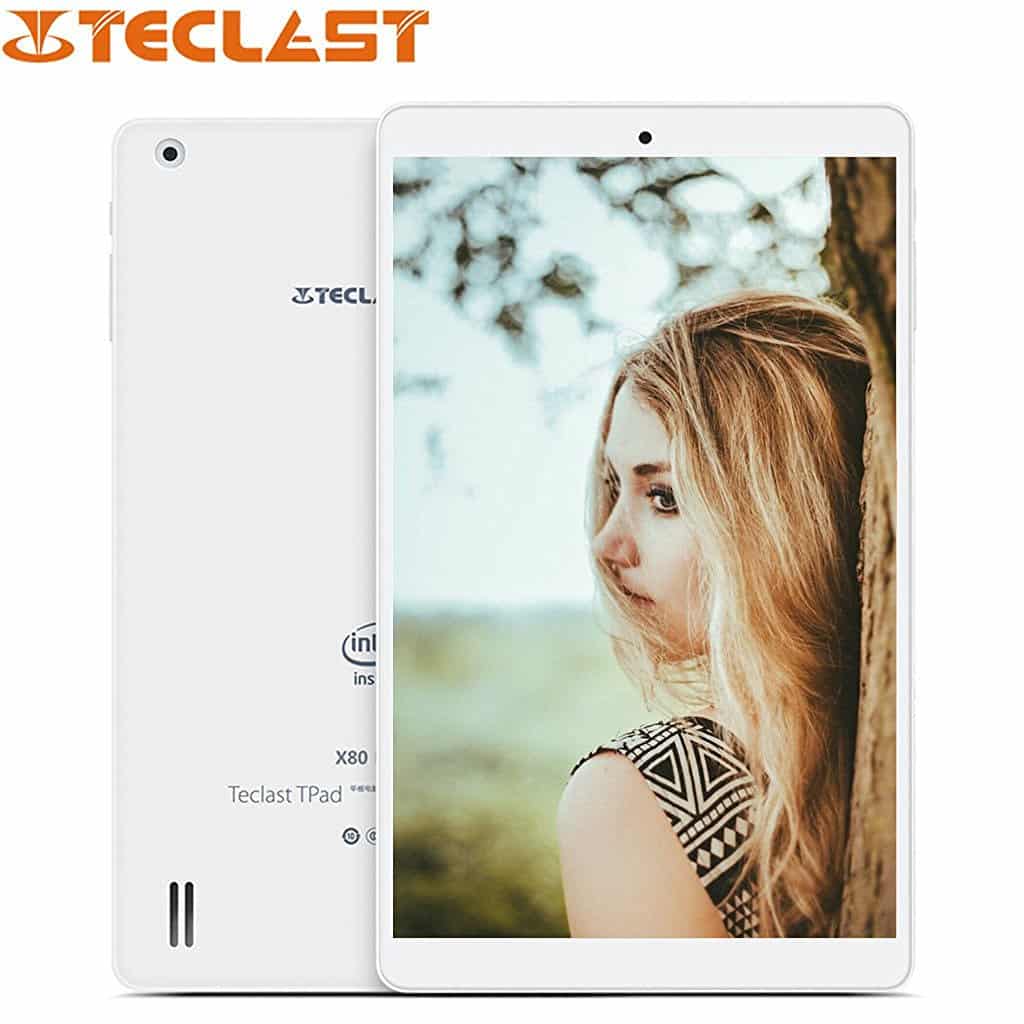 *This post may have affiliate links. For example As an Amazon Associate I earn from qualifying purchases, which means if you purchase something after clicking a link I may receive commission (don't worry, there's no extra cost to you). This helps support the work I put into the site.
The Teclast X80 Pro is a tablet for those who can't decide if they should get a Windows or Android tablet…this has both!
When you power up the Teclast X80 you can pick which operating system you want to load up. Once loaded they work completely independently of each other so you'll have to set up two tablets on a single device, for example you'll need to log in to all your accounts on both.
The X80 itself is a little chunky but has a good sized screen. As you'll see in the review video the screen is very reflective, it's not something you'll want to use in direct sunlight.
Both Android and Windows run very smoothly, to switch between them you'll need to reboot the tablet and this can take a while. One tip with Windows, make sure to switch to tablet mode, it's a much easier to use device when not in desktop mode.
I was pleasantly surprised at how well games run, they're smooth and responsive and you've access to both the Google Play store as well as the Windows Store so you've loads of applications and games to choose from.
Aside from the reflective screen the camera is the only other weak area, photos are washed out and the colour representation isn't very good. However, video was actually OK, it still suffered some colour issues but it didn't suffer from being juddery.
In the long run you'll likely just use one of the operating systems, but at least with this tablet you can have a good play around with both.
Available from Amazon UK: http://amzn.to/2cEYsrJ and Amazon USA: http://amzn.to/2cx24zT
Teclast X80 Pro 8 Inch Dual Boot Tablet Video Review
Teclast X80 Pro 8 Inch 1920 x 1200 IPS Screen Windows 10 & Android 5.1 Dual OS Intel Cherry Trail Z8300 Quad-Core 2GB / 32GB BT4.0 Tablet PC
Features
Dual OS ☛ Win 10 Home & Android 5.1 -- The latest systems with more excellent interface, compatibility and running effect
CPU ☛ Intel 14nm Cherry Trail Z8300 Quad Core (1.84GHz) -- the tablet pc is equipped with better performance, delivering plenty of power for multitasking and fueling casual games and movies
GPU ☛ Intel HD Graphic Gen8 -- this computer is better and faster when playing games and watching videos than the previous generation
RAM + ROM ☛ 2GB + 32GB (android 10GB + windows 22GB) TF card -- Up to 128GB (not included) -- offers ultra-fast surfing online, video playing and 3D gaming experience enhanced with DDR3 memory which makes all applications faster. Whether it is needed for work, study or play, this cheap tablet will suit your all needs
8 inch IPS screen ☛ 1920 x 1200 full HD IPS screen -- the laptop offers good experience for watching videos and browsing the Web, give you clear display and colorful visual effect
Amazon Fire HD 8 Case (8" Tablet, 7th and 8th Generation – 2017 and 2018 release), Black
1 new from £22.49
6 used from £9.37
Free shipping
Features
Designed by Amazon to protect and perfectly fit your Fire HD 8 (only compatible with 7th and 8th Generation - 2017 and 2018 release)
Slim design with built-in stand for hands-free viewing in landscape or portrait orientation
Full-cover case with magnetic closure keeps the cover securely shut with easy access to buttons, ports and cameras
Automatically wake your tablet or put it to sleep by simply opening or closing the case
Premium fabric with a microfibre interior to protect your screen and keep it clean
NuPro Fire HD 8 Screen Protector Kit (8" Tablet, 7th and 8th Generation – 2017 and 2018 release), 2-Pack, Clear
1 new from £9.99
Free shipping
Features
Designed to protect and perfectly fit your Fire HD 8 (only compatible with 7th and 8th Generation - 2017 and 2018 release)
Provides protection against scratches, smudges and dirt
Easy bubble-resistant installation
Includes two screen protectors, cleaning cloth and applicator card