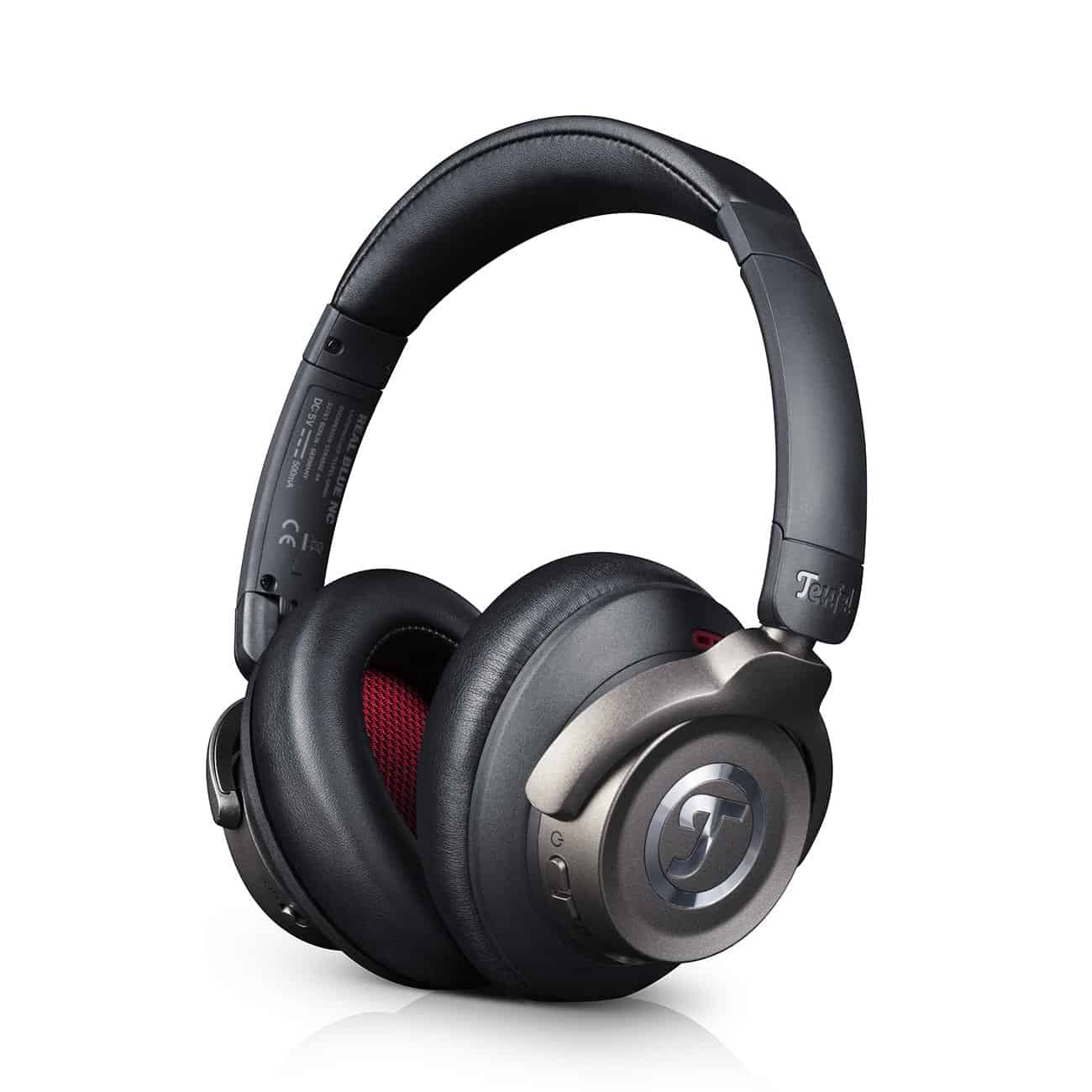 *This post may have affiliate links. For example As an Amazon Associate I earn from qualifying purchases, which means if you purchase something after clicking a link I may receive commission (don't worry, there's no extra cost to you). This helps support the work I put into the site.
Real Blue NC by Teufel are probably not a set of headphones you've ever heard of, Teufel are a new brand to the UK, but are an established maker of audio goodies based in Germany.
The Real Blue NC headphone are a set of high end Bluetooth headphones with optional noise cancellation.
These are a pricey pair of cans, but you'll get a premium feel the moment you get hold of the packaging. Opening up you're presented with a lovely storage/travel case, unzip this and you'll find the headphones and a small pouch.
The pouch contains the USB charging cable, aux cable (with in line controls) and a plane adaptor. In theory this little pouch is meant to be secured to the case via Velcro, easily removable for when you want to access something. In practice it seems to fall off as often as it stays in place, not really a problem but something to be aware of when opening the case.
The headphones look great, they have a couple of visible control switches but also feature hidden touch controls to keep the design as clean as possible.
Although you get a carry case you can also fold the headphones down if you just want to pop them in a bag rather than use the case.
On first look the ear cups looked like they might be a little small, but actually they were spot on the right size and very comfortable.
Sound quality is very good (as you'd expect for the price!), offering up a really nice balanced sound with a good amount of bass.
Worth noting the good amount of bass may not be the right amount of bass for you, if you're looking for bass heavy headphones these aren't the set for you, but if you're more interested in a good all-round sound the bass is just right.
The Real Blue NC do a good job of blocking out background noise in general, if want to really block things out you'll be pleased with the active noise cancellation feature.
This is a feature previously tried out on the August EP-750 and the result is comparable, flick the ANC switch on if you're in noisy situations such as flying, or, more frequently in this reviewers case, mowing the lawn, and it allows you to comfortably listen to music while still being able to hear the outside world, it sounds quieter and further away.
If you've had physical buttons on your headphones you might find the controls take a bit of time to adjust to, being touch controls there is no physical feedback, but once you get the hand of them you'll be swiping your way between volume settings and track skipping.
A nice feature is the ability to trigger your phones assistant. You'll see in the review video below Google Assistant can be triggered and commanded from the headphones, no need to take your mobile out to ask questions/issue commands to your pocket-based AI.
There's no shortage of headphone options available and as such some may find the price too expensive. Teuful have targeted the Real Blue NC at those looking for a higher quality set that look great, sound great, and do a great job of cancelling out noise.
At the time of review they're only available directly from Teuful: www.teufelaudio.com/uk/headphones/real-blue-nc-p16586.html
Teufel Real Blue NC Video Review
DURAGADGET Collapsible Metal Headphone/Headset Desk Stand/Holder - Compatible with the Teufel Real Blue NC|Teufel Real Blue|Teufel Real Pure
Buy Now
Amazon.co.uk
Features
Premium quality metal stand for presenting or laying down headphones and headsets
Universal black Metal holder, perfect for all keeping your headphones handy!
Base includes integrated EVA pads for anti-slip effect
Includes a base with integrated EVA pads for a firm, anti-slip effect
DIMENSIONS: 200 x 100 x 100mm
Soundcore Anker Upgraded Liberty Neo Wireless Headphones, Premium Sound with Pumping Bass, IPX7 Waterproof, Secure Fit, Bluetooth 5 Headphones, Stereo Calls, Noise Canceling, One-Step Pairing, Sports
1 new from £49.99
1 used from £40.37
Free shipping
Buy Now
Amazon.co.uk
Features
Expertly Tuned Graphene Drivers: As graphene's earliest pioneers, we have used our experience to create a new driver for Liberty Neo wireless headphones that takes full advantage of the material's remarkable properties. 100 times harder than steel and 35% lighter than traditional driver diaphragms, it oscillates with extreme precision to give your music a wider soundstage with exceptional accuracy and crystal-clear clarity across the entire frequency range.
Bass You Can Feel: Our exclusive BassUp technology analyzes your audio's low frequencies in real-time and instantly increases the bass by up to 43%. Stop simply listening to your music, and start really feeling it.
Rock-Solid Fit: Soundcore's proprietary GripFit technology enables wireless Headphones to sit securely and comfortably in your ears—simply slide in and twist to lock. Take on an intense workout or navigate city streets knowing your earbuds will stay firmly in place.
Unbreakable Connectivity: A customized antenna combines with Bluetooth 5.0 to create an almost unbreakable link between your wireless headphones and your device—even in busy places. The earbuds also automatically turn on when removed from the charging case and connect to the last paired device.
Power a Week of Listening: Using our Anker heritage and high-efficiency power cells, Liberty Neo delivers over 5 hours of wireless playtime from a single charge and an extra 15 hours from the compact charging case.