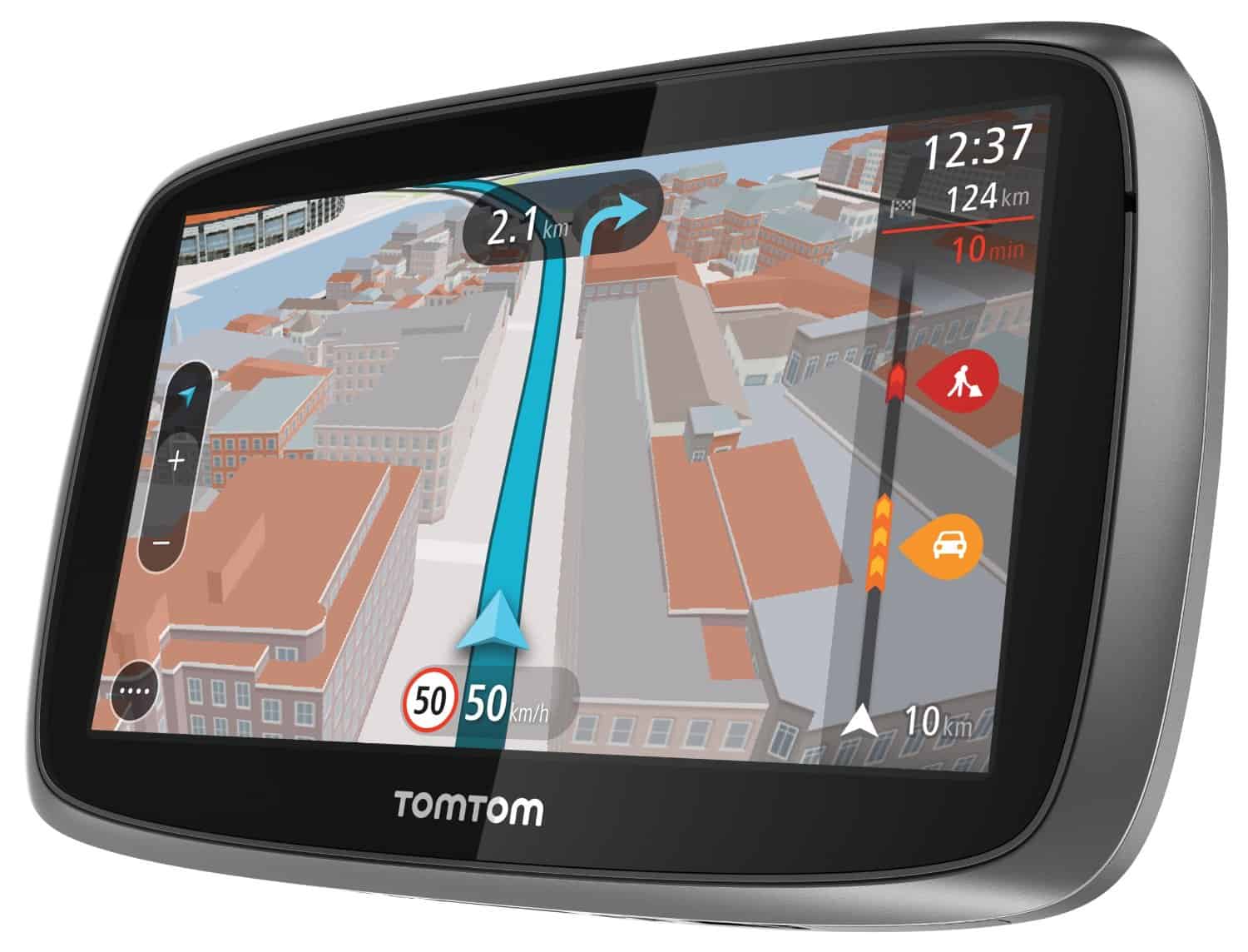 *This post may have affiliate links. For example As an Amazon Associate I earn from qualifying purchases, which means if you purchase something after clicking a link I may receive commission (don't worry, there's no extra cost to you). This helps support the work I put into the site.
TomTom Go 5000 represents one of the newest models in the revamped TomTom range.  Compared to older models (e.g. the TomTom Go 530) it's a huge upgrade, from the interface to the time taken to calculate routes.
The new TomTom range all carry the same software, the difference is if the unit is always connected to TomTom's traffic service or not and the screen size.  The TomTom Go 5000 is the connected 5″ unit, meaning you don't need to pair a mobile phone for traffic updates.  If you're happy to run the data connection through your mobile the 500 or 400 would be just as good, they would just require a little more setting up and wouldn't be as easy a unit to share between friends/family.

If you're use to a previous generation TomTom then the TomTom Go 5000 interface will be totally unfamiliar to you, it's been massively redesigned compared to previous units and I think it's better for it; even after owning it for years I could never find what I wanted in menus of the 530.  The new design means the options you're most likely to use most often are available far quicker than before.
Setup of the TomTom Go 5000 was very easy.  After a couple of trips, both short and long, I liked:
Automatic traffic updates
Fast route calculation / recalculation if you make a wrong turn
Pinch to zoom
Stripped back interface
Voice reads out names better than any other I've tried
Quick and easy to find parking and petrol
Unfortunately it's not all brilliant:
Search sometimes feels a bit slow to pull up results
Can be slow in giving instructions sometimes, asking me to turn after I've passed the junction
Even with the traffic information I've not actually been shown alternative routes on the small number of trips I've taken
Updating took hours and the first time it failed (using Chrome) and wiped all maps from the unit, after looking online I installed Java and used Firefox and the unit was correctly updated
The TomTom Go 5000 comes with an always on connection so you don't need to worry about setting the time or getting traffic updates via your mobile. I opted for this as a few different (non technical) people will be using the unit and it makes it much easier than having to explain Bluetooth to each person. If you are interested in traffic updates but don't want to pay for the always on connection I'm sure you'll be happy with the 500 or 400 which come in much cheaper than the TomTom Go 5000.
The search function can take a bit of getting use to, rather than wading through menus to select streets/towns/postcodes/points of interest you now have a simple search box in which you type whatever information you have (e.g. house number and postcode or point of interest name).  The results speed can feel a little slow and if you only enter limited information it's worth keeping in mind you can end up with search matches from Europe.
This is a good all round dedicated sat nav, throw in free life time map updates and traffic information and TomTom have suddenly made themselves relevant again to those drivers thinking about ditching a dedicated unit for a mobile app.
TomTom GO 5000 5-inch Sat Nav with European Maps and Lifetime Map and Traffic Updates - Black/Grey

2 used from £169.89
Features
5 inch touch screen - Fully Interactive Screen, Pinch, zoom and swipe
Lifetime TomTom Traffic - Award winning Traffic information, pins points exactly where a jam starts and finishes, Alerts you when you approach a jam too fast, provides you an overview of the traffic in your area
Lifetime Maps of full Europe (45 countries) - Always drive with the latest map, you can download at least four full map updates on your device every year
TomTom GO 5100 5 inch Sat Nav with World Maps (Sim Card and Unlimited Data Included) - Black

1 used from £139.00
Features
5 inch widescreen resistive touchscreen
Integrated mounting with flip screen
Featuring enhanced lane guidance and route planning
Equipped with fixed speed camera alerts and spoken street names
Free lifetime world map updates with the latest map and traffic updates
TomTom Sat Nav Windscreen Mount Click-and-Drive plus Car Charger and USB Cable for all TomTom 5'' and 6'' GO and GO Professional Models (check compatibility list below)
3 new from £24.99
3 used from £23.24
Free shipping
Features
Avoid on-the-road hassle: Enjoy a safer, more convenient drive with the TomTom Click-and-Drive Mount - preventing your sat nav from coming loose even on bumpy roads
Designed for windscreens: Affix your TomTom Sat Nav Click-and-Drive Mount to any spot on your windscreen, quickly and easily, thanks to the sat nav mount's integrated suction cup
Smart magnetic mounting: Docking and undocking your sat nav is quick and effortless - even with one hand - with the TomTom Sat Nav Windscreen Mount Click-and-Drive
Adjust your sat nav mount as you drive: Conveniently change the angle of your TomTom Click and GO Windscreen Mount to enjoy a ideal view, no remounting required, USB car charger and cable included
Dashboard compatability: Rather your sat nav mount be affixed to your dashboard, No problem - thanks to TomTom Sat Nav Adhesive Dashboard Mount Disks, available separately