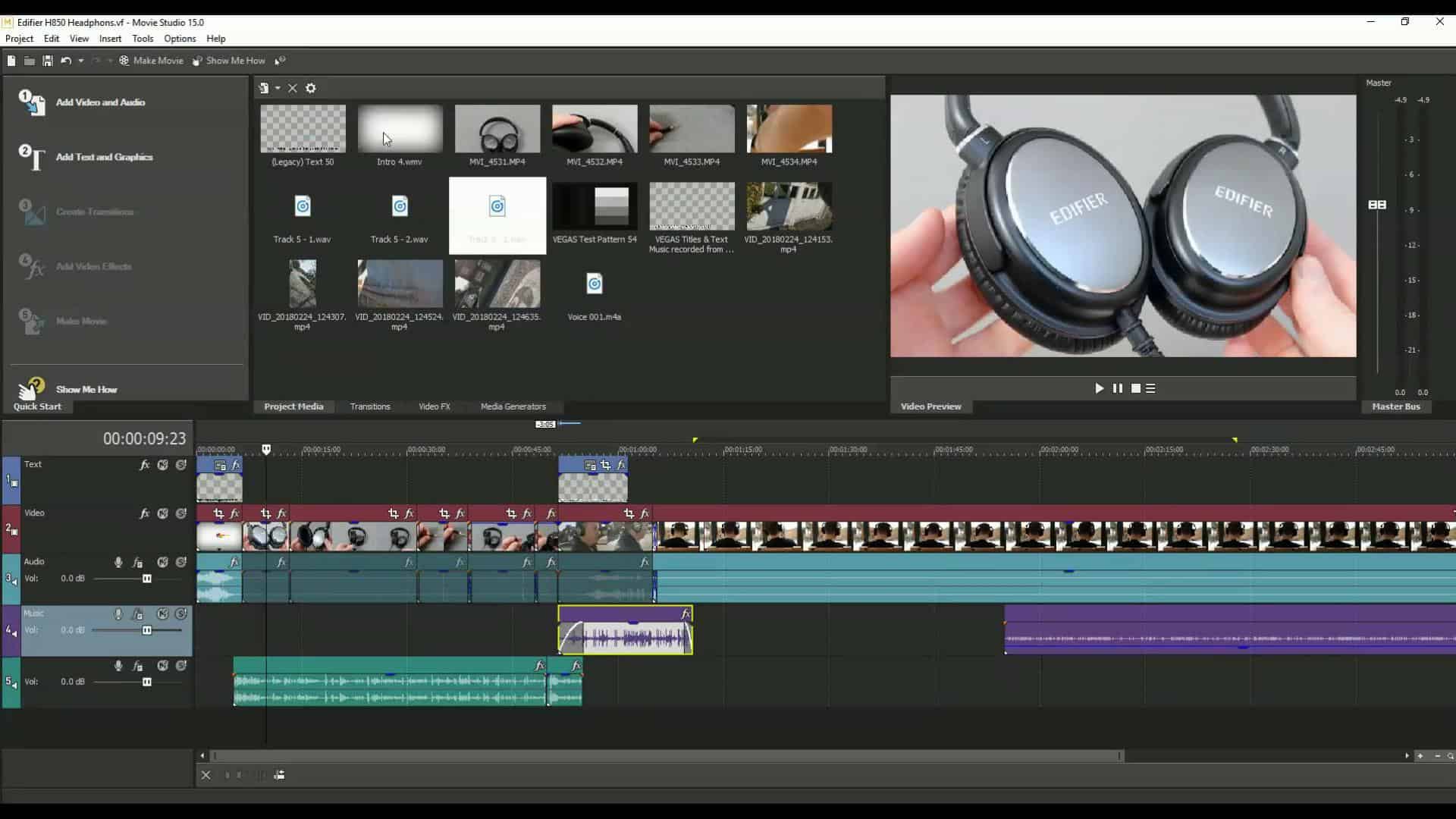 VEGAS Movie Studio 15 is a great starter package for those looking to get into video editing.  With great cameras widely available it's never been easier to capture footage and upload it to the internet for the world to see, but there is an important step between those two actions: editing the footage.
VEGAS is better known for the VEGAS Pro video editing suit, used by a lot of pro YouTubers.  This is very expensive and would be a huge investment to those looking to get started.  Step in VEGAS Movie Studio, lightweight, low cost, video editor that offers a very similar interface to VEGAS Pro.
If you've used a video editor before you'll recognise the common layout used by most editors, you've a timebar along the bottom, preview window and a project media container.  The Project Media section is central and has multiple uses, selected via the 'Project Media', 'Transitions', 'Video FX' and 'Media Generators' tabs.
You can use video, photo or audio files in your project and it's very easy to get started, just drag the chosen file down into the project time bar.  Video/image will be represented by a thumbnail, audio by a wave form.  A really nice feature is that to do a basic transition all you need to do is drag the next media clip over the first so they're overlapping.  Movie Studio 15 automatically cross fads both the audio and visual elements.
Those aiming for a certain look will love the Video FX tab, under which you'll find a wide range of video filters, it's just a matter of ragging the required FX onto your video, for example you can create black and white video.  The software is powerful enough to apply these in real time when previewing your footage.
If you need to add a voiceover you can do this, although it's not as user friendly as other software package.  First you have to prime the track you'll be using for voice over, then you need to remember to mute any rows that might play audio out while recording, then you need to find the record button, which is hidden away under in the menu under the preview window.  It's an awkward setup, and hopefully future version will have an option to mute all tracks while recording automatically.
Adding text is as easy as adding a video FX, head to the 'Media Generator' tab and select the text style you'd like to use.  There are a number of styles, but they're all basic and while they do the job they're not as good as the titling options in MAGIXs Movie Edit Pro.
Once you've completed your masterpiece it's easy to get it online as Movie Studio 15 offers a wide range of exporting options.  As well as being able to export to a wide range of file formats you can also upload directly to Facebook, Vimeo or YouTube.
For those looking to swap out free editing software, such as Windows Movie Maker, VEGAS Movie Studio 15 offer a great step up.  It's a fraction of the cost of VEGAS Pro and offers everything you need for quickly editing and uploading your footage.
VEGAS Movie Studio 15 is available from:
Amazon.co.uk: http://amzn.to/2GflLGX
Amazon.com: http://amzn.to/2GeCs5f
Amazon.ca: http://amzn.to/2HouHZY
VEGAS: http://bit.ly/2FAaCzq
VEGAS Movie Studio 15 Video Review
Hauppauge 1527 HD Rocket - Portable USB powered 1080p Game Capture recorder. Records direct to USB thumb drive in PC and Apple MAC MP4 format. NEW Live Stream to Twitch and Facecam features - Black/red
10 new from £122.29
1 used from £ 79.99
Buy Now
Amazon.co.uk
Features
Record your Xbox One, PS4, PC, Xbox 360 or WiiU game play in HD
Pocket sized, USB powered HD video recorder. Portable! Just plug in a USB thumb drive and start recording in HD!
Comes with a built-in microphone mixer for recording your game commentary
It also supports PC connect mode. Record, trim, upload and stream with Twitch and YouTube
HD PVR Rocket records video at up to 1080p and can record from either HDMI (without HDCP protection) or Component Video.
Elgato Game Capture HD - Xbox and PlayStation High Definition Game Recorder for Mac and PC, Full HD 1080p
1 new from £200.00
6 used from £ 64.75
Buy Now
Amazon.co.uk
Features
Record your Xbox, PlayStation or Wii U gameplay to a Mac or PC
Built-in live streaming to YouTube and Twitch
Unlimited Full HD 1080p capture
Flashback Recording feature to record retroactively
Immediate access and full control of your captures