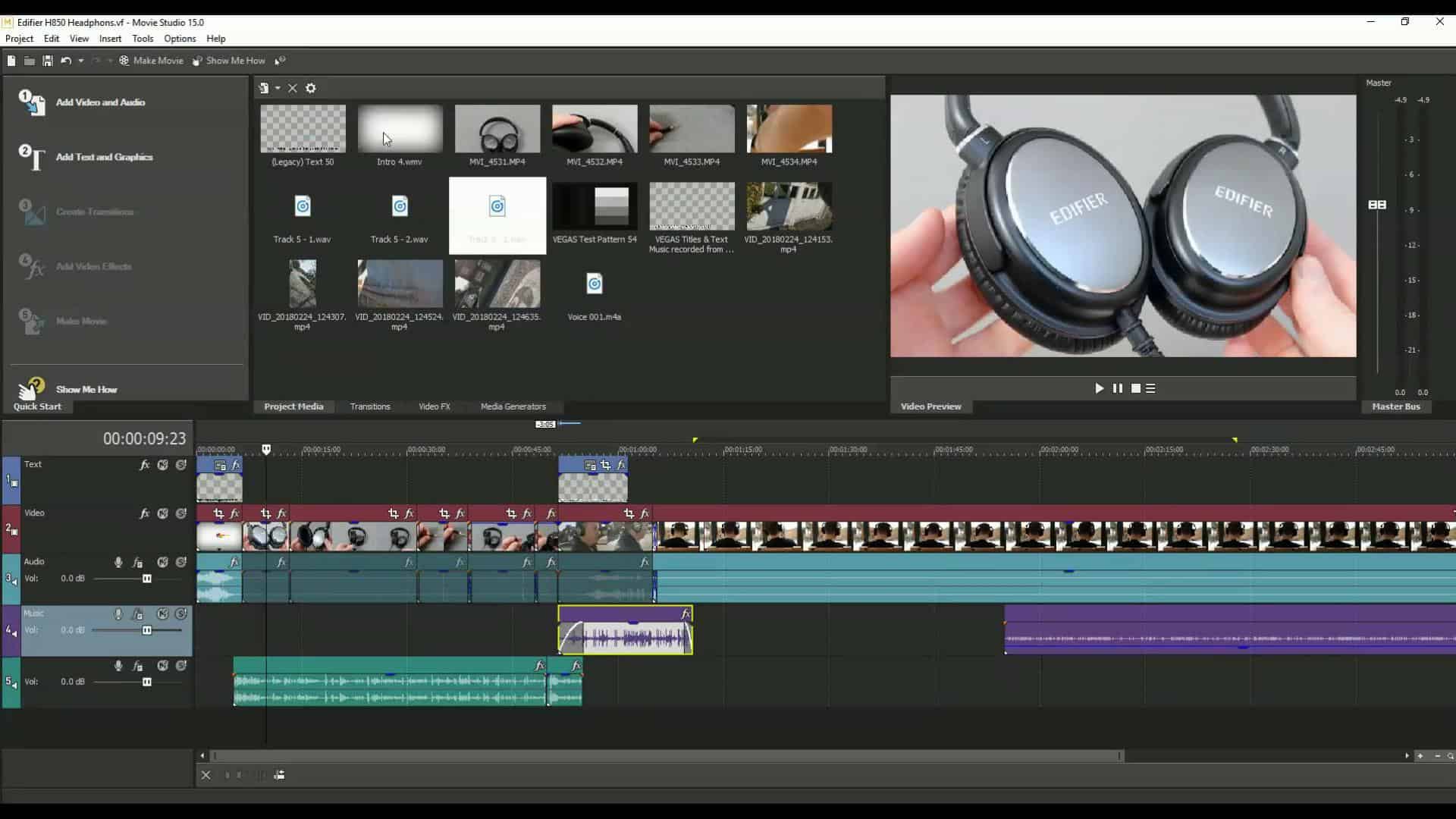 *This post may have affiliate links. For example As an Amazon Associate I earn from qualifying purchases, which means if you purchase something after clicking a link I may receive commission (don't worry, there's no extra cost to you). This helps support the work I put into the site.
VEGAS Movie Studio 15 is a great starter package for those looking to get into video editing.  With great cameras widely available it's never been easier to capture footage and upload it to the internet for the world to see, but there is an important step between those two actions: editing the footage.
VEGAS is better known for the VEGAS Pro video editing suit, used by a lot of pro YouTubers.  This is very expensive and would be a huge investment to those looking to get started.  Step in VEGAS Movie Studio, lightweight, low cost, video editor that offers a very similar interface to VEGAS Pro.
If you've used a video editor before you'll recognise the common layout used by most editors, you've a timebar along the bottom, preview window and a project media container.  The Project Media section is central and has multiple uses, selected via the 'Project Media', 'Transitions', 'Video FX' and 'Media Generators' tabs.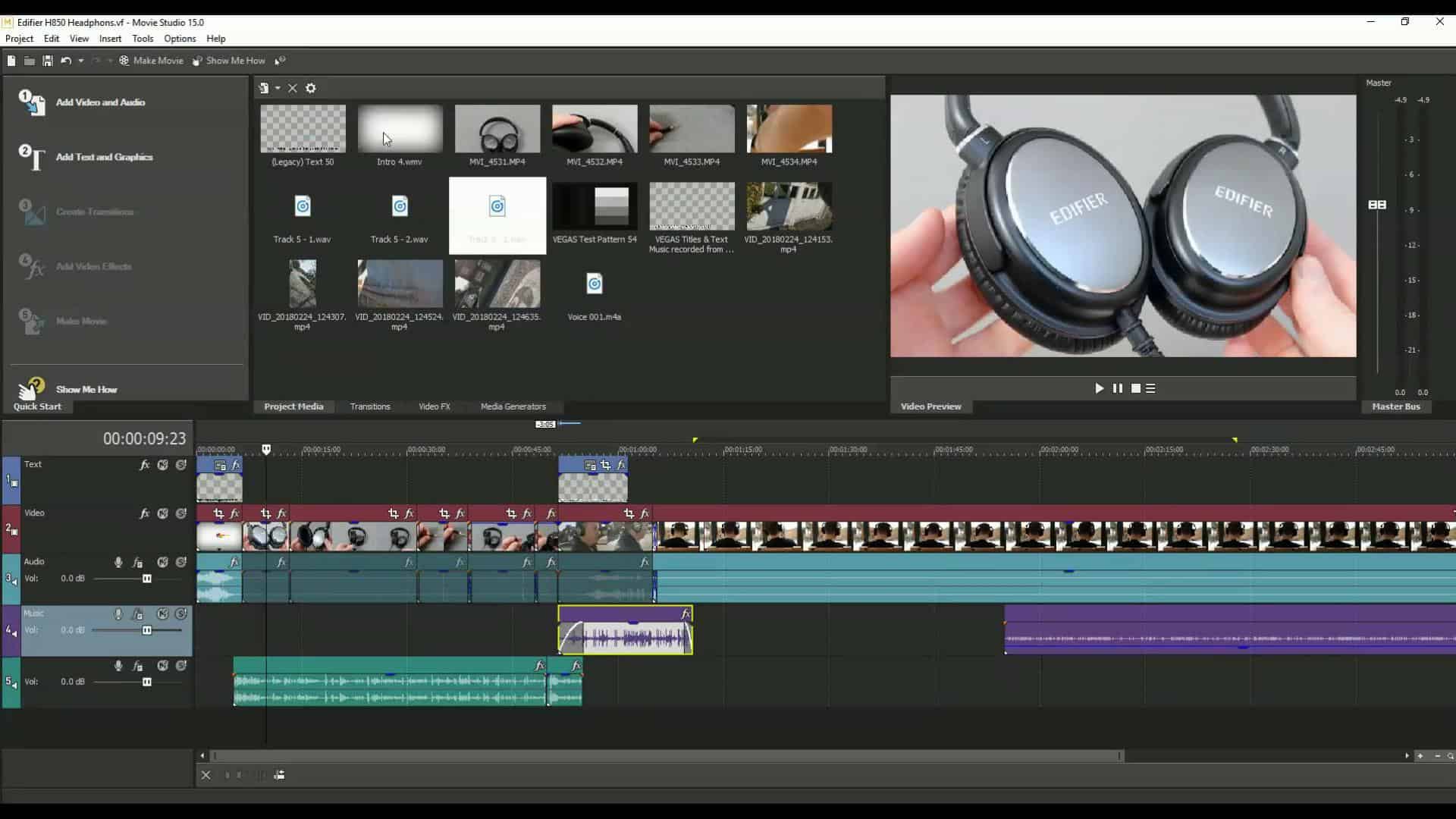 You can use video, photo or audio files in your project and it's very easy to get started, just drag the chosen file down into the project time bar.  Video/image will be represented by a thumbnail, audio by a wave form.  A really nice feature is that to do a basic transition all you need to do is drag the next media clip over the first so they're overlapping.  Movie Studio 15 automatically cross fads both the audio and visual elements.
Those aiming for a certain look will love the Video FX tab, under which you'll find a wide range of video filters, it's just a matter of ragging the required FX onto your video, for example you can create black and white video.  The software is powerful enough to apply these in real time when previewing your footage.
If you need to add a voiceover you can do this, although it's not as user friendly as other software package.  First you have to prime the track you'll be using for voice over, then you need to remember to mute any rows that might play audio out while recording, then you need to find the record button, which is hidden away under in the menu under the preview window.  It's an awkward setup, and hopefully future version will have an option to mute all tracks while recording automatically.
Adding text is as easy as adding a video FX, head to the 'Media Generator' tab and select the text style you'd like to use.  There are a number of styles, but they're all basic and while they do the job they're not as good as the titling options in MAGIXs Movie Edit Pro.
Once you've completed your masterpiece it's easy to get it online as Movie Studio 15 offers a wide range of exporting options.  As well as being able to export to a wide range of file formats you can also upload directly to Facebook, Vimeo or YouTube.
For those looking to swap out free editing software, such as Windows Movie Maker, VEGAS Movie Studio 15 offer a great step up.  It's a fraction of the cost of VEGAS Pro and offers everything you need for quickly editing and uploading your footage.
VEGAS Movie Studio 15 is available from:
Amazon.co.uk: http://amzn.to/2GflLGX
Amazon.com: http://amzn.to/2GeCs5f
Amazon.ca: http://amzn.to/2HouHZY
VEGAS: http://bit.ly/2FAaCzq
VEGAS Movie Studio 15 Video Review
Sony Movie Studio HD: Platinum Suite 12 (PC)
1 new from £79.99
1 used from £33.76
Free shipping
Buy Now
Amazon.co.uk
Features
edit video in nearly any format including hdv, avchd and 3d mvc
produce movies with special effects and transitions
create dvds and blu-ray discs with custom menus and graphics using dvd edit and produce movies with special effects and transitions
create dvds and blu-ray disc media with custom menus and graphics
includes sound forge audio studio 10
Red Curtain Backdrop Banner, Large Red Carpet Fabric Photography Backdrop Customized Photo Background Studio Prop for Party Decorations, 6 x 4 Ft
1 new from £10.99
Free shipping
Buy Now
Amazon.co.uk
Features
Large size: the red curtain backdrop is 180 x 120 cm/ 6 x 4 ft, which is large enough for the party decorations and photography, adding an extra touch to party theme
Durable material: the red carpet backdrops banner is made of durable polyester fabric, light weight; It can be folded and easy to carry, washable and tear-resistant
Easy to use: this red curtain background comes with 1 large section, along with 20 ft/ 6 m string, easy to hang through the copper grommet; Suitable for indoor and outdoor use
Apply to: this red carpet fabric photography backdrop is a great addition to most occasion party, including birthday, wedding, activities or make video, baby, business, etc., can meet your various needs, amazing to boost atmosphere for festive occasions, making your party an impressive event
Memorable festive party banner: studio prop party decoration is designed with red carpet sign, enables you to write some words on it; It can be hung on door, wall, etc.