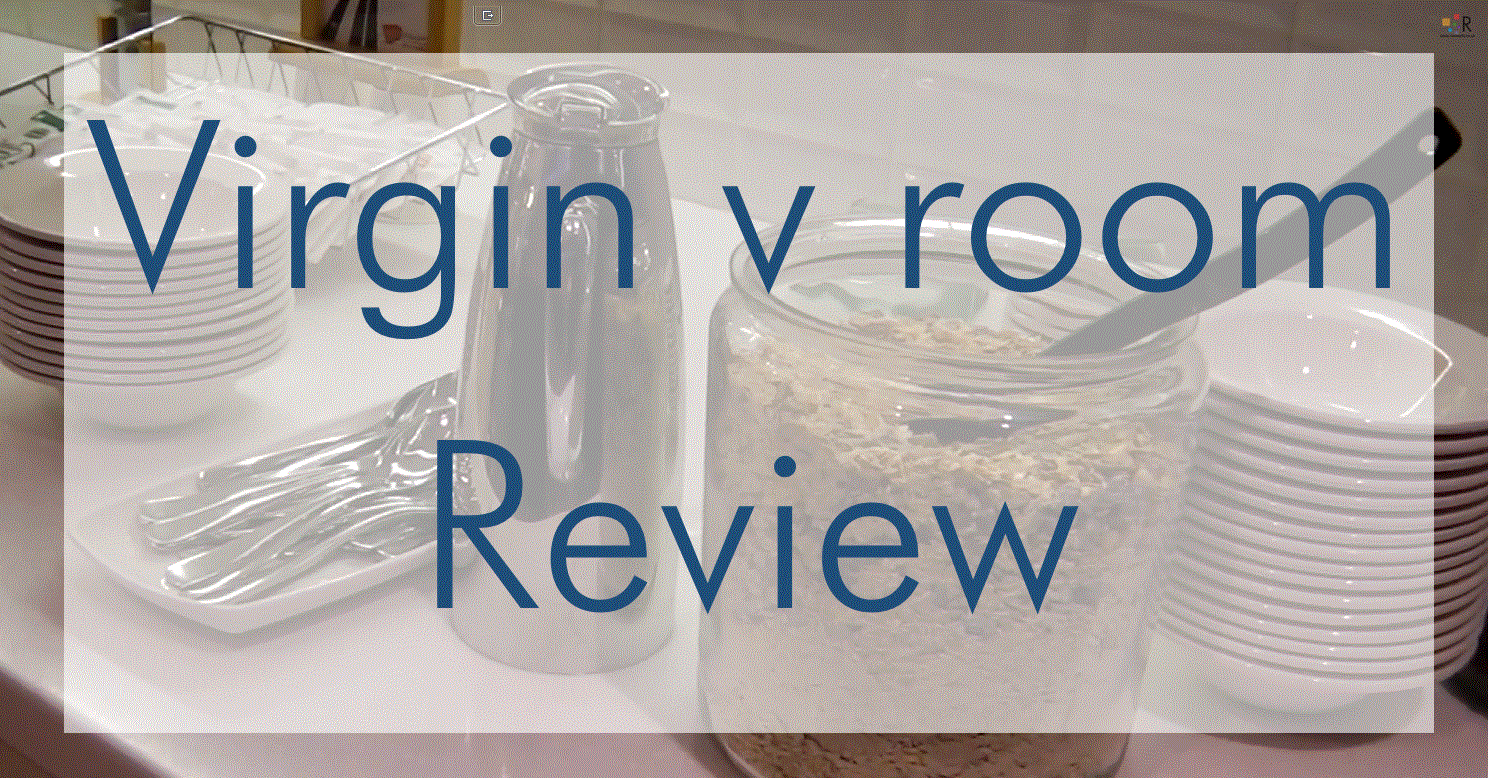 This Virgin v-room review is part of our Florida Reviews Special.
The Virgin v-room aims to make the start of your holiday that little bit better.  For most trips you do all your packing, make it to the airport, pass through security and are then faced with wandering around shops looking at things you don't want to buy or sitting on uncomfortable chairs waiting for your flight to start boarding.
The v-room offers a new alternative, it gives you somewhere to get a bit to eat, sit in comfortable chairs and generally relax before your flight.  This review is based on the Manchester airport v-room, but there is also one in Gatwick as well.  Booked directly with Virgin while sorting out a trip to Florida, the v-room is a paid extra costing £22 per person at the time of review.  There is limited seating, once the room is full you won't be able to gain access to it.  This has the advantage that you're guaranteed somewhere to sit and that the room doesn't become over crowded.
Upon arrival we were greated by a member of staff who explained the v-room and showed us to our allocated seats.  The room is split into a couple of different sections, there was the bar seating area, where we were, a family seating area, where noisy children are, a buffet area and a Virgin rep area.  Seats were comfortable and there were several TVs dotted about (with subtitles to avoid disturbing travellers).  The days newspapers and wifi access was available for use by any mobiles, laptops or tablets.
An all you can eat buffet is available, we travelled early morning so it had a good range of breakfast foods.  Cereal, pastries, fruit, tea, coffee, tea and cooked breakfasts were all readily available and you're able to have as much food as you'd like.
There is a Virgin holidays department within the v-room allowing you to plan your next holiday before you've even set off on your current holiday!  The family area is great for those with kids, they have a games room and a dedicated Kinect room, with this being self contained it means you don't need to worry about the kids running around and getting lost.
The only extra you might pay is if you fancy a tipple from the bar, otherwise everything I've mentioned is included in the price.
Once your flight opens for boarding the staff let you know and tell you where to go to.  The v-room made for a very relaxing and pleasant start to the holiday, much better than being sat in uncomfortable chairs without anything to do.
The Virgin v-room was a great investment and one that'll be made again next time I fly with Virgin Atlantic.  I travelled with Virgin Atlantic who did a good deal on a complete package (so flights, hotel, transport, park tickets etc) and you can book direct via this link: http://bit.ly/1loc8bN (aff) or check prices via the search box below:
High Gain Freeview TV Aerial - August DTA240 - HD Portable Indoor/Outdoor Digital HD Antenna for USB TV Tuner / DVB-T Television / DAB Radio / SD / 4K - With Magnetic Base
2 new from £11.95
Free shipping
Features
Optimized for digital reception - Receive clear Freeview broadcasting
Magnetic base - Improve reception by harnessing large metal surfaces
Compact and lightweight - Perfect for portable TV's and multimedia players
Standard coaxial cable - Ideal for use with all Digital ready devices
4.9ft cable - Easy and flexible positioning for best reception
BT 600 Dual-Band Wi-Fi USB Dongle - Black
4 new from £19.50
2 used from £ 11.99
Free shipping
Features
Upgrade any device to dual-band Wi-Fi for a faster and more reliable connection
Works with all Broadband providers
Reliable high speed data transfer (N600) for downloading music, multiple HD/3D video streaming and playing online games
Connect via USB, compatible with Microsoft Windows XP (SP2 and above)/Vista/7/8
Easy set-up, simple push-button connection to your hub/router
Mountright MK001 Cantilever TV Stand with Swivel Bracket (27 to 55 Inch) Black Television Unit for LED, LCD, OLED, Plasma Screens | Single Shelf Mount Support
2 new from £59.95
Free shipping
Features
Modern Home Addition - The perfect cantilever black TV stand for contemporary living rooms, bedrooms, or kitchens, put it anywhere you want to maximize viewing.
Quick Swivel Design - This versatile TV stand with bracket lets you mount a television and adjust it 30° to the left or right for anti-glare, HD viewing.
Proper TV Support - More versatile than a cheap TV stand, this slimline TV stand supports 27" to 55" LED, OLED, and LCD screens, gaming consoles and décor.
Improved Safety and Stability - This TV unit is designed with black safety glass with polished square edges, a heavy-duty steel framework, and slip-resistant rubber feet!
5-Year Warranty - Every Mountright television stand is backed by an unbeatable warranty, 24/7 technical support, and long-lasting, premier quality you can trust.