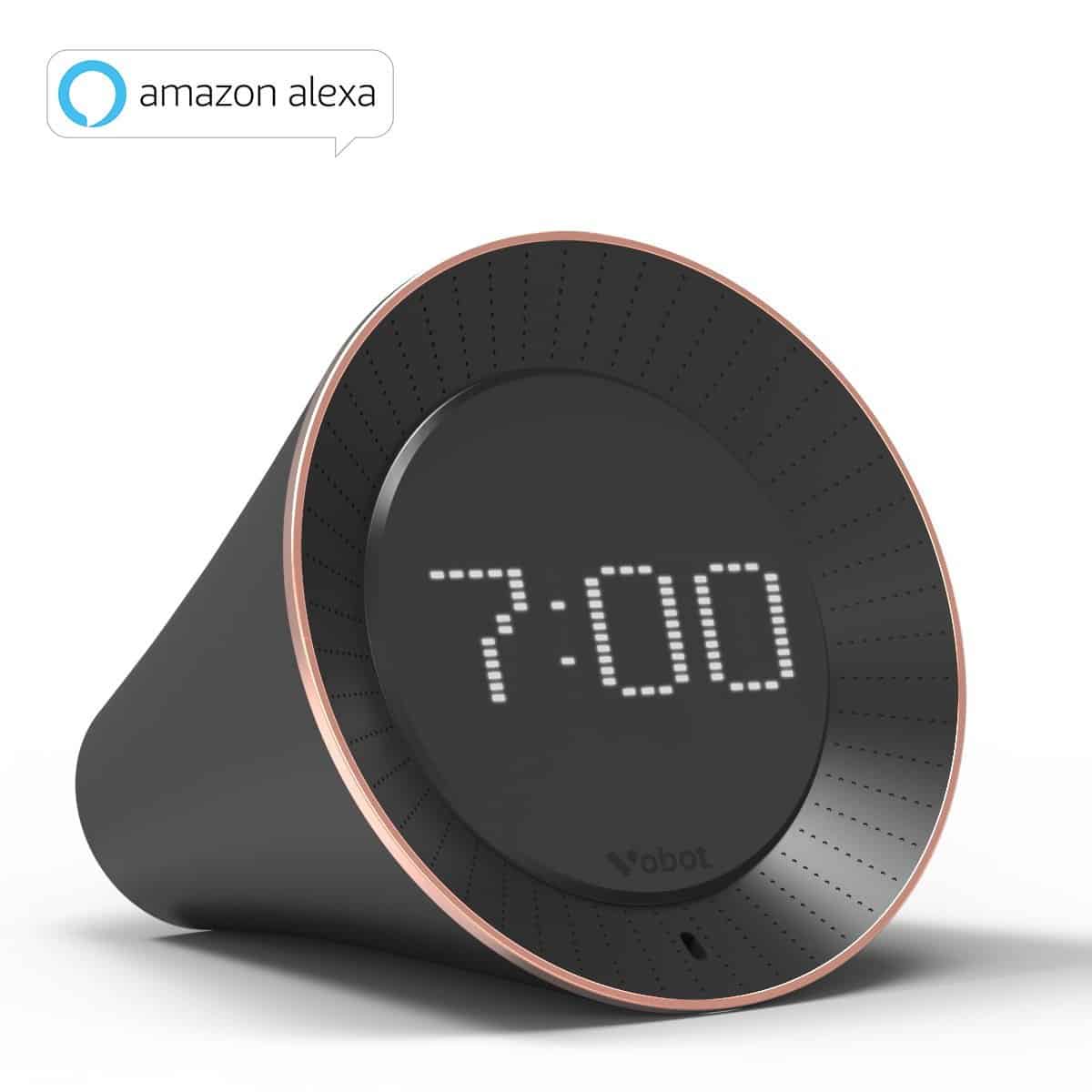 *This post may have affiliate links. For example As an Amazon Associate I earn from qualifying purchases, which means if you purchase something after clicking a link I may receive commission (don't worry, there's no extra cost to you). This helps support the work I put into the site.
The Vobot Smart Alarm clock adds to the growing number of devices integrating Amazon Alexa to add smart features to an otherwise standard device.
Rather than taking on the high end market and going up against the likes of the Amazon Echo or Sonos One the Vobot is aiming to win over those interested in the Amazon Dot, the smaller, cheaper, alternative to the Echo.
To offer a proper alternative the Vobot needs to do something different to the Dot, and it does that by adding a small screen.  This screen means the Vobot is a clock most of the time, displaying a range of information on it's little screen.
The screen is really good, clear enough to see during the day, at night it doesn't light up the room and cause disruption to sleep.  You can have a range of information displayed on the screen, for example time, day, date, or battery level, and it'll cycle through the information (how quick it does this is up to you).
You'll have noticed it shows battery information, that's because, unlike the Dot, this has a rechargeable battery built in allowing you to take the Vobot away from the bedside, for example you could take it in the garden.  Providing it's got a WiFi connection all the functionality continues to work.
A nice little easter egg to try is to hold the volume down button for 7 seconds, this activates a game of breakout on the screen.  It's not something you'll play a lot but it's good fun to have a go and see if you can beat the game.
As with the Dot it has a line out connection allowing you to connect this to your existing speakers.
Being an alarm clock it has the ability to set an alarm, when it goes off it's a very pleasant noise that increases in volume until you either turn it off or snooze it.
So far this all sounds a lot better than the Amazon Dot, but there are some issues to be aware of.  For a start it doesn't have the active listening ability of the Dot, you have to tap the top of the unit to make it listen to your voice.  Some may see this as a positive, disliking the always listening nature of Alexa products, however as the activation button can be tricky to tap it proved to be fairly annoying to use.
When you do manage to hit the button you can use the same commands you would on a Dot, for example to control the Lifx smart bulbs.
Unfortunately there is one common in particular that doesn't work and shows there to be a a major service missing from the Vobot: Spotify.  Ask Vobot to play a song from Spotify and you'll be told that's not possible.  It's fine to play from Amazon music, but if you're use to being able to listen to Spotify this is very disappointing and hopefully something that can be updated in a future software update.
Overall the Vobot offers an interesting alternative to the Dot.  The lack of voice control would be fine if the activation button was easier to hit (for example just tap anywhere on top), however the real benefit of the Vobot is the screen, it makes this a great bedside companion and is a really good bedside clock that benefits from having Alexa functionality built in.
The Vobot is available from:
– Amazon UK: http://amzn.to/2kf5pEj
– Amazon.com: http://amzn.to/2BEgRDv
– Amazon.ca: http://amzn.to/2kIfyJ5
– eBay: http://ebay.to/2CTJgmF
Vobot Smart Alarm Clock with Alexa Video Review
Amazon Echo Spot, Smart Alarm Clock with Alexa - White
1 new from £79.99
Free shipping
as of 09/07/2020 11:50 pm
Features
Echo Spot is designed to fit anywhere in your home. Use 2nd generation far-field voice recognition to watch video flash briefings, see music lyrics (UK only), weather forecasts, to-do and shopping lists, browse and listen to Audible audiobooks, and more. All hands-free. Just ask.
Echo Spot connects to Alexa, a cloud-based voice service to play music, read the news, answer questions, set music alarms, control your smart home, and more.
Just ask to play a song, artist or genre, and see lyrics (UK only) with Amazon Music. Also, stream music and books from Apple Music, Spotify, TuneIn and Audible.
Use the built-in speaker or connect to speakers through Bluetooth or a 3.5 mm stereo cable. With multi-room music, you can play music on your Echo devices in different rooms (available for Amazon Music, TuneIn and Spotify. Bluetooth not supported).
Control your compatible smart home devices. Ask Alexa to turn on your lights, show baby monitors and front door cameras, and lock your doors. Plus, control your thermostats, plugs and more.
iHome Alexa Compatible Bedside Clock, Amazon Dot Docking Station & Bluetooth Speaker
4 new from £55.00
Free shipping
as of 09/07/2020 11:50 pm
Features
Specially designed for the Amazon Echo Dot (works with both 1st & 2nd Gen)
Large negative backlit clock display & 1 A USB charging for mobile devices
Docking Solution – dedicated aux-in and Micro USB cable connections to power & play Echo Dot audio
Let Alexa control your home from the bedside. Amazon Echo Dot works with iHome Smart Plugs (sold separately) and many more smart home solutions
Display dimmer with 8 levels of capacitive touch for bright-ness control
Portable Battery Speaker for Dot 3rd Generation&Smart Devices, GGMM D7 Dot Accessories Rechargeable Battery Base with 7 Hours playtime, Increase Speakers Double Volume, 360° Sound (Dot Not Included)
2 new from £34.99
Free shipping
as of 09/07/2020 11:50 pm
Features
♫ true 360-degree portable speaker for Dot 3nd Generation, make your smart speakers unfettered, stylish fabric grill and premium speakers. Use your DingDong, Xiao Ai, Xiao D or Alexa Voice interaction to set alarms, listen to music, tune in to your favourite radio station to listen to the morning headlines and more. Enjoy music on the go to your bedroom, kitchen, or short-distance picnic
♫ The D7 portable speaker provides both powers to your dot as well as extra double volume, thanks to its in-line power connection cable and built-in 20W stereo speakers for optimized sound performance.3-Inch (80mm) low & medium frequency driver & 1.2-Inch (30mm) dome tweeter dual passive radiator, can improve your speaker sound, and provide professional audio experience to you
✿GGMM d7's ingenious design allows you to integrate the device with dock perfectly without any flaw. Just three steps to combine them together and start using a portable Alexa smart speaker. (For detailed installation steps, please watch video on the left)
Built-in 5200mAh rechargeable battery s up to 7 hours playtime at 50% volume. D7 speaker can also play songs directly on phones, tablets, MP3, speaker, Echo Dot 3rd generation and other smart Devices via aux connection, which can play music for up to 36 hours.(Aux cable is not included)
The D7 speaker continues the device's rounded design, ingeniously integrated D7 with it. GGMM D-Series speaker team is committed to providing customers with the best Alexa Echo Dot integrated portable speakers