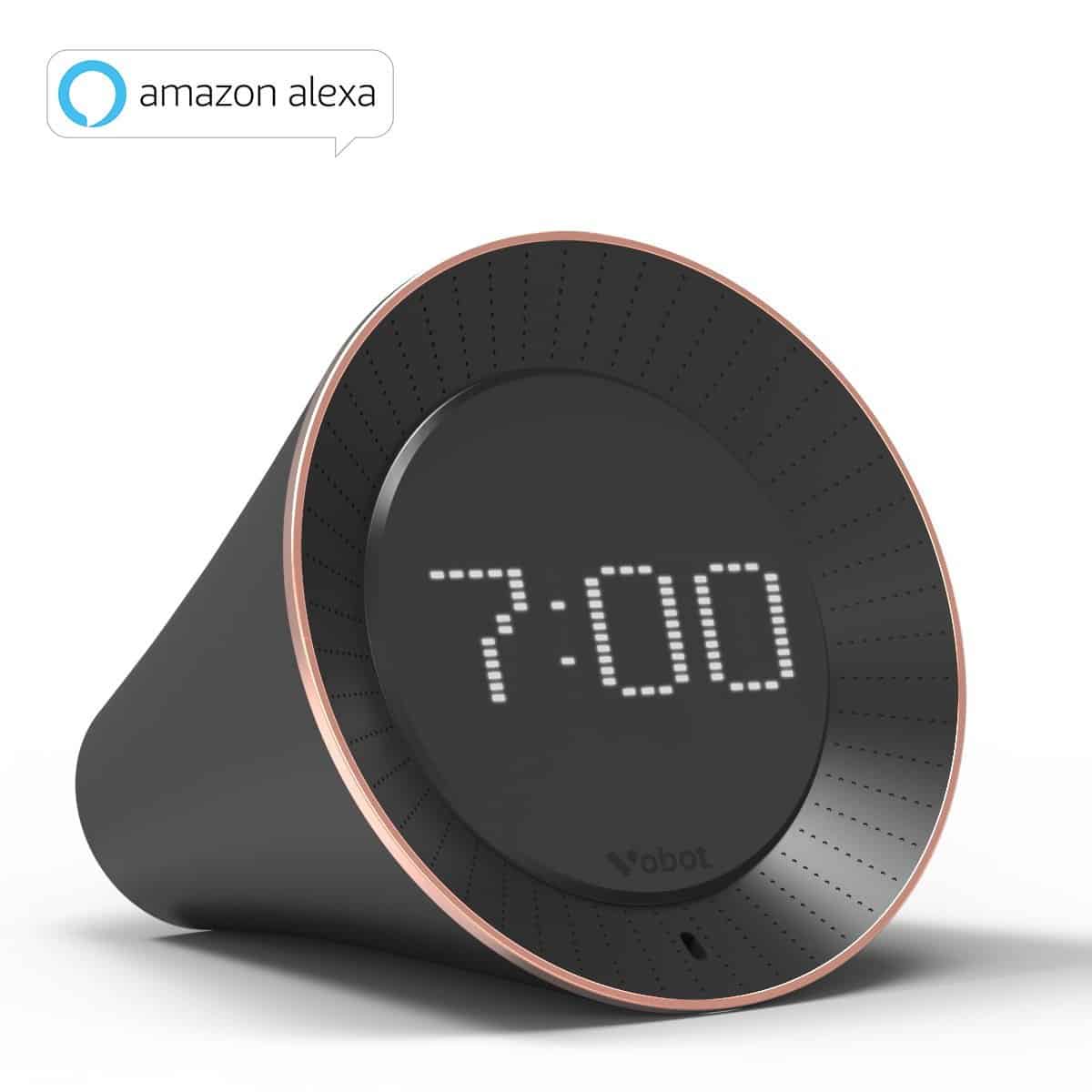 *This post may have affiliate links. For example As an Amazon Associate I earn from qualifying purchases, which means if you purchase something after clicking a link I may receive commission (don't worry, there's no extra cost to you). This helps support the work I put into the site.
The Vobot Smart Alarm clock adds to the growing number of devices integrating Amazon Alexa to add smart features to an otherwise standard device.
Rather than taking on the high end market and going up against the likes of the Amazon Echo or Sonos One the Vobot is aiming to win over those interested in the Amazon Dot, the smaller, cheaper, alternative to the Echo.
To offer a proper alternative the Vobot needs to do something different to the Dot, and it does that by adding a small screen.  This screen means the Vobot is a clock most of the time, displaying a range of information on it's little screen.
The screen is really good, clear enough to see during the day, at night it doesn't light up the room and cause disruption to sleep.  You can have a range of information displayed on the screen, for example time, day, date, or battery level, and it'll cycle through the information (how quick it does this is up to you).
You'll have noticed it shows battery information, that's because, unlike the Dot, this has a rechargeable battery built in allowing you to take the Vobot away from the bedside, for example you could take it in the garden.  Providing it's got a WiFi connection all the functionality continues to work.
A nice little easter egg to try is to hold the volume down button for 7 seconds, this activates a game of breakout on the screen.  It's not something you'll play a lot but it's good fun to have a go and see if you can beat the game.
As with the Dot it has a line out connection allowing you to connect this to your existing speakers.
Being an alarm clock it has the ability to set an alarm, when it goes off it's a very pleasant noise that increases in volume until you either turn it off or snooze it.
So far this all sounds a lot better than the Amazon Dot, but there are some issues to be aware of.  For a start it doesn't have the active listening ability of the Dot, you have to tap the top of the unit to make it listen to your voice.  Some may see this as a positive, disliking the always listening nature of Alexa products, however as the activation button can be tricky to tap it proved to be fairly annoying to use.
When you do manage to hit the button you can use the same commands you would on a Dot, for example to control the Lifx smart bulbs.
Unfortunately there is one common in particular that doesn't work and shows there to be a a major service missing from the Vobot: Spotify.  Ask Vobot to play a song from Spotify and you'll be told that's not possible.  It's fine to play from Amazon music, but if you're use to being able to listen to Spotify this is very disappointing and hopefully something that can be updated in a future software update.
Overall the Vobot offers an interesting alternative to the Dot.  The lack of voice control would be fine if the activation button was easier to hit (for example just tap anywhere on top), however the real benefit of the Vobot is the screen, it makes this a great bedside companion and is a really good bedside clock that benefits from having Alexa functionality built in.
The Vobot is available from:
– Amazon UK: http://amzn.to/2kf5pEj
– Amazon.com: http://amzn.to/2BEgRDv
– Amazon.ca: http://amzn.to/2kIfyJ5
– eBay: http://ebay.to/2CTJgmF
All-new Echo Dot (4th generation) | Smart speaker with clock and Alexa | Glacier White
1 new from £59.99
Free shipping
Features
Meet the all-new Echo Dot with clock—our most popular smart speaker with Alexa. The sleek, compact design delivers crisp vocals and balanced bass for full sound.
Perfect for your bedside table—see the time, alarms and timers on the LED display. Tap the top to snooze an alarm.
Ready to help—ask Alexa to tell a joke, play music, answer questions, play the news, check the weather, set alarms and more.
Control your smart home—use your voice to turn on lights, adjust thermostats and lock doors with compatible devices.
Connect with others—Call almost anyone hands free. Instantly drop in on other rooms or announce to the entire household that dinner's ready.
[Updated Version] LBell Wake Up Light Smart WiFi Alarm Clock with APP & Voice Control Sunrise/Sunset Simulation 4 Alarms Snooze Function FM Radio 7 Colors Bedside Night Light for Alexa/Google Home
1 new from £42.99
Free shipping
Features
【SMART VOICE CONTROL】The LBELL Wake Up Light can set all functions of the alarm lamp in the app without the control of cumbersome buttons, and you can control the light remotely. The alarm light supports the 2.4G wifi network, which can perfectly cooperate with smart assistants such as Amazon Alexa and Google Home, and can perform voice control for a smart and convenient life.
【SUNRISE & SUNSET SIMULATION】The LBELL Alarm Light can simulate the whole dawn process, the light gradually increases and the color of the light changes from red in the morning to bright daylight. It can also simulate the whole process of sunset, natural sound and light gradually fade until closed, accompany you to sleep. Allows you to enjoy the beauty of nature at home.
【FM RADIO】The wake up light has FM function. Simply press the FM button for 3 seconds to search and save the available FM radio stations. Listening to a relaxing radio station or music before bedtime can help you sleep better. There is a USB charging port behind this alarm light, which can charge your mobile phone or other electronic devices.
【4 ALARM & SNOOZE FUNCTION】The alarm clock light has 4 alarm clocks, two of which can be controlled by the alarm clock button, and the other two can be configured via the app to meet your needs. The alarm clock light has the snooze function, by pressing the button at the top, you can get an additional 9 minutes sleep time. You can postpone up to 5 times.
【7 COLOR ATMOSPHERE LIGHT & 20 DIFFERENT INTENSITY LIGHT】The alarm light has 7 different colours and 20 warm colours. You can use it in different occasions, such as night light, reading light or ambient light. There is automatic mode and manual mode under color lights. Auto mode can change the color by itself, while manual mode can stop at the desired color. 8 alarm clock music options(Includes FM radio) can be selected, and sweet music will wake you up and start a good day.
WiFi Smart Wake Up Light, Sunrise Sunset Simulation Alarm Clock Work with Alexa, Sleep Aid Colored Bedside Night Light with FM Radio, 4 Alarms, Snooze Function, 7 Nature Sounds, APP and Voice Control
1 new from £32.99
Free shipping
Features
【Wake Up Sunrise Alarm Clock】Simulate a morning sunrise, wakes you naturally and more effectively with gradually increasing light from 10% to 100% over a 60-minute period. At the same time, you could choose one of the 7 natural sounds or a favourite radio channel as the alarm sound too. Just say goodbye to traditional alarm clocks
【Sleep Aid Feature Alarm Clock】Guide you peacefully to sleep. The wake up light simulates a sunset. The light will gradually dim with music, and help you fall asleep quickly. Once it reach the time you set, the sleep aid function will automatically turn off
【Intelligent Voice And APP Control】You can control our wake-up light with voice through Amazon Alexa, Google Assistant, or control on the APP via your Android or iOS devices. You don't need to press the cpmplicated button on the light, just on the APP, you could easily set all the function
【7 Colors Night Light】This wake-up light has 7 different colors light and 20-level brightness of the warm light. Not only could be used as atmosphere light, also be the great bedside lamp, Just choose the best suitbale brightness level or colour for you
【Upgraded 4 Alarm Clock Feature】You can set 4 sets alarm clock as you need, Alarm 1 for Weekdays; Alarm 2 for Weekend; Alarm 3 for Reading Time; Alarm 4 for exercise time. you can choose 7 different natural sounds to set up the alarm clock, snooze function allows you to get up 8-15 minutes late