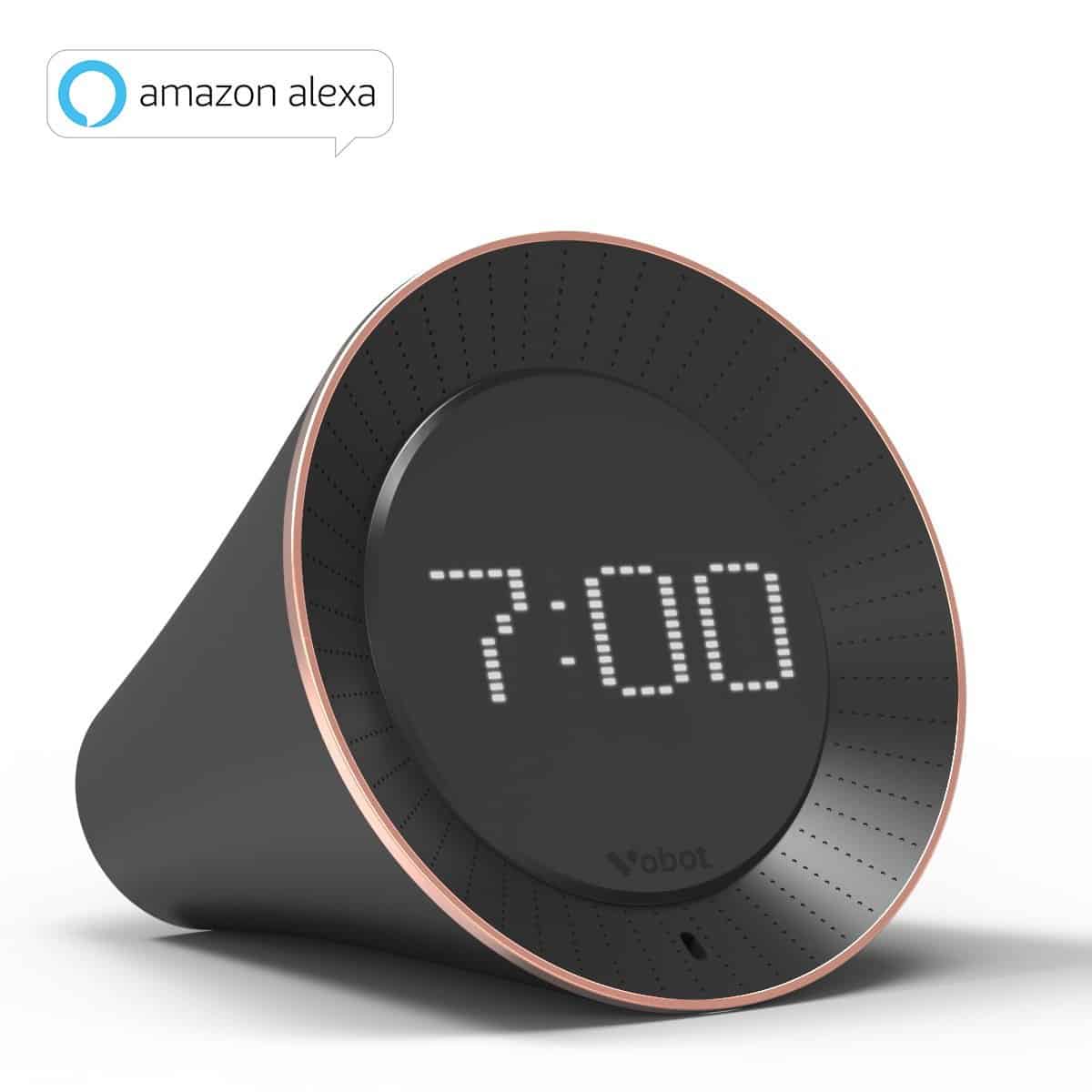 The Vobot Smart Alarm clock adds to the growing number of devices integrating Amazon Alexa to add smart features to an otherwise standard device.
Rather than taking on the high end market and going up against the likes of the Amazon Echo or Sonos One the Vobot is aiming to win over those interested in the Amazon Dot, the smaller, cheaper, alternative to the Echo.
To offer a proper alternative the Vobot needs to do something different to the Dot, and it does that by adding a small screen.  This screen means the Vobot is a clock most of the time, displaying a range of information on it's little screen.
The screen is really good, clear enough to see during the day, at night it doesn't light up the room and cause disruption to sleep.  You can have a range of information displayed on the screen, for example time, day, date, or battery level, and it'll cycle through the information (how quick it does this is up to you).
You'll have noticed it shows battery information, that's because, unlike the Dot, this has a rechargeable battery built in allowing you to take the Vobot away from the bedside, for example you could take it in the garden.  Providing it's got a WiFi connection all the functionality continues to work.
A nice little easter egg to try is to hold the volume down button for 7 seconds, this activates a game of breakout on the screen.  It's not something you'll play a lot but it's good fun to have a go and see if you can beat the game.
As with the Dot it has a line out connection allowing you to connect this to your existing speakers.
Being an alarm clock it has the ability to set an alarm, when it goes off it's a very pleasant noise that increases in volume until you either turn it off or snooze it.
So far this all sounds a lot better than the Amazon Dot, but there are some issues to be aware of.  For a start it doesn't have the active listening ability of the Dot, you have to tap the top of the unit to make it listen to your voice.  Some may see this as a positive, disliking the always listening nature of Alexa products, however as the activation button can be tricky to tap it proved to be fairly annoying to use.
When you do manage to hit the button you can use the same commands you would on a Dot, for example to control the Lifx smart bulbs.
Unfortunately there is one common in particular that doesn't work and shows there to be a a major service missing from the Vobot: Spotify.  Ask Vobot to play a song from Spotify and you'll be told that's not possible.  It's fine to play from Amazon music, but if you're use to being able to listen to Spotify this is very disappointing and hopefully something that can be updated in a future software update.
Overall the Vobot offers an interesting alternative to the Dot.  The lack of voice control would be fine if the activation button was easier to hit (for example just tap anywhere on top), however the real benefit of the Vobot is the screen, it makes this a great bedside companion and is a really good bedside clock that benefits from having Alexa functionality built in.
The Vobot is available from:
– Amazon UK: http://amzn.to/2kf5pEj
– Amazon.com: http://amzn.to/2BEgRDv
– Amazon.ca: http://amzn.to/2kIfyJ5
– eBay: http://ebay.to/2CTJgmF
Vobot Smart Alarm Clock with Alexa Video Review
VOBOT Bunny Kids/Toddlers Smart Sleep Trainer with Amazon Alexa, Alarm Clock Including Night Lights and Sleep Sounds Customizable Sleep Training Program by Smartphone App - Bright Pink
as of 22/08/2019 10:44 pm
Features
BUILT IN AMAZON ALEXA AND SPEAKER- For children, it can be a good storyteller, teacher, musician; for parents, it can be used by checking news and weather report, setting alarm and timer, controlling smart home devices and more. The built-in 5W speaker provides rich sound and music from Amazon Music with no need for extra devices.
REMOTE CONTROL BY VOBOT APP- Control Vobot Bunny remotely from your smartphone via Wi-Fi. Therefore you can manage the sleep trainer schedule or change the setting anywhere on the planet as long as your device is online. And the parent control and kids lock function can disable Alexa and buttons on Vobot Bunny according to your needs.
EASY SLEEP TRAINER MODE- Vobot Bunny has two pre-set scenario and of course you can create your own scenario. In OK to Wake, the red light and birds call means your little one can play around in bed; the yellow light and dawn sound mean your little one can play in he/her room; the green light means it's ok to leave the room. In Good Night, the blue light means your little one should be in bed and it's story time; the yellow light means it's time to sleep.
GROW WITH KIDS- Vobot Bunny with RGB soft night lights and suitable ambiance sounds, kids can choose the color they like and you can also upload music which your kids like. Integrated Alexa Skills capable of telling stories, playing songs, answer questions and your kid will never get bored.
WHY CHOOSE US- Reasonable price, good quality, superior service, one-year limited warranty and lifetime technical support. If you are not happy, contact our customer support team! (help@getvobot.com) Package: 1 Vobot Bunny,1 micro USB cable,1 power adaptor, and 1 user manual.
[Newest Version]12 Options Alarms Clock, Auto Night Dimming Display - Memory Loss Day Clock Digital Calendar Day Clock, Extra Large Non-Abbreviated Day & Month Digital Clock
1 new from £38.99
Free shipping
as of 22/08/2019 10:44 pm
Features
HD DISPLAY FUNCTION: 8 " 1024*768 HD LCD, time mode [ 12 or 24 HR & AM or PM ] , date mode[ MM/DD/YY & DD/MM/YY ] , 4 time period [ MORNING & AFTERNOON & EVENING & NIGHT ] ,Auto Night Dimming, 8 languages available , Size: 8.5" wide x 6.75" high x 1" deep.
12 ALARM MODES EASY CHOICE : Single Alarm, Every Day, Weekdays Only, or Weekends Only, Off. & tag:Meal,Medicine,Cleaning,Appointment and so on. It is quickly becoming a perfect Senior Care and In Home Care necessity.
BEST CLOCK FOR SENIOR CARE: This unique High Resolution Digital Alarm Clock clearly spells out the time. no confusing abbreviations. Many seniors are suffering from memory loss due to dementia, stroke, Alzheimer's or just advancing years,Give the gift of confidence and happiness - buy an CLOCK for your loved ones today!
PROTECTION: in case of a power outage, it will be reset to the correct time and date when the power returns. The clock requires an A/C adapter (included) to operate. Does not run on batteries. The clock is shipped with a removable thin plastic screen protector, to protect the screen during transit.
Satisfaction Promised and Fast Shipping: we believe in our products. That's why we 30 days 100% money-back and 1 years warranty and provide friendly, easy-to-reach support
Digital Dementia Clock with Wireless Weather Station ,Large Non-Abbreviated Day & Month Display, Brightness Adjustable, 8 Languages, 3 Medication Reminders, 5 Daily Alarms Digital Wall Clock
as of 22/08/2019 10:44 pm
Features
WIRELESS WEATHER FORECAST FUNCTION: display 1:8" large clear color LCD screen, even in the dark is very easy to read time and weather information rainfall, temperature, year, month, data, 12 / 24-hour, time, get updates Weather in a comfortable home; the unit displays 10 different weather information (sunny, partly sunny, overcast, rainy, rainy, wind and snow, etc.)you will know the weather conditions anytime
ADVANCED CARE CLOCK FUNCTION: Display 2: Alarm clock with adjustable alarm (5), drug reminder (3),For those with dementia, the daytime clock Alzheimer's memory loss, forgetfulness, vision loss or blindness, no confusing abbreviations, many elderly people with dementia, Stroke, Alzheimer's or just past years with memory loss, a gift of confidence and happiness
HD DISPLAY FEATURES: 8" 1024 * 768 HD LCD display, time mode [12 or 24 HR & AM or PM], date mode [MM / DD / YY and DD / MM / YY], 4 time periods [morning and afternoon and Evening] & NIGHT], in addition, there are 8 other languages: French, German, Italian, Dutch, Spanish, Polish and Swedish. Perfect for children, families, offices, daily life gifts, you will know the weather conditions
MEDICATION REMINDER: The digital clock can set reminders for the elderly to ensure they take their medications on time every day. The screen will display "TAKE YOUR MORNING MEDICINE" and an alarm will sound. This is the best gift for the elderly. Alzheimer's, Alzheimer's and memory loss are deliberately excluded from the clock or packaging to alleviate any embarrassment
DIGITAL PHOTO FRAME FUNCTION:With its classic fashion and modern design, this watch reminds the Japanese clock that there are two ways to install it. It can be simply placed on the table and mounted on the wall. Digital wall clocks are everywhere in your home or office. It also plays the function of the photo frame when you enter an usb disk (not included) with photos and videos. It is also an energy-saving product with automatic dimming function