EC Technology are hoping to solve you on the go power woes with a range of travel batteries.  This review is of the 22400mAh Red and Black version, but there are lower capacity and different styled versions available.
With so many devices being charged via USB these portable battery chargers are becoming increasingly popular for those who need to top up on the go. This battery holds a massive 22400mAh, which is enough to keep charging a single mobile over and over again. Testing the portable battery with a HTC One X during the course of a normal week it showed no signs of running low on power despite being used to charge the phone daily.
The battery has 2 USB charging ports on it so you can, for example, easily charge a mobile and a tablet at the same time. I also liked the addition of a torch which is activated by a double press of the only button on the battery. This really adds to the use of the battery and makes it really handy to keep in the car or take camping.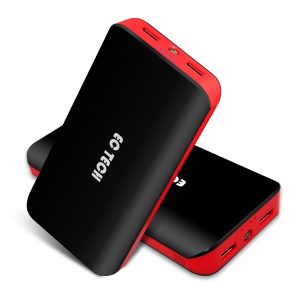 As well as the battery you also get two USB to adapter cables. These allow you to plug in the included adapters for iPhone, PSP, mini USB and micro USB. Although this is a great idea you quickly realise you've not actually got anywhere to store these adapters, this doesn't come with any carry case. That's my only real issue with this, it's well designed and perfect for travel…but what are you meant to do with all the little plugs that come with it?
For most this isn't really an issue, it's likely you will just use your existing USB cable, but the addition of a carry case for the battery and accessories would make this an even more brilliant travel gadget.
The EC Technology 22400mAh battery is available on Amazon now: http://goo.gl/zJTgkZ.