Conbruv T33 Mini Spy Camera Review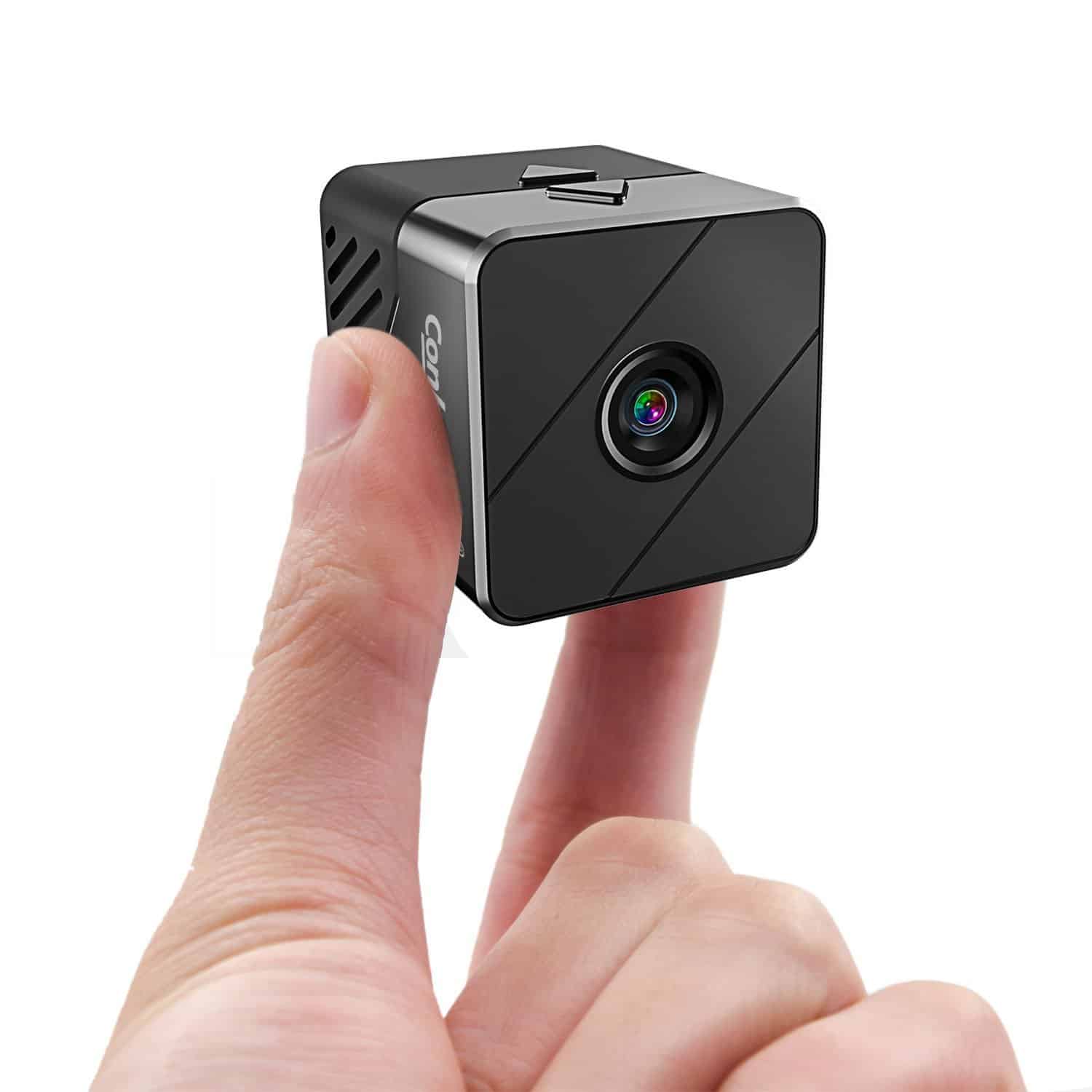 Conbruv T33 Mini Spy Camera Review
The Conbruv T33 Mini Spy Camera is exactly what you'd expect, a mini camera for spying.
It's a tiny little gadget that has very little to it.  It's got the camera on the front, microSD card slot, MicroUSB charging port and indication lights around the back and a couple of buttons on top…and that's it!
In the box you get a charging cable, manual and magnetic holder with swivel head.
The manual is well worth a read as it's not entirely obvious how to use the camera out of the box.  A quick skim of the included guide had the camera setup and running very quickly.  One thing to be aware of is the camera has date/time information added to the footage and this needs to be set via a file the camera places on the microSD card.
This isn't designed to be a security camera like the Canary, instead it's compact form makes it easy to position discretely in a number of locations, moving it around so the 110 degree lens can take everything in.  There is also a microphone on board but the audio quality isn't brilliant, it can be hard to make out what people are saying on playback.
To prevent the battery being quickly drained the T33 can be triggered to record when it detects motion.  This works well, but be aware it's sensitive enough to be triggered by pets, you'll see a cat triggers a recording in the video review below.
Footage looks fine, it's a security camera so it doesn't need to be TV broadcast quality, you can clearly see what's going on and who (or what) has triggered the recording.
Impressively the T33 also has night vision built in, however the camera can have a few issues when it's not sure if it should switch to night vision or not.  You end up with it turning night vision on/off/on/off/etc giving a strobe like video.  When it does switch over to night vision the image is very good considering this is a tiny camera.
However, while the Conbruv T33 isn't perfect it does do the job it's designed for well.  It's a mini camera that records when it detects motion and is compact enough to be discreetly placed so it'll go unnoticed.
The T33 is available from:
Amazon.co.uk: https://amzn.to/2Pkappf
Amazon.com: https://amzn.to/2Lbn8qI
Amazon.ca: https://amzn.to/2vV0oXt
Or directly from Conbruv via: https://www.conbrov.com/product/hidden-spy-camera-conbrov-t33
use code: conbrov20off for 20% off.
Conbruv T33 Mini Spy Camera Video Review
Blink Mini | Compact indoor plug-in smart security camera, 1080p HD video, motion detection, Works with Alexa | 1 Camera
4 new from £24.99
Free shipping
Features
1080p HD indoor, wired security camera with motion detection and two-way audio that lets you monitor your home day and night.
Be alerted to what matters via your smartphone whenever motion is detected, or customise motion detection zones so you can see what matters most.
See, hear and speak to people and pets in your home through your smartphone with Blink Mini's live view and two-way audio features (live view is not continuous).
Set up in minutes: just plug in the camera, connect it to Wi-Fi and add it to your Blink Home Monitor app.
Record, view and save events in your Blink app with a free trial of the Blink Subscription Plan included with your purchase. You will be notified at least 30 days before your free trial expires with information on how to subscribe.
Professional Camera Cleaning Kit for DSLR Cameras compatible with Canon, Nikon, Pentax, Sony, Samsung, Fuji, etc. - Cleaning Tools and Accessories (Reusable Spray Bottle with cleaning fluid)
Features
A COMPREHENSIVE KIT FOR CLEANING YOUR DSLR CAMERA: This kit includes a variety of cleaning tools to make sure that your DSLR is always spotless and fully functional.
AIR BLOWER FOR REMOVING DUST DIRT: The air blower will direct a stream of air to blow away dirt and dust from your lenses or camera sensor.
RE-USABLE SPRAY BOTTLE WITH CLEANING FLUID: The spray bottle is filled with alcohol-free cleaning solution. Once you have used up all of the liquid, you can refill the bottle with the cleaning solution of your choice.
MICROFIBER CLEANING CLOTHS AND LENS TISSUES: Both of these items can be used to gently remove dust and dirt from your lens.
DOUBLE SIDED LENS CLEANING PEN – TWO CLEANING OPTIONS IN ONE: This tool features a dust removal brush on one side and a special non-liquid cleaning element on the other side which is designed to never dry out.
Zeadio Video Action Stabilizing Handle Grip Handheld Stabilizer with Hot-Shoe Mount for Canon Nikon Sony Panasonic Pentax Olympus DSLR Camera Camcorder
Features
Stability -- Great for Skateboarding, Rollerblading, Motor Racing, Biking, Surfing, Hunting, Snowboarding, Skiing and any Extreme Sports Situation where stability is essential.
Moving Low Angle Filming -- Ideal for making moving low angle videos and images.
Wide Compatibility -- Fits all Cameras and Camcorders with a national standard 1/4-20 thread interface.
Lightweight and Comfortable -- Cushioned NBR padded handle alleviated the stress of lengthy filming.
Nice Gift -- Ideal filming accessory for birthday party, honeymoon, home, travel, banquet to record the happy and unforgettable moments. A nice gift for your friends and family.