Remington HC4250 Quick Cut Hair Clippers Review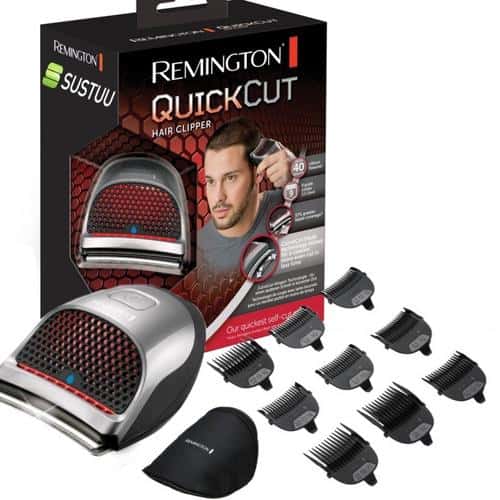 Remington HC4250 Quick Cut Hair Clippers Review
Range of attachments
Easy to use
Good battery life
With more people considering home haircuts, is now the time to invest in a set of Remington Clippers?
A couple of years ago I made the decision to get rid of the patchy hair on my head. My brother had done this before me and looked loads better so I followed his lead and his advice in investing in the Remington HC4250 clippers.
It wasn't a big investment, at the time they were only £30 but you might find the price has shot up at the moment with the increase in demand due to barbers being forced to close.
In the box you get the clippers, charging cable, carry case (for when we can go on holiday again!), a range of combs (1.5, 2, 2.5, 3, 4.5, 6, 9, 12, 15 mm), a cleaning brush and some oil.
They're very easy to use, plug in to charge them up, clip on the desired comb length, when ready press the button on top and off you go!
When you've finished cutting your hair the comb can be removed to allow for better cleaning with the included brush.
I've used these now for over a year and the main unit has work brilliantly. Unfortunately the included brush and one of the combs hasn't lasted as long. The brush just fell apart and the comb plastic broke (potentially due to being put on/taken off).
Aside from those minor issues I've no complaints. I generally use it once a week and only need to charge it once a month.
It's a good investment, it soon pays for itself when you're no longer paying someone else to cut your hair.
Remington HC4250 Clippers Review
Easy to use home clippers that come with a variety of attachments
PROS
Range of attachments
Easy to use
Good battery life
CONS
Potential durability issue
Remington Quick Cut Hair Clippers with 9 Comb Lengths Curved Blade for Rapid Hair Trimming Detailing with Storage Pouch - HC4250
23 new from £33.95
1 used from £34.06
Free shipping
Features
Design enables sideburn and neck area to be cut easily and effectively
Ergonomic design to comfortably sit in the hand
Lithium powered 40 minutes run time
Nine fixed combs (1.5, 2, 2.5, 3, 4.5, 6, 9, 12, 15 mm)
Quick charge