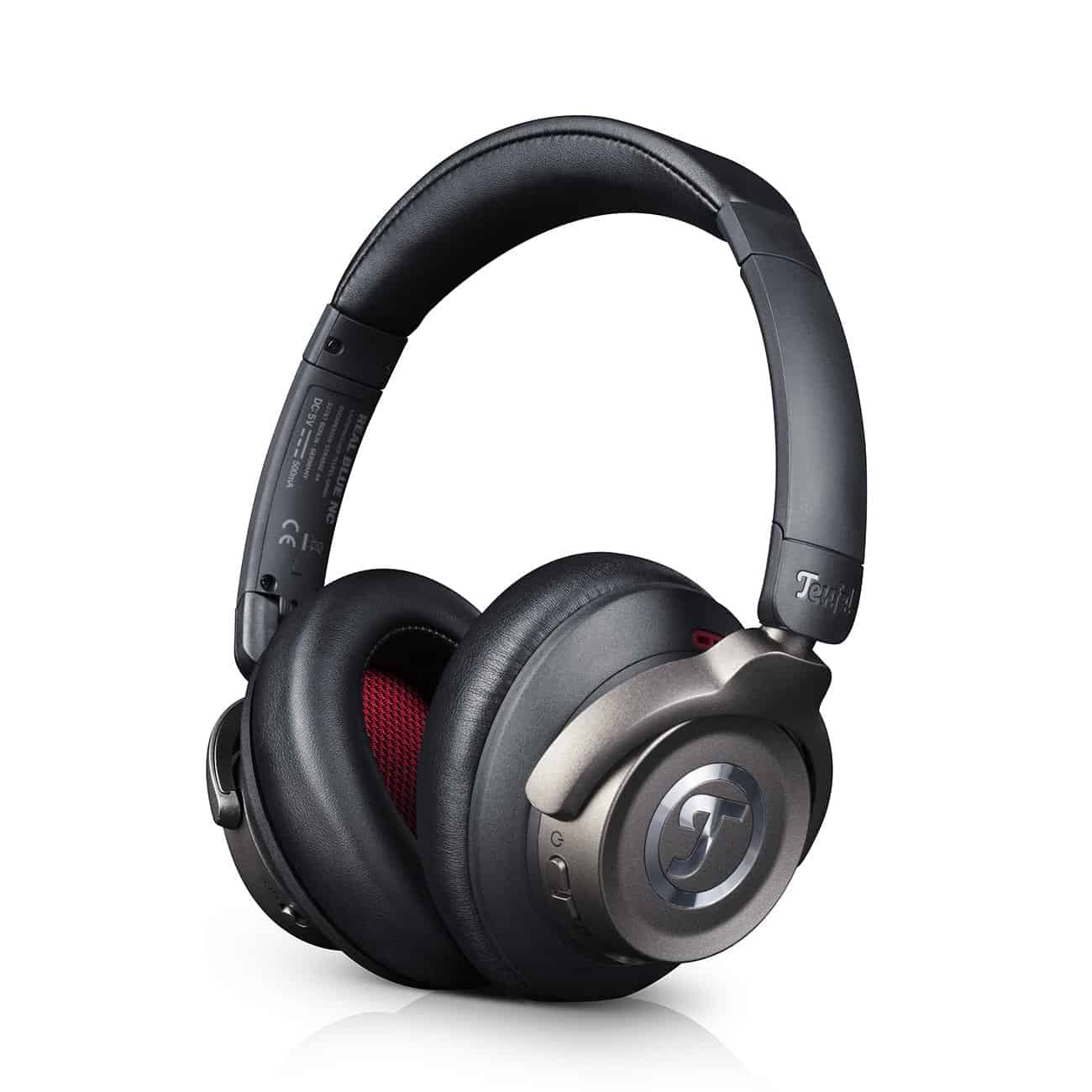 Real Blue NC by Teufel are probably not a set of headphones you've ever heard of, Teufel are a new brand to the UK, but are an established maker of audio goodies based in Germany.
The Real Blue NC headphone are a set of high end Bluetooth headphones with optional noise cancellation.
These are a pricey pair of cans, but you'll get a premium feel the moment you get hold of the packaging. Opening up you're presented with a lovely storage/travel case, unzip this and you'll find the headphones and a small pouch.
The pouch contains the USB charging cable, aux cable (with in line controls) and a plane adaptor. In theory this little pouch is meant to be secured to the case via Velcro, easily removable for when you want to access something. In practice it seems to fall off as often as it stays in place, not really a problem but something to be aware of when opening the case.
The headphones look great, they have a couple of visible control switches but also feature hidden touch controls to keep the design as clean as possible.
Although you get a carry case you can also fold the headphones down if you just want to pop them in a bag rather than use the case.
On first look the ear cups looked like they might be a little small, but actually they were spot on the right size and very comfortable.
Sound quality is very good (as you'd expect for the price!), offering up a really nice balanced sound with a good amount of bass.
Worth noting the good amount of bass may not be the right amount of bass for you, if you're looking for bass heavy headphones these aren't the set for you, but if you're more interested in a good all-round sound the bass is just right.
The Real Blue NC do a good job of blocking out background noise in general, if want to really block things out you'll be pleased with the active noise cancellation feature.
This is a feature previously tried out on the August EP-750 and the result is comparable, flick the ANC switch on if you're in noisy situations such as flying, or, more frequently in this reviewers case, mowing the lawn, and it allows you to comfortably listen to music while still being able to hear the outside world, it sounds quieter and further away.
If you've had physical buttons on your headphones you might find the controls take a bit of time to adjust to, being touch controls there is no physical feedback, but once you get the hand of them you'll be swiping your way between volume settings and track skipping.
A nice feature is the ability to trigger your phones assistant. You'll see in the review video below Google Assistant can be triggered and commanded from the headphones, no need to take your mobile out to ask questions/issue commands to your pocket-based AI.
There's no shortage of headphone options available and as such some may find the price too expensive. Teuful have targeted the Real Blue NC at those looking for a higher quality set that look great, sound great, and do a great job of cancelling out noise.
At the time of review they're only available directly from Teuful: www.teufelaudio.com/uk/headphones/real-blue-nc-p16586.html
Teufel Real Blue NC Video Review
Sony MDR-ZX770BN Wireless and Noise Cancelling Headphones - Black and Blue
2 new from £123.97
7 used from £ 64.60
Free shipping
Features
Digital noise cancelling headphones with Sony's DNC software engine
Comfortable and deep bass sound with around ear style, A stainless steel slider allows you to find the perfect fit
13 hours of continuous playback with Bluetooth and Noise cancelling activate
Works also as passive headphones in case of battery runs out
One-touch NFC connection, stream your favourite tracks via Bluetooth
Noise Cancelling Bluetooth Headphones, TaoTronics Active Noise Cancelling Wireless Over ear Headphones with High Clarity Sound Powerful Bass, 30 Hour playtime for Travel Work TV PC Cellphone
1 new from £39.99
1 used from £ 45.20
Free shipping
Features
A Personal Oasis of Quiet: Enjoy your music with minimal, or no distraction, when you turn on the active noise cancellation (ANC) switch
Adjustable Fit, Maximum Comfort: With 90o swiveling ear cups, super soft protein ear pads, and ergonomic headband, the materials used ensure minimum weight and maximum comfort for long term wear
Long-Lasting Music Playback: With a generous battery life of up to 30 hours, you can enjoy beautiful music longer or plug in the included audio cable when the battery is low
Feel the Beat: Expect aggressive bass with balanced mid-levels and bright highs with our dual large-aperture 40 mm drivers; Hassle-Free Clear Calls: Built-in cVc 6.0 noise-cancelling microphone for clearer call quality, even in a loud environment
These headphones are foldable and come with a carrying case. TaoTronics has released new brand logo. PLEASE NOTE that during the transition period you may receive products and packaging displaying the old logo
Updated Rii RK100+ 7 Color Rainbow LED Backlit Mechanical Feeling USB Wired Gaming Keyboard Black UK Layout
2 new from £14.99
Free shipping
Features
Professional Mechanical feeling backlit gaming keyboard for gaming and office ,not the real mechanical keyboard,,but it worth more.
Support Windows 8, Windows 7, Windows Vista, Windows XP.PC Laptop Pad Google Android TV Box HTPC IPTV Smart TV Mac IOS Raspberry Pi all version
Rainbow backlit with breathing light.FN+Light(right of FN) to enter into breathing light model.press Light button for three times , the backlit will be off
Standard 105 Keys full size keyboard, with 11 special designed multi media keys combinations.and the keyboard.Size:17.1 x 5.3 x 0.9 in.
Automatically enter sleeping mode 10 minutes without operation and backlights off,any key pressed will awaken and backlights on.