iFit Active Fitness Tracker Review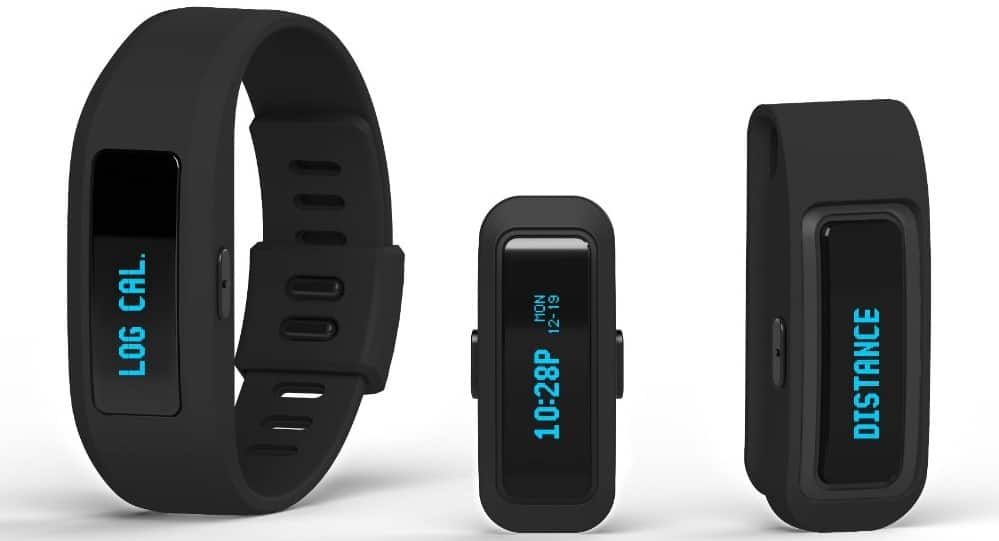 iFit Active Fitness Tracker Review
The iFit activity tracker is a lightweight activity tracker that comes with accessories to allow you to wear it both on your wrist (like a watch) or clipped to your trousers. You could pop it loosely into a pocket, but this isn't advised as it can reduce accuracy.
The wrist strap is a bit fiddly, once you've loaded the iFit Activity Tracker into the strap you pop it round your wrist and then use two prongs to clip the strap closed and a small plastic square covers the prongs to stop them coming loose (tricky to explain, easier to see the video demonstrating this).  Once on it's comfortable, if a little bulky, but at least it's very light.  It's the strap itself that's a bit fiddly and a simple classic watch strap would've been a better choice.
Given the plastic strap and high price (at the time of review it's about £20 more expensive than the Misfit Shine or Withings Ox) it's surprising to find this isn't waterproof and the plastic strap makes this look rather cheap in comparison to it's competitors.
The charging method is also a little fiddly, making use of a charger that is reminiscent of a little electric chair, you have to hold the tracker in place while pulling a strap over it's 'head' to keep it there during charging.  Fortunately this isn't something you'll need to do everyday as the tracker has an excellent battery life that easily lasts 7 days.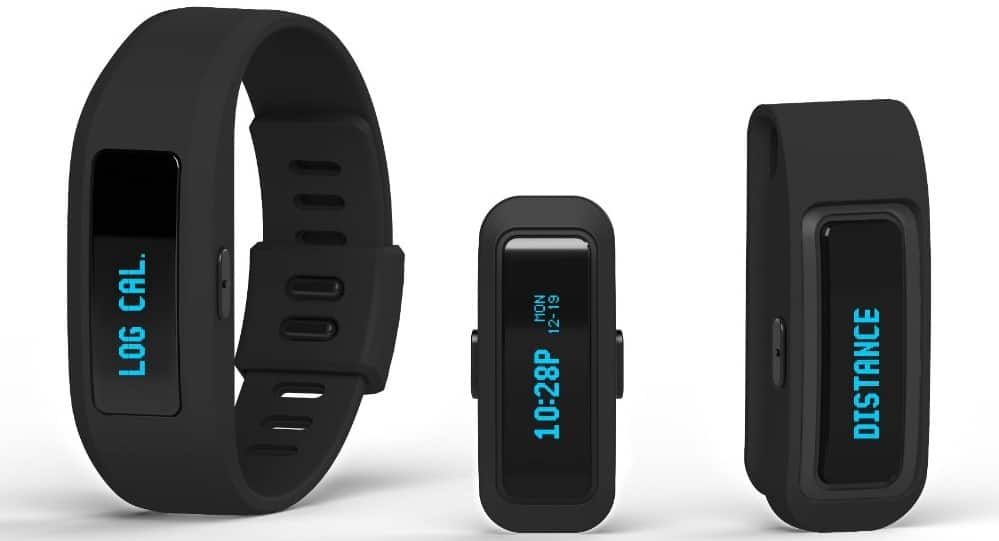 Setting up the unit was very easy and involves downloading an app for your phone, pairing the unit and setting up your account. Note I've used this with an Android phone.
The app is crisp and clean and allows you to add personal information such as weight, height, birthday, gender. It also allows you to set move time alerts, a really useful feature if you sit at a desk a lot as the unit vibrates to let you know you've been inactive for too long.
This vibration can also be used as an alarm to wake you up, set a time and the tracker with buzz you awake when it thinks you're in a light sleep.
The app not only logs your step data, but can also log your calorie intake.  This can be done either via the fitness tracker by adding a number of calories in increments of 50, or via the app by selecting the type of food you've had.
The app method allows you to search a food database or alternatively use the inbuilt barcode scanner to pull up nutritional information about your food.  You can then select portion size and time of day you've had a meal and overall tracking your intake is a nice addition and helps show if you are balancing your calories in and calories out, providing you don't mind spending the time entering all your meals into your mobile.
Day to day you won't really need to do that much with the tracker, it happily counts steps as you go about your business and has the advantage over a phone based tracker that you're unlikely to leave it on a desk. Here you find generic Levitra price comparisons and Vardenafil 20mg pills without prescription.
The app has a number of menus to see how you're doing without referring to the app, unfortunately in bright light the screen is difficult to read.
As well as reviewing information on the tracker and on your mobile you can also take a look via an online dashboard.  It's a decent little website that gives you access to all your data, unfortunately at the time of review there isn't a way of sharing data with other apps or services, for example you can't import weight data or export steps data to your Withings account.
The website does offer the ability to create your own workouts via a simple map system, although these are aimed at runners and cyclists rather than walkers.
Overall the iFit Activity Tracker is a decent bit of kit that, while a bit fiddly at times, offers a good range of features.  When you consider the Misfit Shine is waterproof and the Withings Ox has a built in pulse monitor, it seems iFit are being rather optimistic with the price for something that doesn't offer anything majorly different from the similar competition.
Available from Amazon UK: http://amzn.to/1emc3mV and Amazon.com: http://amzn.to/1AlmYHl 
TEMINICE High-End Fitness Trackers HR, Activity Trackers Health Exercise Watch with Heart Rate and Sleep Monitor, Smart Band Calorie Counter, Step Counter, Pedometer Walking for Men Women
as of 14/10/2021 11:01 pm
Features
All-day Activity Tracking: Accurately record all-day activities like steps, distance, calories burned, miles walked, active minutes, sleep status and more. Stay motivated all day!
Heart Rate & Sleep Monitoring: Built-in the Nordic 51832 Chip, minimum size, lowest power consumption, highest integration. Data full accuracy and battery life is longer! Tracks real-time heart rate automatically & continuously and automatically tracks your sleep duration & consistency with comprehensive analysis of sleep quality data, helping you adjust yourself for a healthier lifestyle.
Multi-Sport Modes & Connected GPS: 14 exercise modes help you better understand specific activity data; Connect the GPS on your cellphone can show run stats like pace and distance and record a map of your workout route. Everything you need in a tiny tracker, heart rate monitor, step counter, stopwatch, reminder, calories counter, sleep monitor, supports 14 sports modes: Walk, Run, Spinning, Cycling, Dance, Climbing, Hike, Treadmill, Workout, Tennis, Yoga, Basketball, Football, Badminton.
See Calls & Messages on Your Wrist: With a High-end Mobile Phone LCD Screen, the screen intensity is brighter! Receive call, calendar, SMS and SNS (Facebook, WhatsApp, LinkedIn, Instagram, and Twitter) notifications on display; Vibrates to notify you of incoming calls and messages; reminds you to move after periods of inactivity and important dates, helping you stay connected, never miss the messages that matter.
IP68 Waterproof & Long Battery Life: With IP68 waterproof, you can wear a sports watch while washing your hands, taking a bath and swimming (do not dive in the sea).Takes only 1-2 hours to fully charge and lasts up to 7-15 days standby.
Fitbit Luxe Health & Fitness Tracker with 6-Month Fitbit Premium Membership Included, Stress Management Tools and up to 5 Days Battery
15 new from £121.00
Free shipping
as of 14/10/2021 11:01 pm
Features
Battery Life: Up to 5 days of battery
Compatibility: Compatible with iOS 12.2 or higher & Android OS 7.0 or higher
Sleek Design: Feel equipped for more feel-good days with FItbit Luxe. The sleek finish and comfortable band make Luxe ultra wearable for all day fitness and wellness management
Stress Management Tools: Better understand how your body handles stress with an in-app Stress Management Score that tracks physical signs of stress and gives you a score ranging from 1-100—the higher, the better!
Sleep tracking & Sleep Score: See how much light, deep and REM sleep you get and get tips in the Fitbit app to help you improve your overall sleep quality. Sleep Score is a quick, easy way to see how you slept, track your trends over time and better understand your sleep quality each night.
HUAWEI Band 4 Pro - Smart Band Fitness Tracker with 0.95 Inch AMOLED Touchscreen, 24/7 Heart Rate Monitor, Indoor Outdoor Pro Tracking, Sleep Monitor, Built-in GPS, 5ATM Waterproof - Graphite Black
6 new from £39.00
8 used from £21.31
Free shipping
as of 14/10/2021 11:01 pm
Features
Brighter Colors, Smarter Life: Featuring a stunning 0.95 inch AMOLED touchscreen of great colour and contrast, HUAWEI Band 4 Pro provides you an ultimate visual experience; Also the HUAWEI Watch Face Store (available only on Android and availability may vary by region) offers various watch faces in different styles, such as sports, cartoons, intelligence and hi-technology
24/7 Heart Rate Monitoring: Thanks to the professional optical devices, processing chips and AI algorithm, the HUAWEI TruSeen 3.5 monitors your heart rate accurately and provides intelligent vibration reminders if your heart rate exceeds the heart rate limit; While you are sleeping, the device will continue to monitor your sleep while the invisible light causes no distractions
Get Better Sleep Care: Healthy sleep is the basis for healthy living; HUAWEI TruSleep 2.0 tracks your heart rate during sleep to recognise the four phases and analyse the sleep quality; Also, this device can identify 6 types of sleep problems and provide scientific recommendations (availability may vary by region) for better sleep
Powerful Built-in GPS: Leave Your Phone at Home: With built-in GPS, the HUAWEI Band 4 Pro provides accurate and fast positioning services to free you from your phone; After completing your outdoors workouts such as running, walking, cycling or open water swimming, you can view your GPS data on the map
Push Yourself: Indoor/Outdoor Pro Tracking: HUAWEI Band 4 Pro tracks all of your favorite sports activities with multiple sports modes: Outdoor/Indoor Run, Outdoor/Indoor Cycle, Outdoor/Indoor Walk, Free Training, Elliptical and Rower modes, and even Pool/Open Water swimming