When I was told Kylie Minogue was touring in Manchester I assumed it'd be a big arena tour, and with her being known for her small status I didn't fancy squinting to see her on a massive stage that felt like it was miles away.  Imagine my surprise to find out the Princess of Pop was playing an intimate gig at Gorilla, which holds no more than 700 people!
Tickets were always going to be in demand, luckily 2 VIP tickets were bagged before they all sold out and on Wednesday 14th March 2018 I was one of the (relatively) small number of people lucky enough to see her perform.  Arriving early for registration it was great to chat to others, living in the Manchester area it didn't take long to get to the venue but other fans had travelled further, one from Scotland, another from France!
Even with early access VIP tickets there was a wait outside the venue, upon entry VIP ticket holders were given a lovely satchel that had Kylie's name and the date on the front.  Inside was a selection of Kylie branded merchandise, a nice selection that gave people something to look at while waiting inside.
There wasn't a support act so the audience kept itself busy chatting to each other and comparing Kylie credentials, who had been to which concerts, who had seen her where and so on.
Shortly after 9pm the band came out on to the stage (and a good looking lot they all were!), the excitement in the room shot up to 11 as the time everyone had waited for finally arrived.  The room exploded with cheers when Kylie arrived on stage, the hours of waiting worth it to be in such a small, intimate, setting where she was clearly visible and able to interact with the entire audience.
After some opening banter with an audience bursting with energy and excitement we were treated to a selection of classic and new material.  The excellent Breath got the room focused before changing gears into a sublimely stripped back Put Yourself in My Place.
It was a very different show to those you might see in a large arena, with such an intimate setting and small crowd Kylie was able to relax, enjoy herself and freestyle.  When discussing how the new album is very personal a member of the audience asked if any of the songs were about Jason, to which she quickly replied we'd have to sing Especially For You to hear any Jason related songs.  Of course this set the audience off and where an arena gig might steam roller over such an outbreak, this intimate setting allowed Kylie to have some fun and start singing the song with us.
The band stayed silent for this, presumably it's not a song they'd prepared for, but it works really well with just the drummer keeping time, the audience leading the way, and Kylie gamely joining in and appearing to love the spontaneity of the moment.
The new material was genuinely new to everyone, only a couple of tracks had been released before the show.  It's well known this has a country spin, but don't let that put you off, there are some brilliant poptastic tracks on the new album.  Most songs started with a silent audience, unable to join in having never heard the song, and ended with everyone singing away as the songs were very catchy and easy to pickup.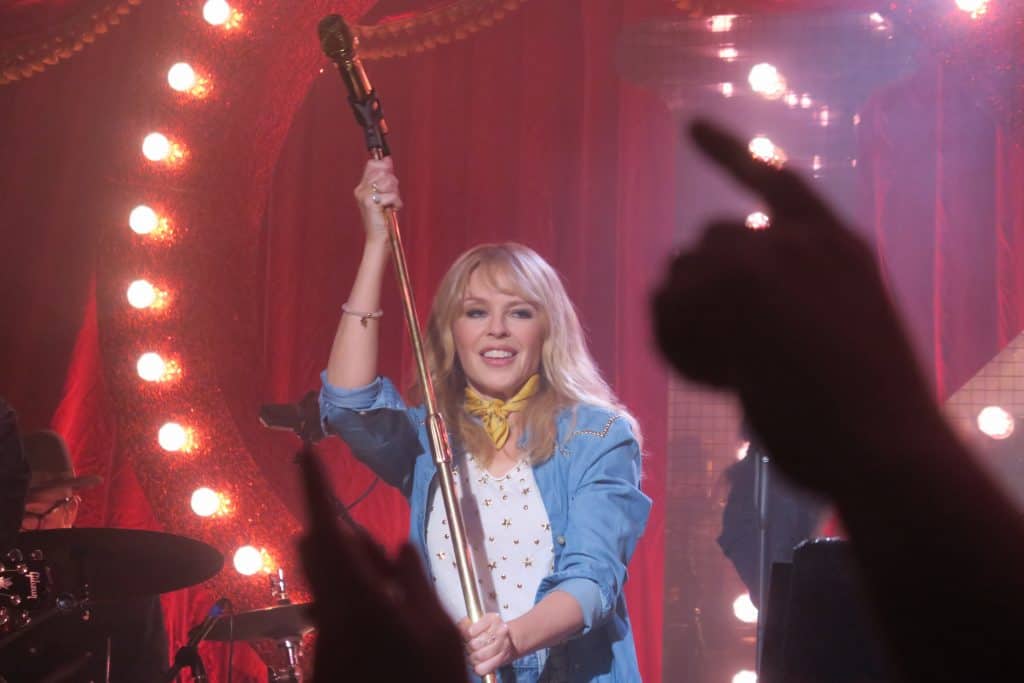 The backing band and singers were excellent, it was a slick performance from everyone and it's hard to believe Kylie is approaching her 50th birthday, she maintains a youthful look and energy which, on stage, combines with years of experience to make her an amazing live performer.
The chance to see such an amazing performer in such an intimate setting was incredible and I've no doubt those watching the upcoming arena tour will love her new material and the way she sprinkles some classics in.
Kylie Minogue Setlist:
Golden
One Last Kiss
Raining Glitter
Breathe
Put Yourself In My Place
Shelby 68
Radio On
Islands In The Stream
The One
A Lifetime To Repair
Hand On Your Heart
All The Lovers
Stop Me From Falling
Sincerely Yours
Dancing
The Kylie Minogue concert took place at Gorilla, Manchester, UK, on Wednesday 14th March 2018.
Kylie Minogue Darling EDP Spray 30 ml
2 new from £22.00
Free shipping
Features
Top Notes : Passionfruit, Freesia and Lychee
Heart Notes : Lily and Boronia Flower
Base Notes : Sandalwood, Amber Wood and Vanilla
Scent Category : Floral
A floral as thrilling as the pop darling who inspired it
Funko 57864 POP Football: Manchester City- Raheem Sterling
12 new from £9.00
Free shipping
Features
From Manchester City FC , Raheem Sterling as a stylized POP! vinyl from Funko
Figure stands 9cm and comes in a window display box
Check out the other Manchester City FC figures from Funko
Collect them all!
Funko POP is the 2018 Toy of the Year and People's Choice award winner
Funko 42789 POP Vinyl Football: Manchester City-Sergio Agüero Collectible Figure, Multicolour
5 new from £12.00
Free shipping
Features
Included components: 1 x POP Vinyl
From Football, Manchester City - Sergio Agüero, as a stylized POP vinyl from Funko
Figure stands 9 cm and comes in a window display box
Check out the other Football figures from Funko and collect them all
Funko POP is the 2018 Toy of the Year and People's Choice award winner