ARCHEER A320S Bluetooth Speaker Review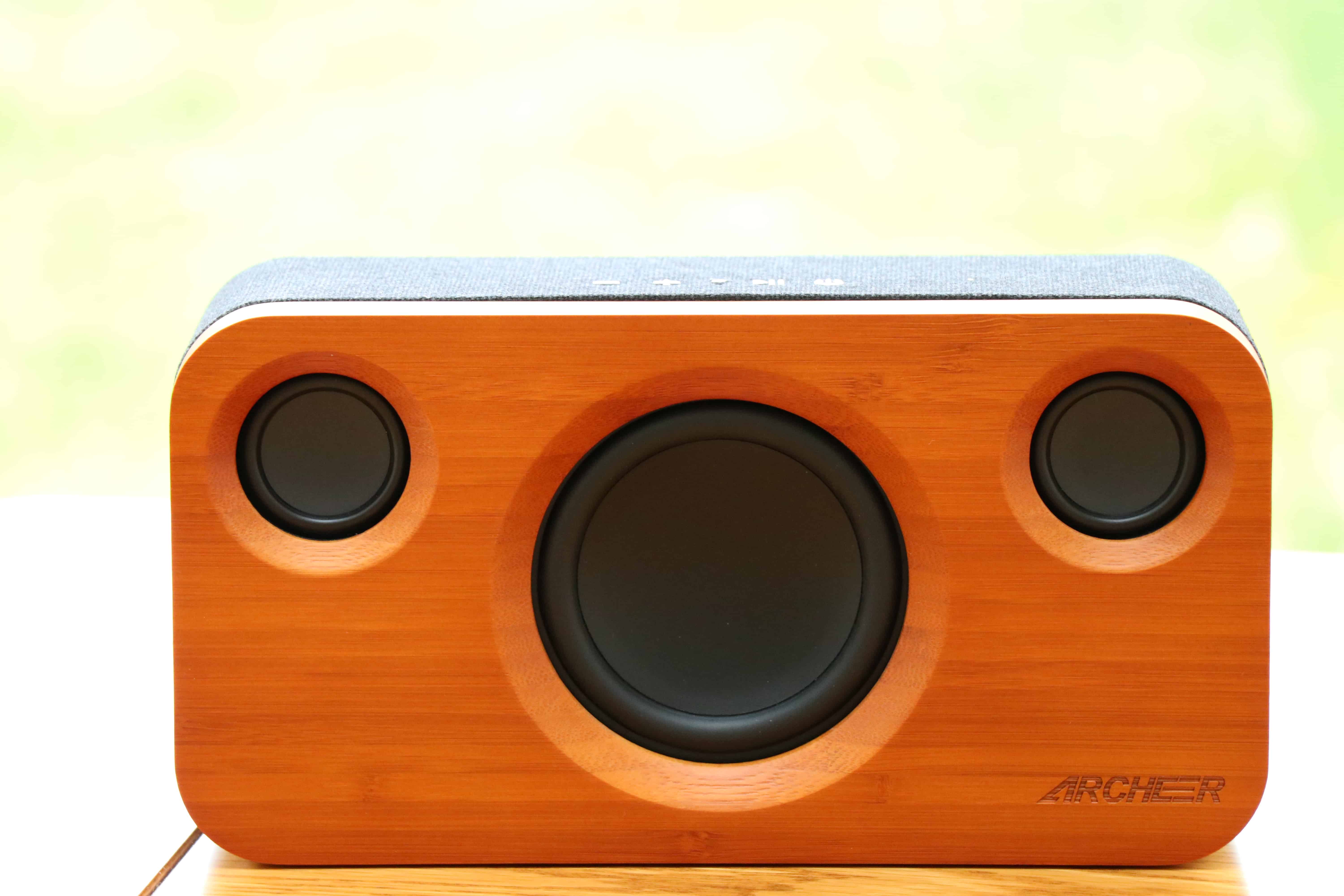 ARCHEER A320S Bluetooth Speaker Review
The  ARCHEER A320S is a large Bluetooth speaker that packs a powerful punch.
Unlike the usual black boxes the A320S is a beautiful bamboo fronted speaker that has cloth around the sides and the back.
Along the top sit the controls sit along the top and the USB charging port and aux in port are round the back.
Along with the speaker you get a carry case, USB charging cable and an aux in cable for any non Bluetooth items you want to play music from.
As you'd expect from a Bluetooth speaker, setup was very easy, just a matter of pairing the speaker to your mobile.
The A320S doesn't have any sort of WiFi smarts, so you're limited to using an external device rather than something like Spotify connect.  With the aux in this can be address using something like the recently reviewed low cost AudioCast dongle.
Considering this is a portable speaker the volume and bass on it are super powerful, although a little too bass heavy.  It's got a great volume, it just needs the ability to adjust the bass to a more comfortable level as the mega bass gives an unbalanced sound to most music.
The loud volume and booming bass sound more like a mains powered speaker than something you can pop in your bag and take out and about, given these could be used as your main speakers it's a pity they're not designed to be plugged into the wall full time.
If you want to visibly check out the power of the speaker stand some paper behind it and turn up the volume, you'll see the paper pushed away by the air being punched out of the A320S.
If one of these power houses isn't enough for you the A320S has a trick up it's sleeve, buy a second unit and they can be paired together!  It's very quick and easy to pair the speakers and it's really great that you can use the controls on either, e.g. press pause on one will pause on both, rather than being limited to using the first speaker only.
The paired speakers work very well in the same room, if you put them too far apart or put them in different rooms so walls are between them you'll likely find the connection breaks up, but for a same room setup this offers a really great way to fill your room with music from relatively small speakers.
Archeer have managed to create a highly powerful speaker, one that will be too bass heavy for most people, which is more than enough to fill a large room. If you really want to get your house shaking add a second and crank up the volume.
The Archeer A320S is available from:
ARCHEER A320S Bluetooth Speaker Video Review
Bluetooth Speakers, Anker Soundcore Bluetooth Speaker with Loud Stereo Sound, 24-Hour Playtime, 66 ft Bluetooth Range, Built-in Mic. Perfect Portable Wireless Speaker for iPhone, Samsung and More
as of 21/05/2021 2:28 pm ⓘ
Features
Incredible Sound Loved by 20 Million+ People
ASTONISHING SOUND: Breathtaking stereo sound with deep bass is delivered with exceptional clarity and zero distortion by two high-sensitivity drivers and a patented bass port.
24H WORRY-FREE BATTERY LIFE: Anker's exclusive, long-life battery technology provides 24 hours of sublime music.
EFFORTLESS CONNECTIVITY: Bluetooth 4.2 ensures instant pairing and maintains a strong connection up to 66 ft.
BassUp TECHNOLOGY: An in-house tuned digital signal processor analyzes the low frequencies to intensify the song's bass in real-time.
Anker Soundcore mini, Super-Portable Bluetooth Speaker with 15-Hour Playtime, 66-Foot Bluetooth Range, Enhanced Bass, Noise-Cancelling Microphone
1 used from £20.61
Free shipping
as of 21/05/2021 2:28 pm ⓘ
Features
Compact And Powerful: Super-portable Bluetooth speaker delivers powerful sound and robust bass through an advanced 5W driver and passive subwoofer
Unstoppable Music: Micro SD support, AUX capability provide endless audio options
Extensive Connectivity: Utilizes Bluetooth 4.0 technology for seamless device linking and a 66ft connection range
Extended Playtime: Anker battery technology supplies 15 hours of continuous playtime on a single charge; more than double that of comparable speakers
What You Get: Anker Soundcore mini, Micro USB charging cable, welcome guide, our worry-free 18-month warranty and friendly customer service
Kolaura Portable Wireless Speaker, TWS Bluetooth 5.0 Speaker with 3D Stereo HiFi Bass, 1500mAh Battery, 12 Hour Playtime (Blue)
as of 21/05/2021 2:28 pm ⓘ
Features
TWS Connection: Support mobile phone to connect 2 bluetooth speakers at the same time to create stereo and shock HIFI sound quality
Bluetooth 5.0 Technology: With advanced wireless bluetooth 5.0 connection pairing to ensure stable connection of speakers
Excellent Sound: Clear sound and strong bass, not distorted even at the highest volume, it also support FM radio mode
Long-time Playback: Built-in 1500 mAh battery, the portable speaker provides 12 hours of playback time after charging
Easy to go: The ultra-small size and portable design make it ideal for outdoor travel, easy to put in a backpack, luggage