Fastest home NAS? Asustor AS4002T 2 Bay 10Gbit NAS Review
Fastest home NAS? Asustor AS4002T 2 Bay 10Gbit NAS Review
10Gbit Eithernet
Great range of supporting apps
Easy to use interface
*This post may have affiliate links. For example As an Amazon Associate I earn from qualifying purchases, which means if you purchase something after clicking a link I may receive commission (don't worry, there's no extra cost to you). This helps support the work I put into the site.
Asustor AS4002T 2 bay NAS Drive (Network Attached Storage) Review
Quick review of the excellent #Asustor AS4002T 2 bay #NAS (Network Attached Storage) drive which is available from: Amazon.com: https://amzn.to/2wSymvt It's ...
Asustor are back with the AS4002T, a new NAS for home users/small businesses.
In the box you get the NAS, power supply, quick start guide, Ethernet cables and some small screws (which are a backup, this is a tool less system). Hard drives aren't included, use the Asustor Hard Disk compatability checker before making a purchase: https://www.asustor.com/service/hd?id=hd
As you'll see in the review video below, setup is very easy, Asustor have tried to simplify an already quick process by making the hard drive installation a tool less process. The drive bays are covered by a 'diamond cut exterior' which is held in place magnetically.
Pull off the face plate and the two hard drive caddies can be removed. Drives slot into the cradle and are held in place via a special plastic strip down each side that clicks into place, no tiny screws are required (although they are provided). Being plastic this can sound a little horrible as there can be some cracking noises as you snap things into place.
Pop the cradles back in the NAS, replace the face plate and you're good to go! The front also has status lights and the power switch.
Around the back of the NAS you'll find the AS4002Ts future proofing party trick, 3 Ethernet connections one of which is capable of 10Gbit!
For most users this potential speed may not be fully unlocked without some upgrades, for example a 10Gbit switch or the Asus XG-C100 10-Gigabit network card for PCs. In time, as these higher speeds become standard, it means the NAS will get faster as equipment is replaced, a nice bonus for those looking to invest in a NAS for the long term.
On the inside Asustor boast of the following:
ASUS motherboard quality
Marvell 1.6GHz CPU
2GB of DDR4 RAM at 2400Mhz, fast and efficient.
Dual gigabit Ethernet with the addition of a 10gbE port
Supports two hot-swappable HDDs
Screw less, tool free installation
As with previously reviewed Asustor NAS's, the AS4002T comes with the ADM software, a platform which has received regular updates over the years to add new features and functions. It's got a very easy to use set up guide that lets you know what's going on as it gets your new NAS setup, allowing you to have apps pre-installed depending on if you're a home user or a business user. Alternatively you can start with a blank slate. When reviewed a PC was used for setup, but you can also use the AiMaster mobile app instead if you don't have a computer to hand.
There are a couple of notable omissions from the app store, firstly Kodi is no longer available, and won't be made available following Asustors decision to end support. Secondly Plex is currently unavailable, although Asustor have confirmed this will come to the AS4002T at some point in the future.
That still leaves a wide range of apps available making the AS4002T far more than just an external hard drive, for example it can act as a web host, a photo gallery, CCTV camera server, download management system and much more.
At the time of review the software has been updated to ADV3.2 which brings with it a fancy new trick: EZ Connect. This new software allows you to operate your own Dropbox/OneDrive synchronized file storage system. A client application is installed on your computer, you setup a sync folder and then everything dropped into the folder is automatically copied to the NAS.
You can access the synchronised files via the AiData app (free) on your mobile/tablet, and of course if you upload something to the folder it's easily accessible on your PC next time you log on. The system works really well and is quick to syncronize (although this time will depend on your network connection).
AiData isn't he only useful mobile app available, Asustor have produced a range of apps to help you manage and access your new NAS drive.
It's worth noting that the NAS is very quiet, it's been sat on the desk next to the review creating PC and you hardly notice it.
Unlike the AS6102T there isn't a HDMI connector on the back and the lack of Kodi/Plex means this doesn't have the same media capabilities as other Asustor NAS packages, but if you're after raw speed when handling large amounts of data you'll be hard pushed to beat the AS4002T. Asustor have once again created a very affordable, multi talented, NAS suitable for homes and small businesses.
The NAS is available from Amazon.co.uk: https://amzn.to/2CA6UIL and Amazon.com: https://amzn.to/2CylnoB
To learn more about the Asustor Apps please visit: https://www.asustor.com/applications/mobile_app_overview
Network speedy NAS
The AS4002T offers impressive networking speeds...if you have the right kit to take advantage of them.
PROS
10Gbit Eithernet
Great range of supporting apps
Easy to use interface
CONS
Your other kit will need to be upgraded to make use of the network speed
No Plex at time of review
Seagate BarraCuda 2 TB Internal Hard Drive HDD ? 3.5 Inch SATA 6 Gb/s 7200 RPM 256 MB Cache 3.5 Inch ? Frustration Packaging (ST2000DM008)
1 new from £43.99
4 used from £38.71
Free shipping
Features
Rock-solid reliability built on over 20 years of BarraCuda innovation
Versatile mix of capacity and price point options to fit any budget
Multi-tier Caching technology for increased performance
Up to 220 MB/s maximum sustained data transfer rate
SSK 4TB Personal Cloud, Network Attached Storage Support Auto-Backup, Home Office Storage NAS with Hard Drive Included for Phone/Tablet PC/Laptop Wireless Remote Access
1 new from £149.99
Free shipping
Features
【Your personal cloud storage with 4TB large capacity】:This NAS built-in 3.5inch 4TB storage, as long as it is powered and connected to the internet, you will be able to remote access and manage the storage data freely at anywhere by PC/Mobile phone, without geographical restrictions. Point to Point(P2P) confidential transmission to ensure the data security;
【Two working mode with LED Indicator】: Two working mode meets all of your needs. NAS(Network-attachment Storage) Mode and DAS(Direct-attached storage) Mode. With 1000M Ethernet port for NAS mode, true wireless speed can reach to 30-40MB/s. With USB3.0 High speed transmission port for DAS mode to transfer larger numbers of various sized files. Two Modes with different LED indicator colors, easy understanding;
【Centralize all your data】: Support IOS, Android, Windows, MAC, all have proprietary client software, centralize all your photos, videos, music and files in one secure place and access easily. With USB3.0 Host port , allows connection of external storage devices such as USB thumb drives, memory card readers (for SD/TF card ect.) and some external HDD or SSD devices, you can transfer data seamlessly to the SSK internal HDD or to a wired or wirelessly connected phone, tablet or computer;
【One-click back up & Auto sleep】: One-click backup of photos and videos, designated folders real-time synchronous update and backup on the Windows computer, you can save everything and access anywhere. No longer to worry when you are on a business trip, go hiking and travel around the world. This 4TB Personal Cloud Network Attached Storage will automatically switch the work/sleep state according to the usage, which can better reduce power consumption and protect the drive;
【Smart management】: Smart App/Software, multi-people sharing at the same time; Support Samba&Dlna Protocol, all smart devices interconnection in the LAN, smart TVs, laptops and mobile phones can share SSK Drive data freely; Divide Hard drive to Private Area and Public Area, better to keep private information, more safety.
Zyxel Personal Cloud Storage [2-Bay] for Home with Remote Access and Media Streaming, UK Plug [NAS326]
21 new from £115.45
Free shipping
Features
Zero-configuration design for remote access from ZyXEL Drive
Easy to use mobile group sharing from your own personal cloud
User portal as device status dashboard
Easy to setup, maintain and organize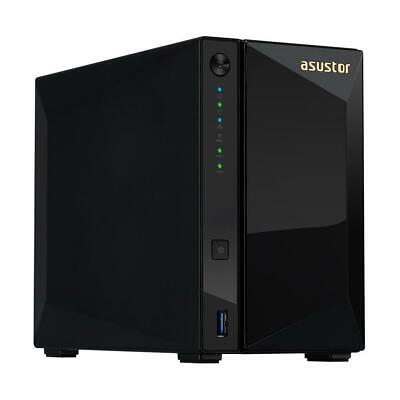 Ebay.co.uk
Ebay.co.uk