Edifier Airpulse A200 Review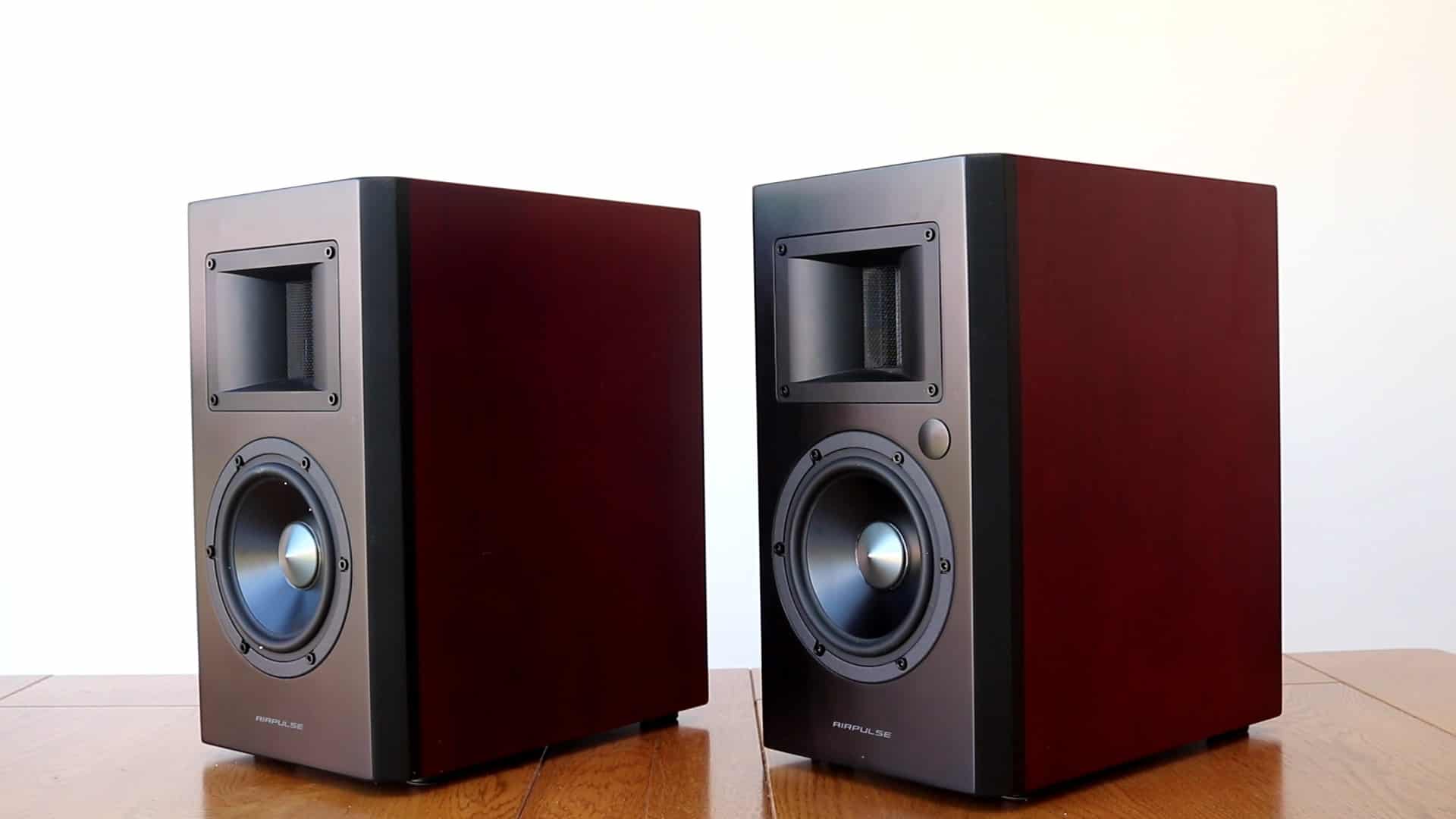 Edifier Airpulse A200 Review
The Airpulse A200 speaker system is a big pair of speakers offering a big sound.
They're black on the front with a cherry red finish for the cabinet.   There's an amplifier built in so you can use these directly with your music source, no need for an additional amplifier.
The right hand speaker is the active speaker and around the back you'll find a variety of connectors: stereo RC inputs, stereo balanced XLR inputs, coaxial input, optical input and you can also connect to these via Bluetooth (with AptX supported).  The right speaker also has controls for bass, treble and a volume/input two in one control, much like the recently reviewed Edifer S2000 Pro speaker set.
As well as controls on the back a small remote is included, or you can control the volume on your mobile if connected via Bluetooth.  And you'll need to if you want to use streaming services, in an ages of services such as Spotify it's disappointing to find this very expensive set doesn't have any inbuilt streaming features, you'll need to either stream from your mobile or connect something that streams from Spotify.
Setup doesn't take long, active speakers such as this always may it easy to get setup as you just need to plug in the power and connect your source(s) and you're good to go.  Keep in mind these are fairly large speakers, measuring W203 x H355 x D295 (mm) and they weigh 19KG (42lbs).
Sound quality is very good, easily filling a room with nice clear and detailed audio.  You can crank the volume up without distortion (but with complaints from the neighbors!), and although a decent amount of bass is present tuning the bass knob up didn't result in the thumping output you might expect.
The Airpulse A200 speaker set offer a big sound our of a big set of speakers, but they come with a big price attached. And it's that high price that causes a problem as while these speakers are excellent they didn't seem significantly better than other Edifier speakers previously reviewed that cost a LOT less than the A200s.
The Airpulse A200 speaker system is available from:
Amazon.co.uk: https://amzn.to/2Lt8jnD
Amazon.com: https://amzn.to/2Lr1jaX
Edifier Airpulse A200 Video Review
Samsung Galaxy Buds2 Bluetooth Earbuds, True Wireless, Noise Cancelling, Charging Case, Quality Sound, Water Resistant, Graphite (UK Version)
2 used from £110.09
Free shipping
as of 29/12/2021 10:50 am
Features
Crystal Clear Calls - Three microphones and a built-in voice pickup unit help you make clearer calls, while a machine-learning based solution filters the unwanted sound so you can better share your world with family and friends
Active Noise Cancelling - Two microphones detect ambient noise while Active Noise Cancelling blocks unwanted sound.
Comfort-Fit - Weighing just 5 grams each the buds keep music snug in your ears for even the most active lifestyles. With three sizes of soft, flexible silicone tips you can find a custom fit to get the best Active Noise Cancelling experience possible.
4 Colour Options - Classical graphite. Flawless white. Soothing olive. Stylish lavender. Each earbud comes in a fashion-forward design and matching cases to fit your unique taste.
Immersive Sound - Enjoy powerful, deep bass to clear treble through two-way dynamic speakers.
Homedics AR-1FL HEPA Replacment Filter for Homedics Ar-10 Air Purifier
2 new from £19.99
3 used from £15.87
Free shipping
as of 29/12/2021 10:50 am
Features
PERFECT FOR ALLERGY SUFFERERS: Captures & removes allergens, smoke, pet dander, mould spores, & germs. HEPA filtration removes up to 99% of airborne allergens & helps you & your family breathe easier
TRUE HEPA FILTRATION: The best thing about True HEPA filters? They last 5x longer than conventional filter & they're removable, cleanable & replaceable. Your air stays fresher & cleaner for longer
REMOVES BAD SMELLS: The carbon odour filter reduces household, pet & VOC odours & the optional ionizer releases negative ions into the purified air to aid the purification process
CUSTOM SPEEDS: 3 speeds & whisper quiet operation for uninterrupted use whilst you sleep. You can rely on the component parts within the purifier to leave you with a cleaner & fresher smelling home
BREATHE EASY: Ideal for use in small rooms, suitable for up to a 11.5 m² / 124 ft² room. Quality Guaranteed with a 3 year manufacturer's warranty, on top of your Amazon 30 day money-back guarantee
Philips Series 2000i Connected Air Purifier with Real Time Air Quality Feedback, Reduces Allergens, Odours and Gases - AC2889/60
4 new from £250.00
3 used from £170.89
Free shipping
as of 29/12/2021 10:50 am
Features
Powerful airflow circulation effectively covers rooms up to 79 m² and distributes clean air in every corner of the room
Scans the air 1000 x a second to detect ultra fine-particles. Reports the air quality in real time, and intelligently chooses the right speed for your home
Both air quality index and the light on the UI can be dimmed and/or turned off to avoid light disturbance
Certified by the European Centre for Allergy Research Foundation
Philips purifiers go through 170 mandatory and strict inspection tests before releasing from factory. They are subjected to rigorous life and durability tests, for continuous operation 24/7