Edifier E30 Spinnaker Speakers Review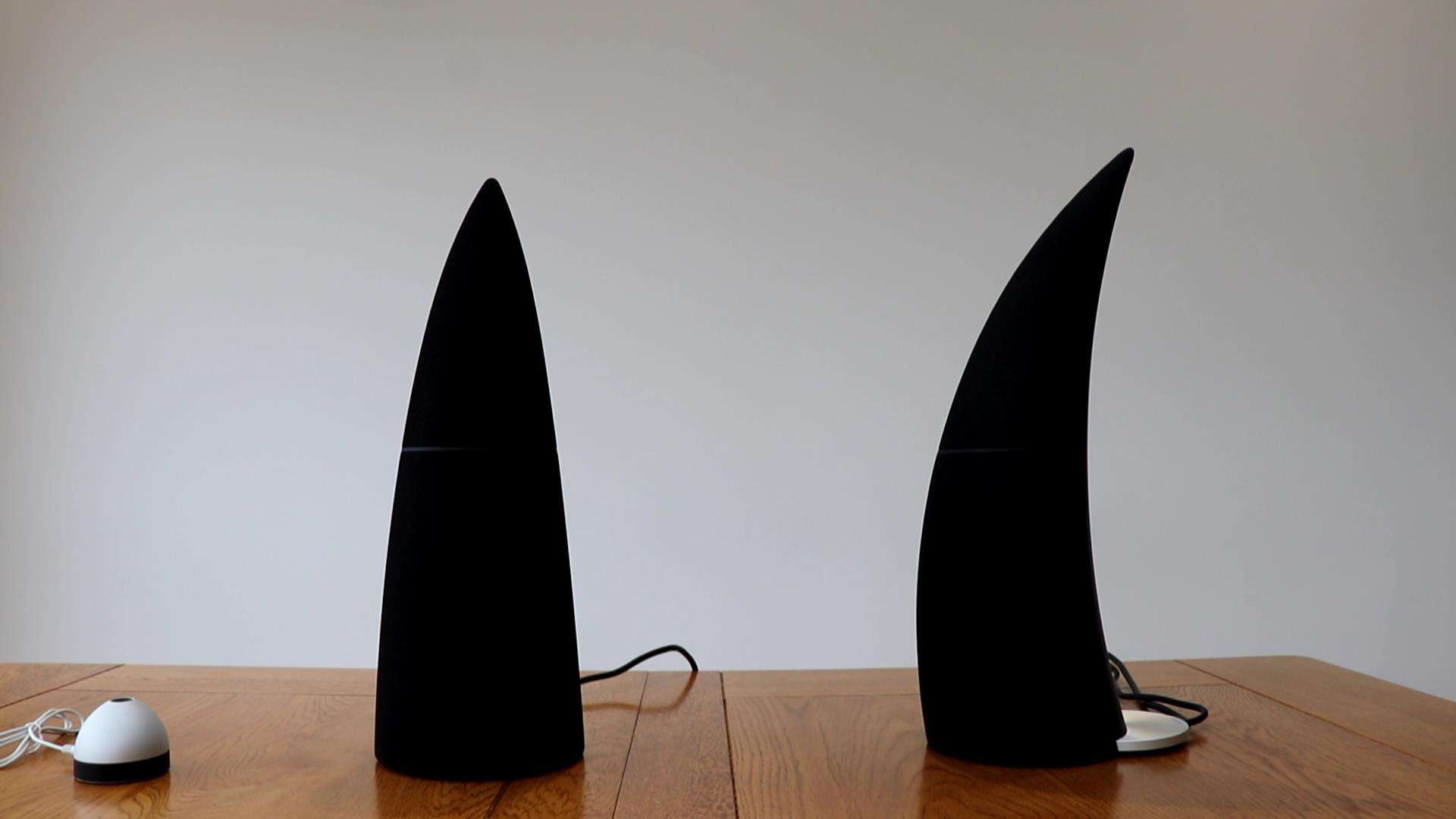 Edifier E30 Spinnaker Speakers Review
The staff at Edifier appear to have two modes when it comes to design: traditional box speakers such as the Edifier R1280DB Bookshelf Speakers or speaker design which bucks the trend, such as the Halo-esque Edifier Luna E235 speaker system.  The Edifier e30 Spinnakers fall into the inspired category of design, this time it appears someone watched Jaws over the weekend and rather liked the shape of the fin.
Available in black or burgundy, this stereo speaker set has a curved fin, or horn, like shape.  There is a small LED light on the top which indicates which mode is being used and metal plates at the bottom which provide stability and a cable management/tidy system.
Along with the speakers is a small dome shaped remote for controlling speaker volume and track control.  It doesn't need to be plugged into the speakers, as it's charged via USB you could leave it plugged into your PCs USB port.
There is also a fibre and 3.5mm – 3.5mm connection cable to ensure you're up and running quickly.  A speaker cable connects the speakers together (and it's a good length as well if you plan to use these with a large TV).
You can also connect to the Spinnakars via Bluetooth, there is no WiFi or streaming services built in, but as these are designed for computer use that isn't an issue.
Being large the Spinnakers are best suited to being next to a large monitor.  They work fine with a laptop, but unless you've a large laptop they may appear oversized when the laptop is in the middle of them.
Setup is quick and simple and if you're using your laptop speakers or monitor speakers you'll notice a big improvement immediately, sound has a lot more depth to it and packs a decent punch.  You've the option of adding an additional sub if you want extra bass.
The speakers are comfortable to use when sat close, for example when used with a laptop, but they're very capable of filling the room with sound (which isn't distorted) if you turn the volume all the way up, ideal for those looking to watch a film or listen to music.
Check out the video review below for a demonstration of the Edifier e30 Spinnaker speakers compared to the laptop speakers and you'll hear the difference right away.  These are a great looking and great sounding set of speakers for those who want to make a style statement while retaining great audio quality.
The Edifier e30 Spinnaker Speakers which are available from:
Amazon.co.uk: https://amzn.to/2r9HE3j
Amazon.com: https://amzn.to/2FqSZRz
Amazon.ca: https://amzn.to/2HCB1RS
eBay: https://ebay.to/2HEpIVB
Edifier E30 Spinnaker Speakers Video Review
Sanyun SW102 Computer Speakers, 5Wx2, Deep Bass in Small Body, Stereo 2.0 USB Powered 3.5mm Aux Multimedia Speakers, Built-in Bottom Bass Radiators, PC Laptop Desktop Speakers, Black
2 new from £29.99
4 used from £22.49
Free shipping
Features
【SIMPLE ELLIPTICAL STRUCTURE】Metal and high quality plastics make it steady without vibrating sound. Black and silvery color and the blue oval lamp ring make speakers show the beauty of metal curved lines. Adopted the low-voltage digital power, the maximum power can be 5W x 2, ensure the sound clear, bright, rounded and thick. Small Body(3.94x2.76.2.95inch) with powerful audio.
【SUPERB SOUND QUALITY】Outstanding bass quality, compared to other small speakers. Built-in bass diaphragm, closed Cavity and Low Frequency Aid Design to provide strong bass performance. In order to make up for the lack of bass of the Mini 2.0 speakers, the unique acoustic resonator structure using the enclosed low-frequency aid design makes the sound more penetrating and powerful. Note: Restricted to the small volume, bass effect still can't compare with big speakers and professional subwoofer.
【360 DEGREE STEREO SOUND】2.0 Channel stereo speakers, enjoy the best stereo effect need to separate 2 speakers, for example, the two speakers are separated from the distance of 1 meter, the two speakers and people should be 1 meters distance, then the two speakers and people is an equilateral triangle, such a position, you will hear the best stereo effect.
【WIDE APPLICABILITY】High quality cable and independent drive-by-wire design, stable sound transmission and convenient control. 3.5mm audio interface, suitable for most music players, just plug into your device to listen to your music at full volume. USB power supply, can be directly plugged into the computer USB port to take power, can also connect most of the 5V charger power supply.
【1 YEARS WARRANTY, PLUG AND PLAY】1-Years Manufacturer's Warranty and Unconditional 30 days Money-back Guarantee. Simple operation, just plug the USB cable into your device or the charger and plug the 3.5mm jack into your audio device, the Sanyun speakers will fill the room with your music, movies or games; independent wire control design, more convenient to use.
Logitech Z150 Compact Multimedia Stereo Speakers, 3.5mm Audio Input, Integrated Controls, Headphone Jack, UK Plug, Computer/Smartphone/Tablet/Music Player - Midnight Black
4 new from £22.99
1 used from £22.53
Free shipping
Features
Stereo Sound: The 2 x 2" (5-cm) drivers deliver 3 watts of clear-quality stereo acoustic sound
Compatible Audio Inputs: You can use the 3.5 mm audio input and an auxiliary line cable to play audio content from your PC, Mac or other devices simultaneously
Easy Controls: These wired speakers have power and volume controls integrated into one knob for convenient access and ease of use
Your Way: Use the handy headphone jack to connect your headphones and listen to music, movies and games in total privacy
Compact Design: The solid, compact and portable design of these hifi mini-speakers looks and feels dependable, giving you confidence in its reliability
Logitech Z333 2.1 Multimedia Speaker System with Subwoofer, EU PLUG, Rich Bold Sound, 80 Watts Peak Power, Strong Bass, 3.5mm Audio and RCA Inputs, PC/PS4/Xbox/TV/Smartphone/Tablet/Music Player
5 new from £52.12
Free shipping
Features
Experience Sound : Loud, deep, clear sound for your music, movies and games, the Z333 wired multimedia speakers deliver 80W peak power and 40W RMS sustained power
Intense Bass : Experience deep, detailed sound with the subwoofer and large 5-Inch front-firing driver that comes in this multimedia speaker set up, adding intensity to whatever you're listening to - with a control panel on the back
Custom Audio Control : This portable PC multimedia speaker system comes built with a control pad giving you command of power and volume controls, with a handy headphone jack for when you need to listen in privacy
Multimedia Connectivity : The 3.5mm audio cable and RCA inputs provides a convenient connection adaptable to most devices with a hifi audio output - including computers, tablets, mobile phones and TVs
Convenient Protection : These multimedia mini-speakers come protected with a 2-Year Warranty