Fitbit Versa Smartewatch Review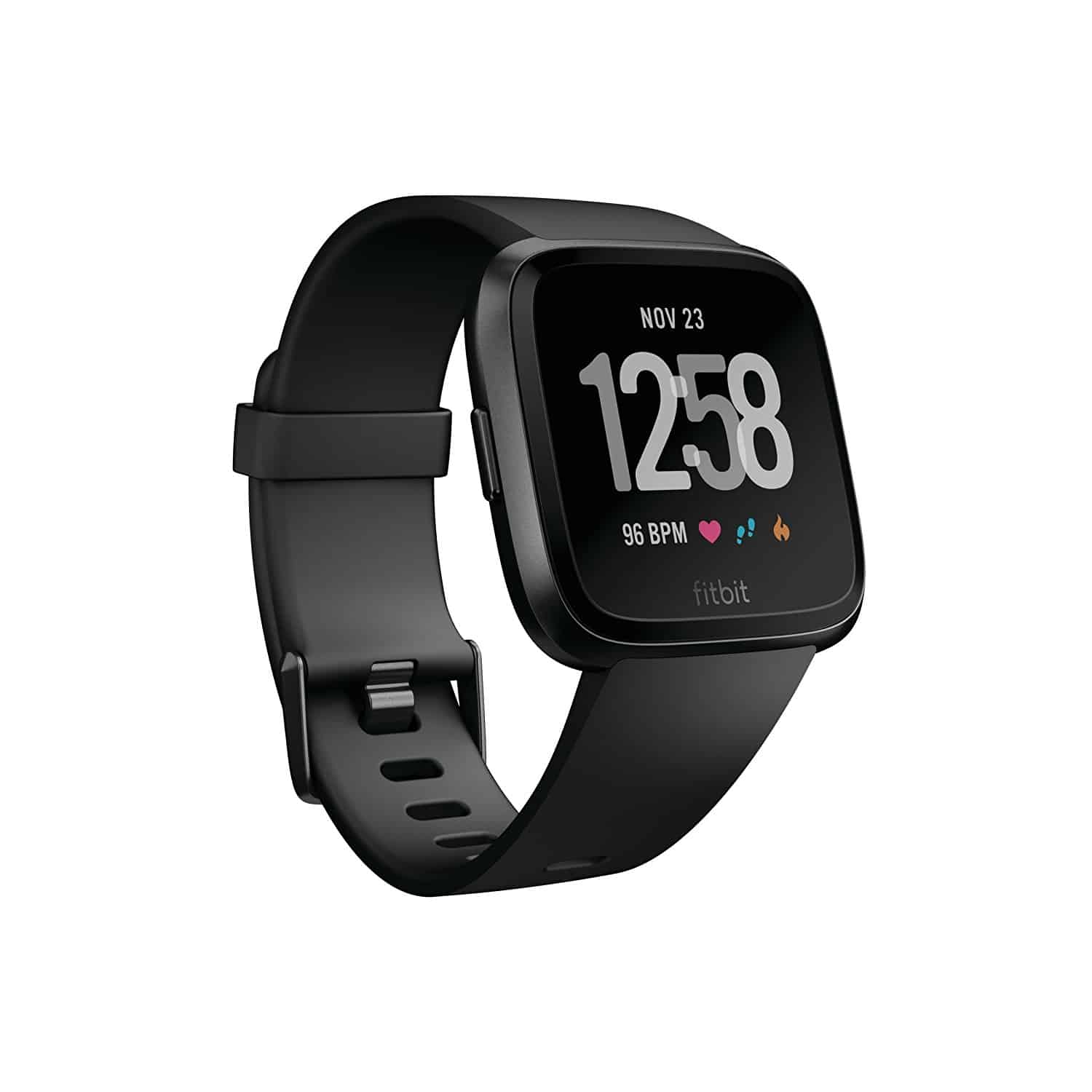 Fitbit Versa Smartewatch Review
Fitbit are back with a new fitness tracking smartwatch, the Versa.  Although many are saying this is the successor to the Fitbit Blaze it looks and feels more like the successor to the Pebble Time, sharing a lot of the promised features of the cancelled Time 2.
It looks similar to the Pebble, with a slightly larger screen that has a better resolution.  The Versa doesn't use eInk, but it is touch screen and the the screen is crisp, clear and very easy to see even in bright daylight.  Check out the video review below to see them side by side.
There are three buttons around the watch, a single one on the left and two smaller on the right.  Around the back is a heart rate monitor and charging pins.
You charge the Versa via the included charging dock, it's quick to charge and has very good battery life, easily last 3 to 4 days depending on how many of the features you use.
As you'd expect from Fitbit, the Versa is a brilliant fitness tracker.  It's packed with technology that allows it to track steps, heart rate, sleep, individual activities and workouts.
To help get you moving it has the Fitbit Coach built in, allowing you to perform a guided workout where ever you happen to be.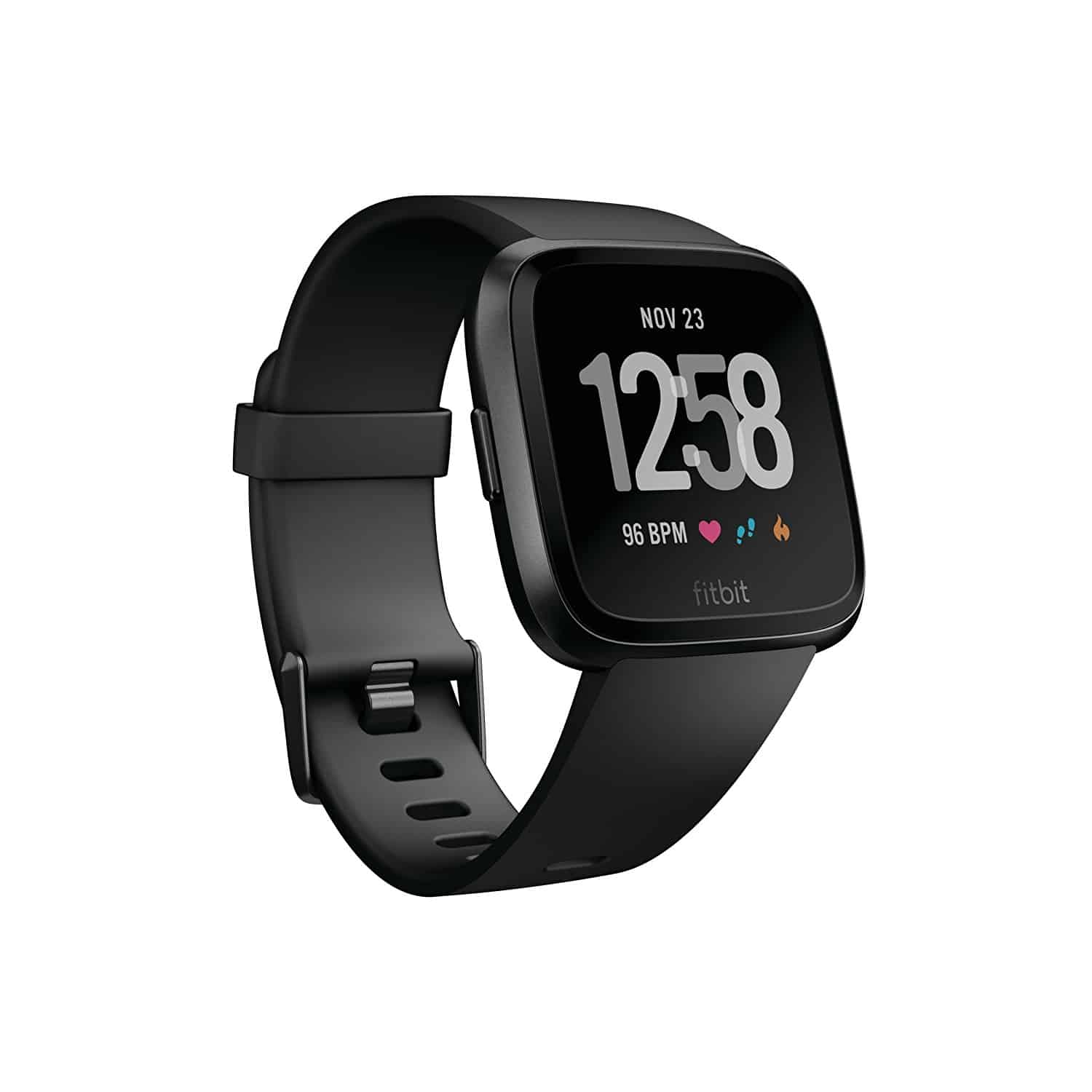 The Versa is missing GPS, you'll need your mobile to log where you've been, however if you're not bothered about GPS tracking you can leave you phone at home as this wearable isn't just a fitness tracking watch, it's also a music player!  Music files can be loaded on via your computer (feels a bit clunky but gets the job done), headphones can be paired with the watch and you can play music without needing your mobile.
You can take advantage of music from Pandora or Deezer, but at the time of review there is no Spotify, hopefully a Spotify app will be added in the future.
For those with supported banks (Santander was recently added in the UK) you make contactless payment at the touch of the watch, very handy if you want to go for a run without cards or money but fancy picking up a drink or snack.
The touchscreen interface works really well, the icons are clear and easy to select, with both real time and historical stats available to view.  The stats are also available in the excellent Fitbit app and via the Fitbit website, with all options providing a wealth of information.
Additional apps and watch faces can be installed via the main Fitbit app, there is a good selection of watch faces already, and a number of them will look familiar to Pebble users.  There aren't many additional apps of interest in the store at the moment, again that might change in time.
One are the Pebble is excellent at is notifications, with the watch pinging at the same time as the mobile.  Notifications on the Versa have been hit and miss, sometimes they come through, sometimes they don't. When they work they're brilliant, easy to read on the screen and easy to dismiss once you're finished with them.
There's a lot to like about the Versa, and being software based it can only get better as more features and apps are rolled out.  It's comfortable to wear, looks great and provides a very comprehensive set of fitness and sleep tracking stats.
The Fitbit Versa is available now from:
Amazon.co.uk: https://amzn.to/2JRRVc6
Amazon.com: https://amzn.to/2KBRymY
Amazon.ca: https://amzn.to/2we7icJ
eBay: https://ebay.to/2FKmKwE
Fitbit Versa Video Review
AK Replacement compatible with Fitbit Versa 2 Strap/Fitbit Versa Strap, Soft Silicone Sport Straps for Versa Lite/Versa Special Edition/Versa 2 (Oatmeal glitter rose gold, Small)
Features
【Applicable Model】:Replacement Straps Compatible with Fitbit Versa 2 / Fitbit Versa / Fitbit Versa Lite / Fitbit Versa Special Edtion. Various new arrival colors to personalize your Fibit Versa for every occasion (Replacement Bands Only: The Fitbit Versa Smart Watch not included)
【Seamless Match】:Fits as good as original strap. Simple to install and remove, NO tools required! The end of the band has a lug, which fit your Fitbit Versa / Versa 2 / Fitbit Versa Lite smart watch in place and locked precisely & securely.
【Premium Waterproof Material】:Made from flexible high-quality elastomer, sweat resistant & water resistant. Prevents skin from irritation, soft, lightweight and durable, very comfortable to wear
【Available in Two Sizes】:Small size: for 5.5"-7.1"wrists Large size: for 7.1"-8.9"wrists
【After-sales Service】:If you have any dissatisfaction with replacement bands for Fitbit Versa, please contact us via Amazon e-mail. We will reply to you ASAP.
SINPY Watch Bands for Fitbit Versa Strap,Compatible with Fitbit Versa 2/Fitbit Versa Lite Metal Magnetic Replacement Wriststraps,Pink
1 used from £4.69
Free shipping
Features
Available:Stainess steel metal watch bands suitable and compatible for Fitbit Versa/Fitbit Versa 2 /Fitbit Versa Lite
Adjustable:Small size suited for 5.9''-9.2'' inch wrist(150-235mm),Large Size suited for 6.6''-10''inch wrist(170-275mm)
Material:Replacement watch band made of premium stainess steel material,comfortable to wear and easy to adjust.It's elastic,elegant,lightweight,breathable,flexible,durable,waterproof,sweatproof,dirt-resistant
Directions:Easy to assemble and resize.Adjustable buckle keep your Watch band securely in place.Multi colored choice for your smart watch,look wonderful,stylish and special
Gift&Warranty:Great gift idea for women,man,boys,girls,your friends and families,travel talent or sports.Warranty:If there is any problem within 30 days,we will offer 100% money back guarantee or replace a new wrist bands for you and lifetime limited warranty of technical problem
[4 Pack] Straps compatible with Fitbit Versa 2, Fitbit Versa, Versa Lite/SE, Classic TPU Silicone Sport Adjustable Replacement Accessories for Women/Men, Small/Large (Champagne/Grey/Pink/White, Small)
Features
These Replacement straps Compatible with Fitbit Versa 2 / Fitbit Versa / Fitbit Versa Lite / Fitbit Versa Special Edtion. Various new arrival colors to personalize your Fibit Versa for every occasion (Replacement Bands Only: The Fitbit Versa Smart Watch not included).
High Quality Material: Yandu replacement straps for Fitbit Versa are made of soft, flexible, durable elastomer that are easy to clean, comfortable to wear and eco-friendly for the human skin, bringing comfortable experience when you exercise, sleep and beyond.
Available in multiple colors and two sizes for Fitbit Versa/Versa 2/Fitbit Versa Lite women men, freely adjustable stainless steel buckle holds Versa sturdily. Each color is seemed like a brand new watch. Small Size fits for 5.5" - 7.1" (140mm-178mm) wrist. Large Size fits for 7.1" -8.7"(178mm-220mm) wrist.
Secure Design: Stainless Steel Buckle and Two fastener rings can double hold your Fitbit Versa 2 bands in the place securely and make the extra band's length neatly. No longer to worry about falling off your Fitbit Versa smart watch.
【Our Service】6-month warranty after the date of purchase, Replacement or full refund without returning for all quality-related issues. Please feel free to contact us at any time, we will give you a response within 24 hours.