If you're getting creative with YouTube videos you've likely looked into what YouTube tools and tactics can help you grow your channel, probably coming across people recommended "sub-for-sub" (don't do that!) and eventually learning about tools such as TubeBuddy which requires permission to access your YouTube account.
Is TubeBuddy legit? Is it safe? Yes TubeBuddy is an established company offering a legitimate suite of tools to help you manage and grow your YouTube channel.
As a long time YouTuber I've appreciated the range of tools the service provides, let me explain the features I use with my channel.
Who owns TubeBuddy?
TubeBuddy is now owned by BEN Group In, an entertainment AI company that focuses on placing brands into TV, music, influencers and films, who acquired the firm in 2020.
It isn't part of the Google/YouTube family, but is a YouTube certified partner. The company was launched December 2014 and has built YouTube related tools for longer than Google has owned YouTube.
The company mission is simple:
Our Mission is to make you and the rest of the YouTube Community a happier, more productive bunch.
It does this via a browser plugin, mobile app and range of tools available via their website. So that's who owns and what the mission is but how do they do this?
What is TubeBuddy used for? TubeBuddy is used for topic research and video optimization to help your videos and channel rank higher and gain more subscribers. In addition they provide a suit of time saving tools to speed up your content workflow and offer a range of partner discounts.
The team behind this are passionate about helping video creators and I've seen the tool evolve over time to adapt to changes at YouTube and introduce additional helpful features.
How do you use TubeBuddy
To get started you'll need to create an account via the TubeBuddy Website.
During sign up you'll need to give TubeBuddy access to your YouTube account. This can seem a little scary as you are granting them permission to see your account and interact with your videos, you are probably wondering if it's safe and "will TubeBuddy delete my videos?".
When I was searching for YouTube tools to help with my account it was at this point I wondered "is TubeBuddy legit?", especially as you can sign up for free, it seems too good to be true.
I decided to give it a try and have used the platform for years without ever having a problem. The reason it needs these permissions is so it can read your analytics and make changes to your videos, for example when conducting a thumbnail A/B test.
With an account you gain access to tools on the website, via a browser extension and via a mobile app.
TubeBuddy Website Tools
Accessing your dashboards gives you a wide range of tools:
Health Report – Uses your YouTube statistics to give an overview of your channel
Launch Pad – Create an upload task checklist, useful for new YouTubers
Competitor Scorecard – Compare your channel to your competitors
Search Rank Tracking – Track your video rankings for specific keywords, checks YouTube and Google
Brand Alerts – Get alerts for videos to do with brands, either your brand or a brand you make videos about
A/B Tests – Conduct thumbnail split tests
Backups & Exports – Export all video metadata
Canned Responses – Create a set of pre-written responses to quickly answer comments on your channel
Promo Materials – A set of links to different aspects of your channel
Retention Analyzer – Report regarding how long your videos are retaining viewer attention
Usage Statistics – How you are using TubeBuddy
The tools you have access to will depend on your account level.
Some of these tools are more useful than others. I've never used the promo materials tools or launchpad tools, but I do use the A/B testing tool, for me it's the most valuable tool TubeBuddy offer.
My favourite TubeBuddy website tool
The feature I use the most is the A/B testing. This is only available on paid plans, the feature allows you to test thumbnail and meta description variants. I use this tool a lot, sometimes I test very different thumbnails sometimes I test very slight differences.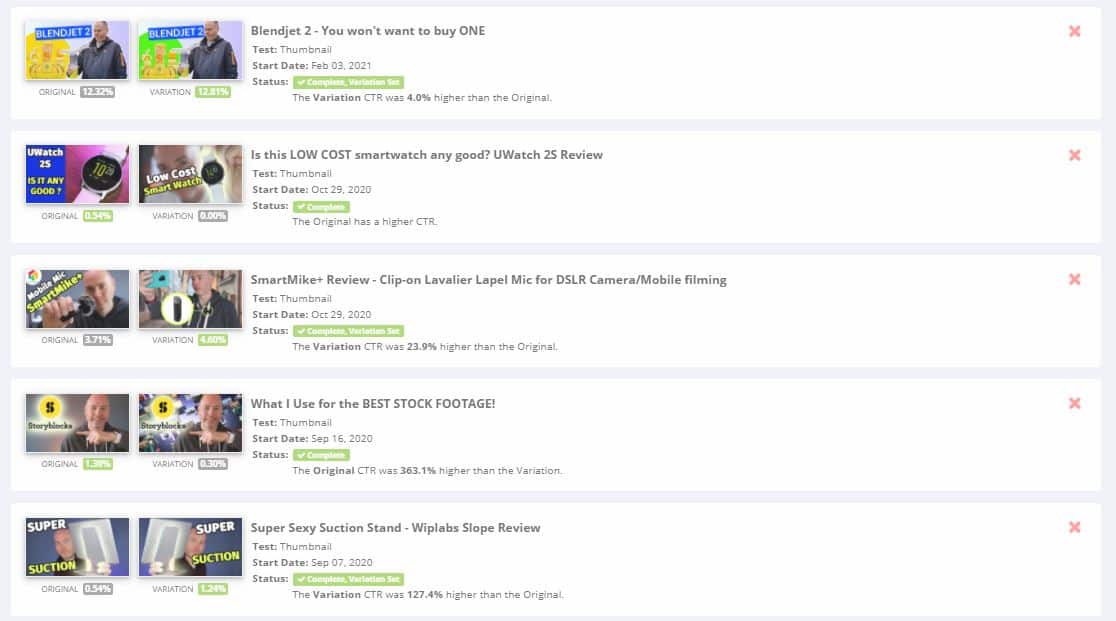 The reason this is so valuable is the thumbnail is one of the key factors on someone clicking your video or not.
It's very easy to set up:
Upload your video with a thumbnail
Design an alternative thumbnail
Setup split test
Wait for results
Pick the thumbnail that performs best
You can set the test to run for a set amount of time (e.g. 7 days) or until the results are statistically significant.
I love how easy the results are to understand, here are the results from a recent thumbnail test I ran, you can see the detailed brake down of the stats TubeBuddy is using and to make things easy it also tells in simple language which has performed better.
TubeBuddy Extension Tools
The other side of this service is a website extention that adds new functions and tools when you're using YouTube. Being asked to install something into your browser is another "Is TubeBuddy legit?" moment but rest assured its perfectly fine and very helpful.
After installation and logging in you'll notice some differences in your YouTube experiance, there will be a new menu giving you access to tools and new information dotted around different pages on YouTube.
Extension Tools
The menu gives you access to a range of tools, news and your channel milestones.
Keyword Explorer – Gain insights into search results and if the topic is going to be hard to compete
SEO Studio – Helps you create title, description and tags, also shows how your thumbnail will look in the results
Video Topic Planner – A notepad to store ideas for future plans
Tag List – Store different lists of tags for quick application to videos
Best Time to Publish – Suggests the best time to publish videos
Click Magnet – An advanced channel review and suggestion tool helping you understand where your channel is doing well and where there are improvements to be made
I've found these tools to be very useful when researching video topics and reviewing how my own videos are performing. Click Magnet is especially useful at helping to pinpoint videos that could do with some attention, I often look at the click through rate suggestions and then run an A/B test on the thumbnail to see if I can create an improvement.
The extension will also add information around YouTube, for example when you type in a search term you'll automatically get information related to the search term.
When you click to watch a video you'll see the 'Videolytics' panel giving you an quick overview of how well the video is doing.
And if you click on a channel you'll see 'Channelytics', comparing your channel to their channel.
This page allows you to compare:
Views last 30 days
Subscribers last 30 days
Videos last 30 days
During video upload/editing you will see best practices checklist and have the option to use a thumbnail creator. This is a brilliant tool allowing you to first pick a background of either a still from the video, a solid colour or an existing image/thumbnail.
You can then add additional layers of text, image, shape, empji frames or one of your saved templates.
Finally, you preview how the thumbnail looks, brilliant you can do this for YouTube, Facebook and Twitter to ensure it looks great across all platforms.
I really like how integrated these useful features are, you very quickly become use to seeing this information as you upload your own videos or browse other videos and channels.
TubeBuddy Mobile App
The mobile app gives you quick access to your stats, showing views, likes, dislikes and comments. You can manage video comments, replying or deleting them.
The app also shows your milestones, showing any you've hit in the last 30 days, which milestones are next and how long until you hit them.
There is a news section curating YouTube related stories from sources such as the YouTube Creator Blog, TubeBuddy Blog, and other YouTube focused soures.
There is the option to do some research in the mobile app, but it feels very limited compared to the desktop features availble, still handy when you're on the go.
Member Perks
As well as unlocking the best tools on offer, a paid membership also gives you access to a range of perks such as:
Free access to 250,000 Audio Heros royalty free music tracks and sound FX ($9.99 p/m)
Free access to Jukedeck, an AI music generating website ($0.99 per track)
Free access to TuberTools, graphics and videos for use on videos (e.g. end screens, $20 p/m)
1 year free access to collabspace paid plan ($9.99 p/m)
There are also a range of discount available for YouTube related services. Make use of these offers if you have access to them and they help make the monthly price much better value than TubeBuddy alone.
Help for small channels
One thing I've seen and appreciated is the help they offer to small channels just getting started. Not only are the tools an excellent way of simplifying a lot of the data on YouTube and helping you understand what you should do when uploading videos, they are also happy to provide free access to the paid tools in return for different actions. The actions and rewards depend on your channel size and existing plan, but as an example:
Complete a survey = 1 week star plan
Following TubeBuddy on Twitter = 3 days of Pro plan
Get 250 people to install TubeBuddy = Free Lifetime Legend upgrade
If you have less than 1000 subscribers to your channel you qualify for 50% off the Pro plan. For up to date pricing check out the TubeBuddy Website.
As a TubeBuddy user you may find yourself naturally promoting the product to other YouTubers so these perks are a win/win situation.
Want to get a little extra? They have a well established affiliate programme that allows you to earn for referals to TubeBuddy, indeed if you sign up via my links it costs you nothing extra but get's tracked as an affiliate link and helps support my website. A smart feature is the ability to track via source, for example the link use on this page has '/reviewify' in it so I can see how many people click through from my website. The full link looks like this: https://www.tubebuddy.com/markJdraper/reviewify
I've found TubeBuddy to be an excellent companion to my YouTube channel, it offers a lot of time saving features and even has a calculator to show how much time you've saved, and, as the saying goes, time is money!
Who uses TubeBuddy?
If my ringing endorsement isn't enough you'll be pleased to know there are over 3,000,000 creators and brands using the platform including:
Nick Nimmin – Educator
Roberto Blake – Creative Entrepreneur
Sara Beth Yoga – 1m+ subscriber channel
Derral Eves – YouTube expert
Pepsi
CBS Sports
Family Feud
Remember, it's free to install and try, but with limited features. For further information visit the TubeBuddy Website.
TubeBuddy is Legit
Hopefully the above information has put your mind at ease, if you were wondering is TubeBuddy legit I can testify it is and it offers a powerful selection of tools for YouTubers small or large.
Give the free version a try, if you don't like it you can always stop using it, if you do like it you'll likly want to explore the paid for benefits further.