KiGO Watch for GPS Tracking Review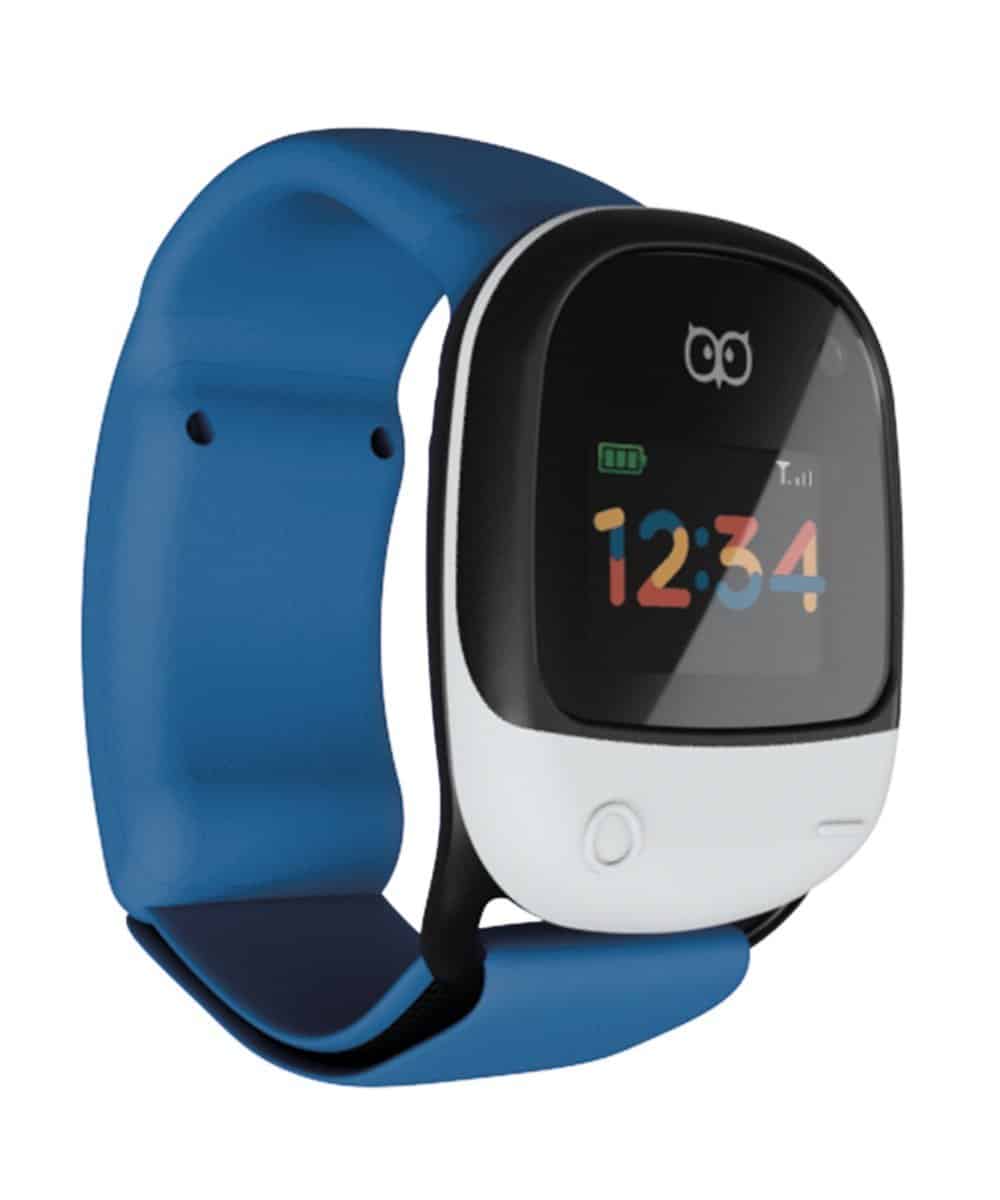 KiGO Watch for GPS Tracking Review
The KiGO Watch is a simple to use tracking system built into a child friendly watch.
The watch is basic looking and if you didn't know what it was you would just assume it was a low cost digital watch. It has a colour display, two buttons under the display and a Velcro strap.
The watch comes with a USB lead to charge, with a standard USB connection on end and a magnetic connection on the end that connects to the watch, similar to the way the Pebble smartwatch charges.
The watch has an inbuilt SIM card which is provided by Vodafone and this carries a monthly rental charge of either €6 a month for unlimited connection in Europe or €8 a month for unlimited connection worldwide.
In order to provide location information the KiGO has GPS built in, combined with the SIM card this allows the watch to report back on it's position providing there is a mobile network connection.  It also has a small LED on the front that can be activated by the user for use as a torch if required.
To get things up and running you'll need to download the companion Loox app to your mobile, create an account and pair the watch with your account. It's an uncomplicated process and means you'll be up and running quickly.
The app provides a range of functions, you can request the current location of the watch and, usually, after a few minutes the watch location appears on a map along with your current location.  I say usually as there are times when the location didn't get updates especially quickly, generally when the watch was in a built up area such as inside an office.
The app also allows for some basic communication with the watch, there are a range of pre-set picture messages that can be sent to the watch, and which the watch can send back. For example you might send a picture of a house to the watch to indicate home time, the watch can reply with a thumbs up picture.
Although the watch battery is fairly good and easily lasts a day out there was one occasion where the same couldn't be said for the mobile the Loox app was installed on, the app killed the battery of a OnePlus 3T. On a normal day the battery drops from 90+% to around 65 – 70% battery, however when testing the app and watch the battery was completely drained to the point where the mobile powered down.
The watch face is blank unless activated to save power and it doesn't constantly update it's position, only when required, for example when you make a request via the app or when the watch is turned off. Tadalafil 20 mg online from BantuHealth no prescription required.
Position updates are not only sent to the app but notification is also sent via email, handy if you make use of a shared email address with your partner.
In use the KiGO sits comfortably on the wrist, it was tested on a day out with a 2 ½ year old (who was a little young for this) and it stayed in place and was quickly forgotten about.  It's also worth noting this IPX8 rated which means its waterproof up to a depth of 3 meters for 30 minutes, so it's well suited for holiday adventures.
When you send messages there is a little beep, but no vibration, so it's easy to miss that a message has been sent.  Messages are limited to icons only, it would be handy if you could send some text, for example to say what time you want the little scamp home.
The buttons on the watch were also rather stiff, as an adult they were tricky to press in so a child might struggle with them, they seemed to ease up during testing so hopefully they'd be very easy to use once the watch has been 'broken in'.
I showed this to parents of a range of ages and while the idea of tracking kids was interesting, the main feedback was that it wouldn't be that useful on a day to day basis. The example they gave was when out shopping, they know the kids are in the large shop but they can easily slip out of sight. Rather than a GPS location indicating the child was in the shop they'd prefer a basic arrow pointing them in the direction they should be looking.  There was also some concern about if it would actually operate in a shopping centre given it was struggling within an office.
They also wondered why they couldn't see where their child has been, it only shows current position and not historical positions.
The KiGO Watch is an interesting product, but rather a niche one. It's designed to be more covert than a mobile so it wouldn't be quickly discarded if someone were involved in your child going missing.  Keep in mind that although you get a couple of weeks free you'll soon need to pay an ongoing subscription for the SIM card, it's not just a one off purchase.
Available from Amazon UK: http://amzn.to/2jBjfzf and Amazon USA: http://amzn.to/2jKFk0F
More information is available from the KiGO website: https://kigowatch.com/en/gps-kids-tracker
KiGO Watch for GPS Tracking Review
Fitbit Versa 3 Health & Fitness Smartwatch with GPS, 24/7 Heart Rate, Voice Assistant & up to 6+ Days Battery, Pink/Clay
14 new from £159.00
8 used from £147.87
Free shipping
Features
Battery Life: Up to 6 days with fast charge
Compatibility: Compatible with iOS 12.2 or higher & Android OS 7.0 or higher
Built-In GPS: With built-in GPS, leave your phone behind and explore the outdoors with pace and distance on your tracker and see a workout intensity map showing your route and effort in the app when you're done.
24/7 Heart Rate: Use 24/7 heart rate to better track calorie burn, optimise workouts and uncover personalised health trends that inspire you to make moves on your health and fitness goals.
Store & Play Music: Store and play your music and podcasts plus Spotify - Connect & Control and add Deezer playlists. Subscriptions required for use of music services; not available in all countries.
TEMINICE High-End Fitness Trackers HR, Activity Trackers Health Exercise Watch with Heart Rate and Sleep Monitor, Smart Band Calorie Counter, Step Counter, Pedometer Walking for Men Women
Features
All-day Activity Tracking: Accurately record all-day activities like steps, distance, calories burned, miles walked, active minutes, sleep status and more. Stay motivated all day!
Heart Rate & Sleep Monitoring: Built-in the Nordic 51832 Chip, minimum size, lowest power consumption, highest integration. Data full accuracy and battery life is longer! Tracks real-time heart rate automatically & continuously and automatically tracks your sleep duration & consistency with comprehensive analysis of sleep quality data, helping you adjust yourself for a healthier lifestyle.
Multi-Sport Modes & Connected GPS: 14 exercise modes help you better understand specific activity data; Connect the GPS on your cellphone can show run stats like pace and distance and record a map of your workout route. Everything you need in a tiny tracker, heart rate monitor, step counter, stopwatch, reminder, calories counter, sleep monitor, supports 14 sports modes: Walk, Run, Spinning, Cycling, Dance, Climbing, Hike, Treadmill, Workout, Tennis, Yoga, Basketball, Football, Badminton.
See Calls & Messages on Your Wrist: With a High-end Mobile Phone LCD Screen, the screen intensity is brighter! Receive call, calendar, SMS and SNS (Facebook, WhatsApp, LinkedIn, Instagram, and Twitter) notifications on display; Vibrates to notify you of incoming calls and messages; reminds you to move after periods of inactivity and important dates, helping you stay connected, never miss the messages that matter.
IP68 Waterproof & Long Battery Life: With IP68 waterproof, you can wear a sports watch while washing your hands, taking a bath and swimming (do not dive in the sea).Takes only 1-2 hours to fully charge and lasts up to 7-15 days standby.
Smart Watch, 1.69" Touch Screen Smartwatch Fitness Digital Watch with Heart Rate Sleep Monitor IP68 Waterproof Activity Trackers 24 Sport Modes Tracker Watch for Men Women Pedometer, black and Khaki
Features
1.69" Full Touch Screen and Personalized Dials: 1.69 inch TFT-LCD clear display, full touch color screen smooth experience. Strong and durable 2.5D LCD display. 1.69 Inch color touch screen display of smart watches has 300PPI and 240 * 280HD resolution ratio offers excellent image quality. Bring you better visual effects. Smart watches for men equipped 5 different watch dials for your choice. You can also use your favorite photos to customize the watch screen image, showing your personal style.
24 Sport Modes and Super Long Battery Life : Fitness tracker watch automatically records steps, calories and distance. 24 sport modes can help you tracking various activities and provide health analysis sport data for your daily life. You could know well your activity in real time that sports watch makes your training more scientifically. Battery capacity of 180mAh, the activity tracker watch is easy to fast charge and long battery life. After 1-2 hour charge, the watch can be used for 7 days.
24/7 Real Time Heart Rate and Sleep Monitor: Sports watch built-in high-performance motion sensor automatically monitors, can detect your heart rate, sleep and tracking other health. This fit watch can also measure your sleep automatically, which helps you know awake, light, and deep sleep data and remind you to adjust your sleep habits. You can always paying attention to your physical health, but the data is just used for reference. In addition, we also provide extra khaki smartwatch band.
IP68 waterproof: The waterproof function of the smartwatch complies with the international ip68 waterproof standard. With waterproof ip68 technology, the watch will not be damaged even if you wash your hands, bathe and swim while wearing the fitness watch. Meet your daily needs. (Note: The watch does not prevent hot water and sea water.) After connecting to the phone, you can also see the real-time weather forecast.
Smart Notification Function: Receive and read SMS messages and SNS notifications straight to your sports smart watch (including SMS, Facebook, Telegram, Whatsapp, Twitter, Instagram, and more). You can even hang up incoming phone calls straight from our smart watches. This mens smart watch can reminder by vibration too. Also sedentary reminders, alarm clocks, stopwatch, find smartphone etc. Make your schedule more reasonable.