Pebble surprised everyone soon after the Kickstarter for the Pebble Time ended with the announcement that they'd developed a round version of their iconic watch.
To ensure Kickstarter backers weren't put out by this they allowed backers to order the round at a discounted price, and if you didn't like it you could send it back for a full refund.  If you did like it you could send the other Pebble back for a refund.  Or you could keep both!  Pebble did well to come up with a solution to ensure customers were not unhappy about the sudden introduction of the new round watch.
Like the previously reviewed Pebble Time Steel the Pebble Round has the same slick interface, although it's been modified to better fit the round watch face.  The design is certainly the most watch like so far, it's beautifully thin and light, very easy to forget you have it on until it notification vibration happens to buzz.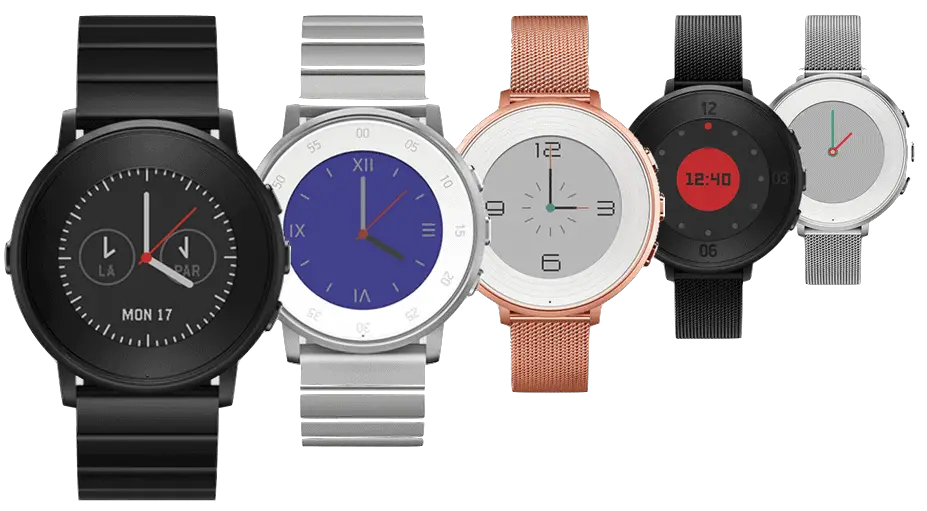 There are a range of colours available, on review is the white face edition.  Although it has many similarities to the Pebble Time Steel there are some key differences: Battery life is now around 2 days rather than 7 days; the white watch face makes the screen look really dark.
Setup was very simple, just follow the guide in the Pebble app.  Notifications are still handled very slickly and there are a range of watch faces available.  The white face itself had the standard watch numbers around it (5, 10, 15 etc) and these were completely redundant if you happened to pick a digital watch face rather than analogue one.
Pebble have stuck to the same button layout of one on the left and 3 on the right, they are very subtle and the slim profile of the watch ensure you can wear this without it causing problems with tighter clothes, such as shirts.  A handy feature is the ability to add a short cut to the right top and bottom buttons, for example quickly jumping to the music control screen.
Apps are also available, Misfit for fitness tracking, Leaf for Nest thermostat control, there are loads available.  The new Pebbles do away with the limit on the number of watch faces and apps, instead using a smart system that automatically installs and uninstalls apps.  Don't use on for a while and while it still appears on the Pebble it isn't actually installed, when you run it the Pebble with install and open it up.  Very smart.
Voice replies are also present and correct, allowing you to respond to messages using only the watch rather than having to dig out your mobile.
Pebble get a lot right with the Round, unfortunately the big issue, at least with the white variant, is that the screen is really dark and hard to make out.  Here you find generic Accutane price comparison for US cutomers. Wtih the Pebble Time Steel the watch can be easily glanced at to check the time, but this wasn't always possible with the Round as the screen was just too dark to see.
There were also occasions where the backlight didn't come on immediately, even when flicking the watch to activate the light.
Great design, but a disappointing screen, backlight and lower than normal (for Pebble) battery life means this is one only for those who really want a slim profile watch.  For everyone else the Pebble Time Steel would be a better option (or potentially Pebble Round V2).
You'll often find Pebbles sold on Amazon UK: http://amzn.to/1hEvVDy and USA: http://amzn.to/1WQyJ0r

Chas Long and Sons Polar White Marble Chippings 25 Kilo Bag
2 new from £13.56

Features
 Shines When Wet And In The Sun
 Pure White Marble 
Can Be Used For Many Purposes Such As Pathways, Borders, Water Features And Rockeries
East of India Porcelain Pebble - So Proud
10 new from £3.99
Free shipping
Features
Heart & arrow illustration on front
Features the words 'So proud of you' on reverse
Material - Porcelain
Dimension - approx. 4 cm x 4.3 cm x 1.5 cm
By East of India
Pebble Stones 100Pcs, Luminous Cobblestones Glowing in Dark Glow Pebble Rock Stones for Walkaway, Aquarium, Home Decor, Garden, Patio and Fish Tank (White)
2 new from £5.19

Features
【Wide Use】Apart from decorating, pebbles stones are great for soil protection as they can protect the soil from erosion, sunlight and moisture. These glowing pebbles can also be used in art & crafting, DIY gifts, indoor & outdoor home décor.
【 Safe 】The pebbles have no sharp edges and are polished very well to form the smooth surface. These stones are manufactured with fine quality plastic resin, non-radioactive and non-toxic. These pebbles are environmentally safe and non-harmful.
【Attractive Colours 】These pebble stones come in different colors i.e. white, blue and green these bright colors will fascinate any decoration these polished pebbles will be used in.
【Decorative】The bright colour and high intensity of light absorption property bring out the stunning effect, these can be used in all kinds of decorations such as fairy gardens, backyard decoration, mason jars, gardening decoration, fish tank, swimming pool decoration, pathway, and many more.
【Reusable】These pebble stones glow in dark and make your home and garden more decorative and attractive. These pebbles stones are viable for 10 years. Simply put the pebbles under the sunlight for a several hours, make sure that each stones absorb sunlight.