Photoboards.org were recently at The Photography Show, held annually at the NEC, Birmingham.  If you're looking to up your Instagram photo game the products they offer are going to be for you, they're high quality, high resolution, boards with photos of lovely backdrops on them.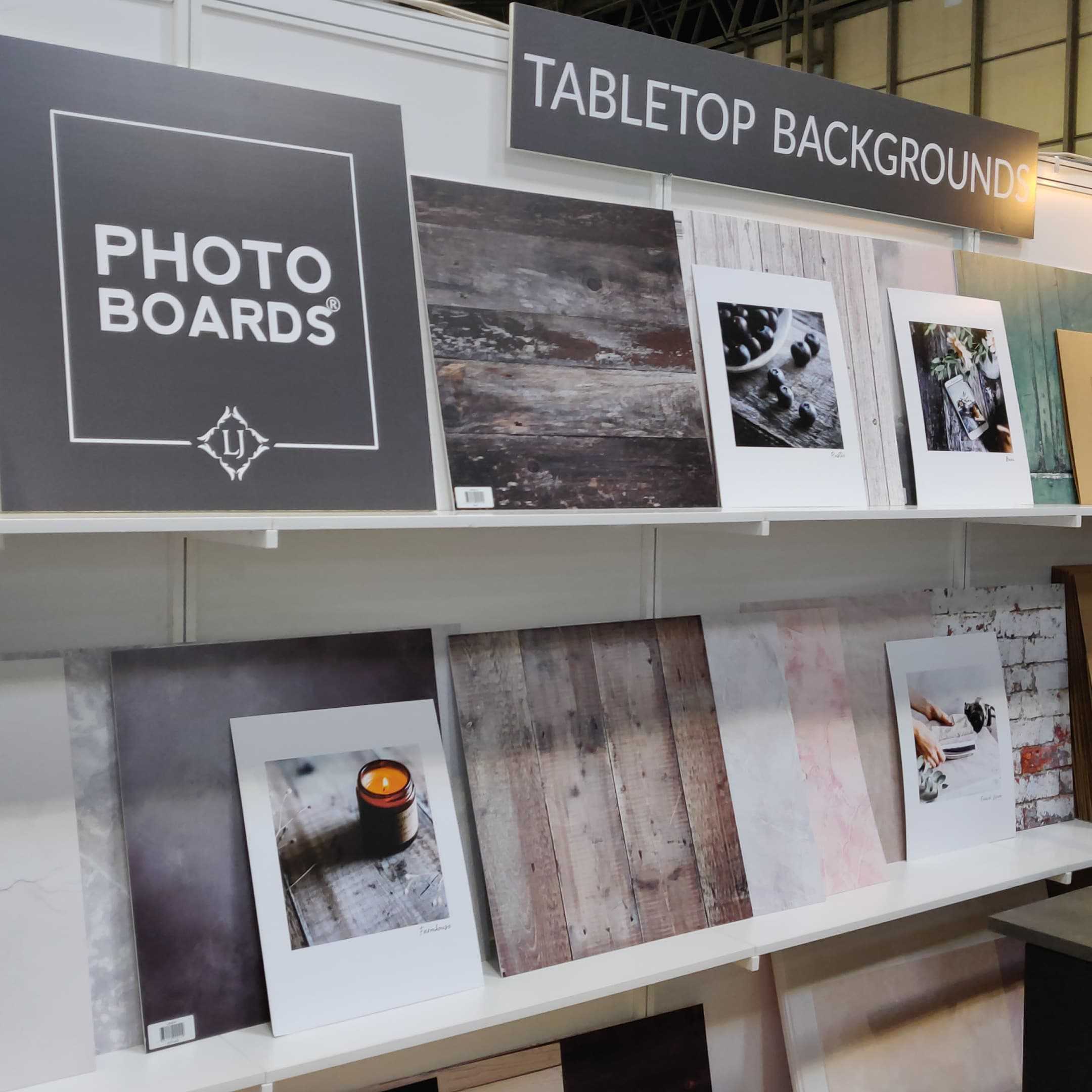 The boards feature in size, the smallest (and the ones used by this reviewer) are 40cm x 40cm.  They also do 60cm x 60cm and 80cm by 90cm.
The 40cm x 40cm boards are perfect for small product photography, giving enough space to fill your shot without being awkward to store.  They came in a cardboard sleeve that has a small cut out, handy if you're getting a few of these and want to see which one is in each sleeve without having to unpack them.
At the show, and on the website, are a wide range of backdrops.  The range has been created by professional photography Lyndsey James who has opened up her huge collection for anyone to be able to use via a photo board.
They can be popped flat or propped up, or used with each other to give lots of different results.  When photographed they look incredible, and it means you can snap a wide range of shots very quickly just be changing the boards out for different textures.
There are different designs available at different sizes, the limitation being the original backdrop size.  The backdrops cover materials such as wood, marble, plaster, brick and linen.  Some are subtle, others colourful, but all look to be excellent quality and ideal for a range of photographic situations.
They're available directly from Photoboards.org
Stylophone The Original Pocket Electronic Organ
2 new from £24.99
Free shipping
Features
Miniature stylus operated synthesizer is a recreation of the 1967 classic
3 Octaves. Optional vibrato effect
Tuning knob on bottom allows you tune the Stylophone or do pitch-bend effects
Built in speaker with volume control, Optional headphone jack
Line Out (3.5mm)
DIVCHI Race To Base Board Game for kids - Racing and Chasing to Base Game
2 new from £9.49
1 used from £8.94
Free shipping
Features
Race To Base Board Game .
FAMILY GAMES: This is an original fun game for all the family.
TRADITIONAL GAME: Fun away from the screen.
GAME PLAY: Family games 2 to 4 Players.
Brand: DIVCHI
Sony ICD-PX370 Mono Digital Voice Recorder with Built-In USB, 4 GB Memory, SD Memory Slot, 55 Hours Recording
9 new from £44.00
Free shipping
Features
Record MP3 audio quickly and simply, high-speed USB direct connection for quick file transfer
Optimised voice recorder reduces ambient noise for clearer recordings
Scene select lets you optimise settings for music, meetings and more
4 GB built-in memory, expandable memory capacity with SD slot - the 4 GB memory stores up to 59 hours 35 minutes of recording (MP3 128 kbps stereo)
Long battery life enables up to 55 hours recording (MP3 128 kbps stereo) - 2 x AAA battery supplied