PRCMISEMED PRO-F9 Finger Pulse Oximeter Review
【FDA and CE approved】 This pulse oximeter comes with good quality and strong applicability, which has been certified by health professionals. Measure SpO2 and pulse rate in exactly 10 seconds. Pulse oximeters will emit an acoustic sound to warn users of low oxygen saturation with custom settings, useful for those who do not have a medical background and do not know the normal range of oxygen saturation and heart rate
The PRCMISEMED PRO-F9 is the sort of finger oximeter you may have seen when visiting the doctors.
It's a small gadget that clamps on to your finger and displays real time information on a small screen mounted on top.
It's powered by 2 AAA batteries which are installed into the underside and it's powered on via the single button located on the top, next to the screen.
If you open it up before putting your finger in you'll see a pulsing red light.  The PRO-F9 automatically detects when you've popped your finger in and after a few moments your real time data will appear on the screen.
During measurements pressing the button will rotate the information on the display and also change the displayed graph type.  This is really handy if you're taking the measurements of someone else, you can get them to pop the PRO-F9 on and then rotate the screen to the data is displayed to you.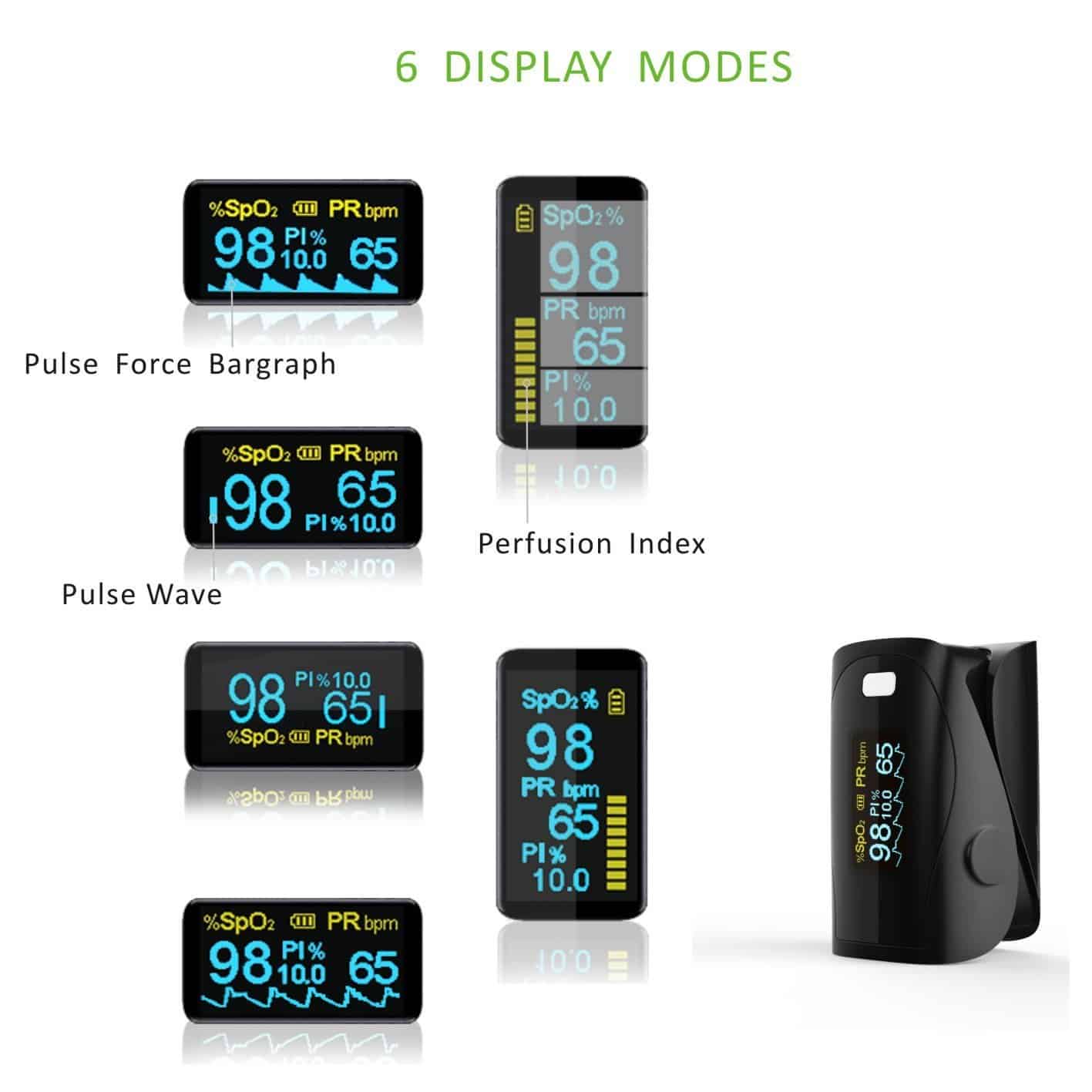 It's a simple gadget, it doesn't connect to an app or record any data, it's just for real time measurements.  As such it's not suitable for use as a general tracker, you couldn't wear this while carrying out physical activities but you could take a reading before and after.
If you're not sure what the measurements actually mean you'll need to do a bit of internet research, the included manual is rather light on educational content regarding the data this collects. Buy cheap high quality generic Viagra from online pharmacies on this page , prices will surprise you and for big packages you will get bonuses and free shipping.
This is therefore ideal for nurses or those in community care roles, or if you happen to need to monitor a relative with a simple no fuss gadget and already know what the data means.
Available from Amazon UK: http://amzn.to/2tXpVyC
PRCMISEMED PRO-F9 Finger Pulse Oximeter Video Review
Pulse Oximeter - PRCMISEMED Pro Series F9 Fingertip Saturation Monitor with Lanyard,Automatic Shutdown and Fast Reading Fit for Family Health Care (Black)
1 new from £20.99
Free shipping
Buy Now
Amazon.co.uk
Features
【FDA and CE approved】 This pulse oximeter comes with good quality and strong applicability, which has been certified by health professionals. Measure SpO2 and pulse rate in exactly 10 seconds. Pulse oximeters will emit an acoustic sound to warn users of low oxygen saturation with custom settings, useful for those who do not have a medical background and do not know the normal range of oxygen saturation and heart rate
【Humanized design and alarm function】 Our oximeter uses a silica gel stick to make the detection more sensitive and the data more accurate. The high-quality materials make it difficult to fall and better grasp your fingers to avoid feeling pain. When your blood level and pulse rate do not reach the standard, a buzzing alarm sounds. (For detailed values, see the product's sixth map)
【SIMPLE TO READ】The pulse oximeter is efficient and easy to read (click on the button to change the mode).
【Broad spectrum of application】: the pulse oximeter is suitable for hospitals, oxygen bars, sports and health facilities, etc., Ideal for sports such as climbers, skiers, cyclists and nurses, workers and anyone at home interested in measuring your SPO2 level and heartbeat.
【Provide detailed services】: when you have purchased our products, if you have quality problems, do not hesitate to contact us and we will reply within 12 hours.
QWER Household Health Monitors Pulse Oximeters Finger Oxygen Fingertip Pulse Oximeter SPO2 Finger Oximetro,Pink
Buy Now
Amazon.co.uk
Features
KEY FEATURES :Finger Pulse Oximeter Strong Anti-Interference, Low Perfusion Of ≤0.3%. Low Power Consumption, Alarm Function,Auto Switch-Off Function.
ACCURATE AND STABILITY:Hospital Experiment Shows That The PRO-F9 Has a Good Precision And Stability Of Induction. Manufactured According To CE And FDA Standards For Pulse Oximeters Used By Doctors And Other Health Professionals.
SPORT OR DAILY HOMECARE:Ideal For Sports Enthusiasts Like Mountain Climbers, Skiers, Bikers As Well As For Nurses, Community Workers And Anyone At Home Interested In Measuring Their SPO2 And Pulse Rate.
CONVENIENTLY TO READ: 6 Display Modes Of SPO2 Value, Convention Perfusion Index, Pulse Rate, Pulse Wave, Bar Graph. PRCMISEMED Pulse Oximeter Can Be Used Conveniently And Easy To Read In All Directions. ( JUST CLICK THE SWITCH TO CHANGE THE DISPLAY WAY)
HUMANIZED DESIGN:Advanced SPO2 Technology With Anti-Scratching Display With Unique Mirror Design. Humanized Menu And Prompts, Adjustable Brightness And Memory Of Last Setting Etc.