Somfy have established themselves as a key player in the smart home market, offering a wide range of smart products to control and monitor your home. The Somfy Indoor Camera is part of the Somfy Protect range of home security solutions and it can work either on its own or part of a wider system.
In the box you get:
Full HD camera
3m / 10ft USB cable with power adaptor
Quick start guide
Magnetic stand
You get a good length power cable which allows you to position this high up while still plugging into a floor-level power outlet. One thing to note, the USB plug on the camera is recessed into the unit meaning most USB cables won't be able to fit correctly.
To set up the camera I downloaded the companion app to my mobile and followed the on-screen setup instructions. It was a very simple process and I had the camera connected to my WiFi in less than 5 minutes.
It sits on a little magnetic stand that allows you to rotate the camera up and down, great for positioning the camera up high to look down on an area although this does mean it cannot be wall-mounted out of the box, you'll need to purchase an extra kit.
Those of you with privacy concerns will love the unique selling point: a camera shutter. When you turn the monitoring mode off this shutter automatically slides down and physically covers the camera, preventing it from being able to see the room. This can be activated manually via the app or it can be automated, for example you might have monitoring mode activated between 6pm and 9am every day.
When monitoring is active the Somfy camera will send you an alter whenever motion is detected. It will alert your app and also send you an email. You can check out a live stream of the footage when alerted, both video and sound.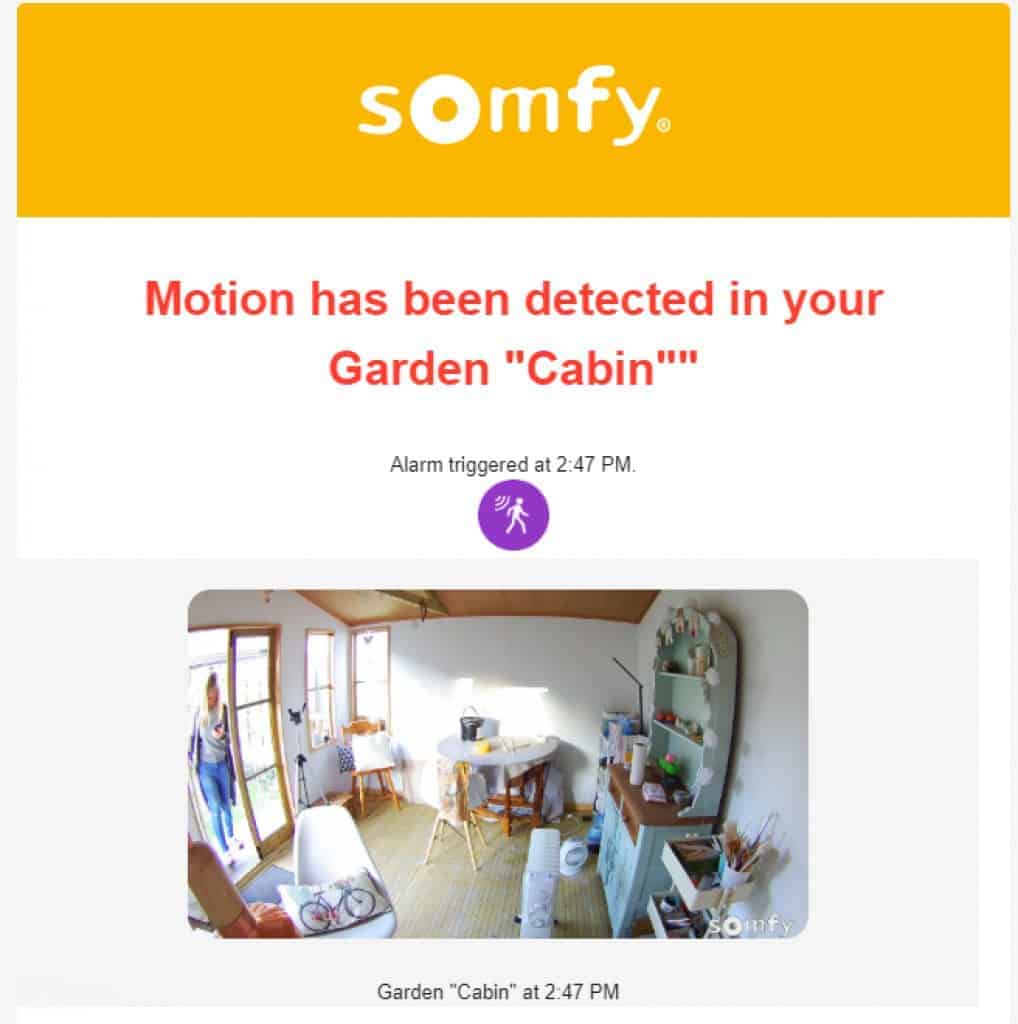 I liked the app notifying me if a WiFi connection was lost, very handy to flag someone secretly unplugging the cameras power to cover up their nefarious antics.
Unfortunately when it comes to recording the action you only get 30 seconds on the free plan. This 30-second clip can be saved to your OneDrive, Dropbox or Google Drive. If you want longer than 30 seconds you'll have to pay a subscription fee to unlock either 7 days of recording or 30 days of recording.
Video quality is good and the app allows you to take a still of the video. There is a lag between the live-action and what you see on screen, a 10 – 20 second delay depending on your internet connection. This delay is especially noticeable if you use the talk feature, you record a short clip on your mobile and it is played out o the camera speaker. You can then listen to the reply, however, the lag means you get a similar experience to a TV satellite link-up interview.
More advanced users will love the range of settings (e.g. geofencing that reminds you to activate the monitoring when you leave home) and you're not short of smart compatibility either. The Somfy Indoor Camera can be set up to work with Alexa, Google Assistant, Apple HomeKit, IFTTT and TaHoma, a great selection of smart home environments.
If you're looking for an easy to set up home monitoring camera that has the potential to fit into a wider security ecosystem then look no further, the Somfy Indoor Camera ticks all the boxes.
Just keep in mind there are additional storage charges if you want more than 30 seconds of footage recording.