Withings Wireless Blood Pressure Monitor Review
FDA cleared - High-accuracy blood pressure monitoring
Easy - App launches automatically and provides instant color-coded feedback
Automatic synchronization - Data from every measurement and advice based on internationally-recognized standards automatically appear in the Health Mate app via Bluetooth (iOS and Android)
The Withings Blood Pressure Monitor is an easy to operate device that allows you to measure your blood pressure and heart rate and track the results via the excellent Withings app and website. As this could well be an occasional use device for a lot of people it was nice to see Withings have designed the packaging to act as the storage box rather than be discarded. The box has a magnetic catch allowing you to easily open and close it and the monitor fits securely in place.
Along with the blood pressure monitor you get some instructions and a USB adapter to connect the unit to your smartphone via cable instead of bluetooth. The monitor is powered by 4 AAA batteries and these came preinstalled and ready to use. There isn't much to the monitor, there is a silver cylinder attached to a large arm strap. On the top of the cylinder is a button that turns the device on/off; the bottom of the device is where you replace the batteries.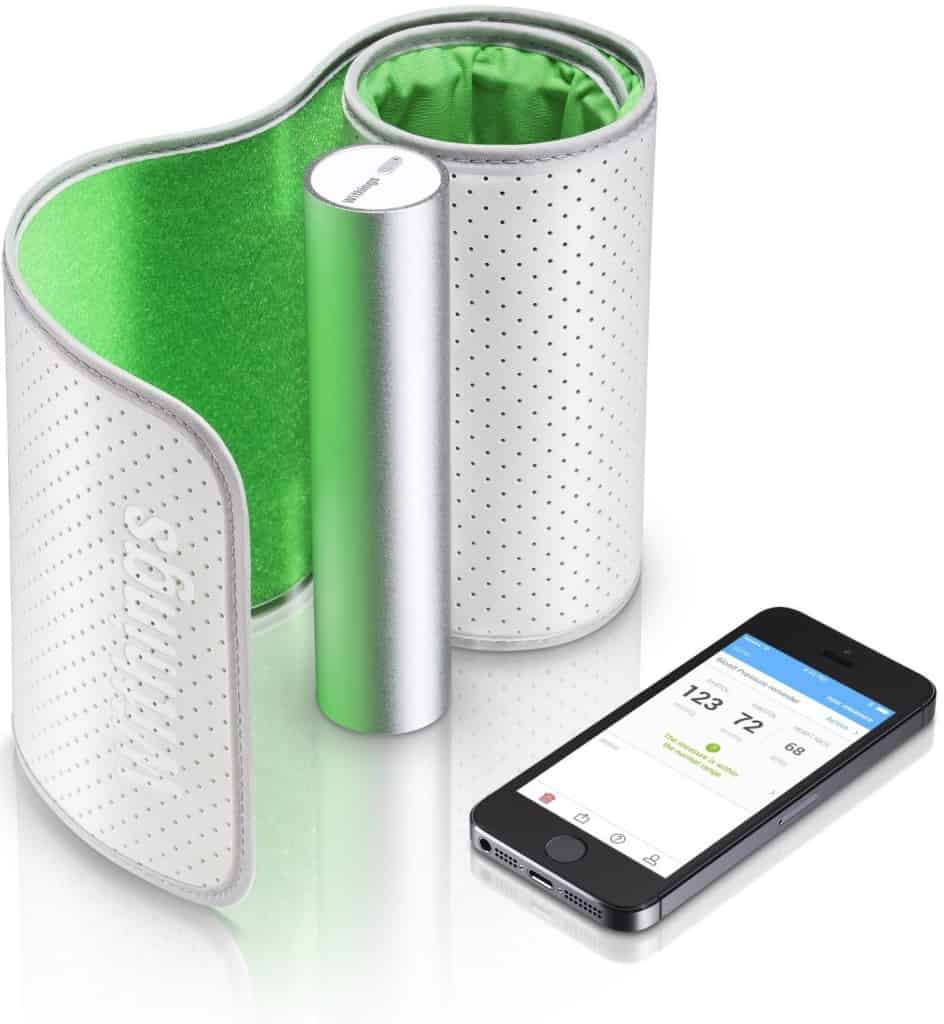 Setup was fairly easy. Note you will need a smartphone and the Withings app to make use of this monitor, which I already have as I have a set of Withings scales. To set it up you need to pair your phone with the monitor via bluetooth and then add it to your Withings account within the app. I found the first time I tried this the phone appeared to pair with the device but then wasn't actually connected, switching the Bluetooth off and then on again resolved this problem.
From then on whenever you power up the monitor it will automatically connect to your phone and the app. You're able to take readings to add to your account or you can take a guest reading.
To take a reading you pop the monitor on (tricky the first time, very easy afterwards) and press the start button on the app. You can either take a single reading, or 3 consecutive readings which are averaged. If you've had your blood pressure taken before you'll be familiar with the sensation, the monitor inflates and squeezes your arm in the same way a doctor would. During the reading process the app provides real time data as to what is going on.
If you've not positioned the monitor correctly the reading will fail and you'll be prompted to start again.
Once completed the app shows 3 readings:
Systol
Diastol
Heart Rate

To help understand your readings the app provides a result based on the World Health Organisation standards (`Normal blood pressure' in my case, phew!). The app also allows you to add notes to each set of readings.
Withings have really nailed the app, it's crisp, polished and easy to understand. If you'd rather look at your data on a bigger screen you've got access to the Withings website which, like the app, is brilliantly designed and easy to use and has the additional benefit of allowing you to email you data directly from the website (e.g. to your doctor). I've used both the Withings app and website for years with a pair of smart scales and to have further data added in a clear and easy to understand manner is a huge plus of buying into the Withings ecosystem.
The blood pressure monitor is a fantastic bit of kit, especially for those who want to keep an eye on things in between checkups. It's quick, easy to use, and backed up by a brilliant apps and website and is available from Amazon now: http://goo.gl/YN9tXT
Withings BPM - Wireless Blood Pressure Monitor
3 new from £89.95
3 used from £ 74.76
Free shipping
as of 14/08/2019 12:06 am
Features
FDA cleared - High-accuracy blood pressure monitoring
Easy - App launches automatically and provides instant color-coded feedback
Automatic synchronization - Data from every measurement and advice based on internationally-recognized standards automatically appear in the Health Mate app via Bluetooth (iOS and Android)
Share with your doctor - Easily email a full report to your health care provider
Delivers color-coded results and advice based on internationally-recognized standards
Withings BPM Connect Wi-Fi Smart Blood Pressure Monitor
as of 14/08/2019 12:06 am
Features
BLOOD PRESSURE - Systolic and diastolic plus heart rate
MEDICALLY ACCURATE - Compliant with European medical device standards
EASY TO USE - Wireless, only one button to press
EASY TO READ - Immediate results on the LED screen of the device
EASY TO UNDERSTAND - The results come with a color-coded feedback
Blood Pressure Monitor, ATMOKO Bluetooth Automatic Upper Arm Blood Pressure Monitor for Home Use with Double Users 120 Memory Store, Large LCD Display, Last Readings, Large Upper Arm Cuff (22cm-32cm)
1 new from £17.99
Free shipping
as of 14/08/2019 12:06 am
Features
【Clinically-Tested Accuracy】. With accurate pressure sensor and superior quality, this Bluetooth blood pressure monitor comes with low error, helping you to track your blood pressure and heart beat accurately and precisely. The accuracy of 3mmHg in blood pressure measuring and ±5% in heart beat measuring will benefit you a lot to keep fit.
【Bluetooth Connection for Smart Control】. Download the MedM Health APP, follow the instructions to pair the monitor, and the measuring results will be transferred automatically to your device. The Bluetooth function makes it much easier to monitor your family's health. Compatible with iOS 9.3 or later / Android 9.3 or later.
【Easy Operation and 2 users 120 Measurement Memory Total】. One-key measuring button enables you to measure blood pressure easily. Automatically record up to 2 users and 60 measurements per user with date and time for easier blood pressure tracking, helping you to know you and your family's physical condition better.
【Irregular Blood Pressure & Heartbeat Detection】. It will automatically display and alert you (with your reading) to indicate the detection of an irregular heartbeat, serving as a good health companion for family use.
【Mute Design and Large LCD Display】. The mute design provides you with quiet environment to ensure the accuracy of measurement as your blood pressure may be influenced by noisy environment. The large LCD display clearly shows all measurements, date and time which help the old read easily.