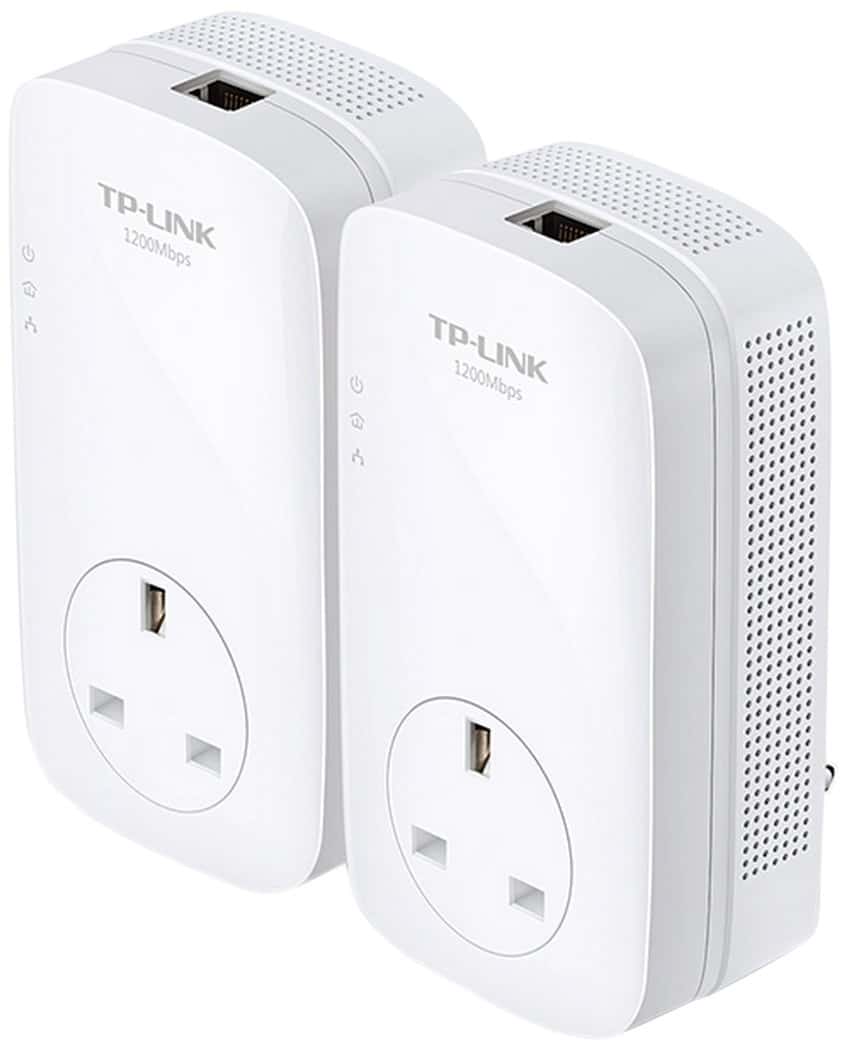 *This post may have affiliate links. For example As an Amazon Associate I earn from qualifying purchases, which means if you purchase something after clicking a link I may receive commission (don't worry, there's no extra cost to you). This helps support the work I put into the site.
The TP-Link AV1200 Powerline Adapter Starter Kit aims to provide you with a wired internet connection throughout your home or office in a couple of easy steps.
The starter pack contains two AV1200 plugs and a very short setup guide.  Short because there is very little to it, you plug one of the plugs in near your router, plug the other in at the location requiring internet access, attached the Ethernet cables and you're done!
The AV1200 then create the network connection using your electrical cabling and you're good to go.
Each unit has a pass through plug socket built in ensuring you can still make use of the electrical outlet.
Tested in a home environment where a Virgin Media router is downstairs and the PC upstairs the network performed really well.  Files copied across the network did so quickly, video streamed without a problem, and when tested on a 100 Mbps Virgin Media connection an internet speed test returned a download rate of around 80 – 85 Mbps.
If you're using these in an environment where you are worried about someone tapping into your network via their own plug there is a little button on the side of each unit that allows you to create a secure network.  Any additional plugs need to join this secure network before they can be used to access your network.
Keep in mind the AV1200 setup makes use of your electrical wiring which could impact the network speed obtained.
The TP-Link AV1200 offer a fantastic solution for those who have problems with WiFi.  Setup is quick and easy and the results are a high speed network without the hassle of trunking cable around you home.
Available from Amazon UK: http://amzn.to/1Jr6j4y and older versions available on Amazon com: http://amzn.to/1K2Eq3C
TP-Link TL-PA8033PKIT AV1300 3-Port Gigabit Passthrough 2x2 MIMO Powerline Adapter Starter Kit, No Configuration Required, UK Plug
22 new from £68.76
1 used from £67.38
Free shipping
Features
Super-fast powerline speed - HomePlug AV standard compliant, providing data transmission over electrical wires for HD video streaming
Integrated power socket to allow additional devices access to power
No new wires, use existing electrical wiring to extend your network, Up to 300 meters/ 1000 feet range over the existing household power circuit
Mains Filter - Mains Filter inside the outlet reduces electrical noise interference and improves powerline communication performance
Plug and play, no configuration required. Operating Temperature: 0°C~40°C (32°F ~104°F)
TP-Link TL-WPA4220T KIT 2-Port Powerline Adapter WiFi Starter Kit, Range Extender, Broadband/WiFi Extender, WiFi Booster/Hotspot, No Configuration Required, UK Plug
22 new from £67.10
1 used from £59.99
Free shipping
Features
Super-fast powerline Speed - HomePlug AV standard compliant, stable and high-speed data transfer rate, ideal for Ultra HD streaming and online gaming
WiFi booster - extend up to 300 Mbps Wireless connections to previously hard-to-reach areas of your home and office
Multiple Ethernet ports - provide reliable high-speed wired connection for game consoles, smart TVs and NAS. System Requirements: Windows 2000/XP/2003/Vista, Windows 7/8, Mac, Linux
One Touch for super range extension - Wi-Fi Clone button simplifies your WiFi configuration and helps build a seamless unified home network with one simple touch
Plug, pair and play - set up your powerline network and start enjoying fast, seamless wired/wireless connection in minutes
TP-Link TL-WPA4220 2-Port Add-On Powerline Adapter, Range Extender, Broadband/WiFi Extender, WiFi Booster/Hotspot, No Configuration Required, UK Plug
17 new from £32.51
1 used from £31.99
Free shipping
Features
Super-fast powerline Speed – HomePlug AV standard compliant, stable and high-speed data transfer rate, ideal for Ultra HD streaming and online gaming
WiFi booster – extend up to 300 Mbps Wireless connections to previously hard-to-reach areas of your home and office
Multiple Ethernet ports – provide reliable high-speed wired connection for game consoles, smart TVs and NAS
One Touch for super range extension - Wi-Fi Clone button simplifies your WiFi configuration and helps build a seamless unified home network with one simple touch
Plug, pair and play - set up your powerline network and start enjoying fast, seamless wired/wireless connection in minutes