devolo Magic 2 Powerline Kit Review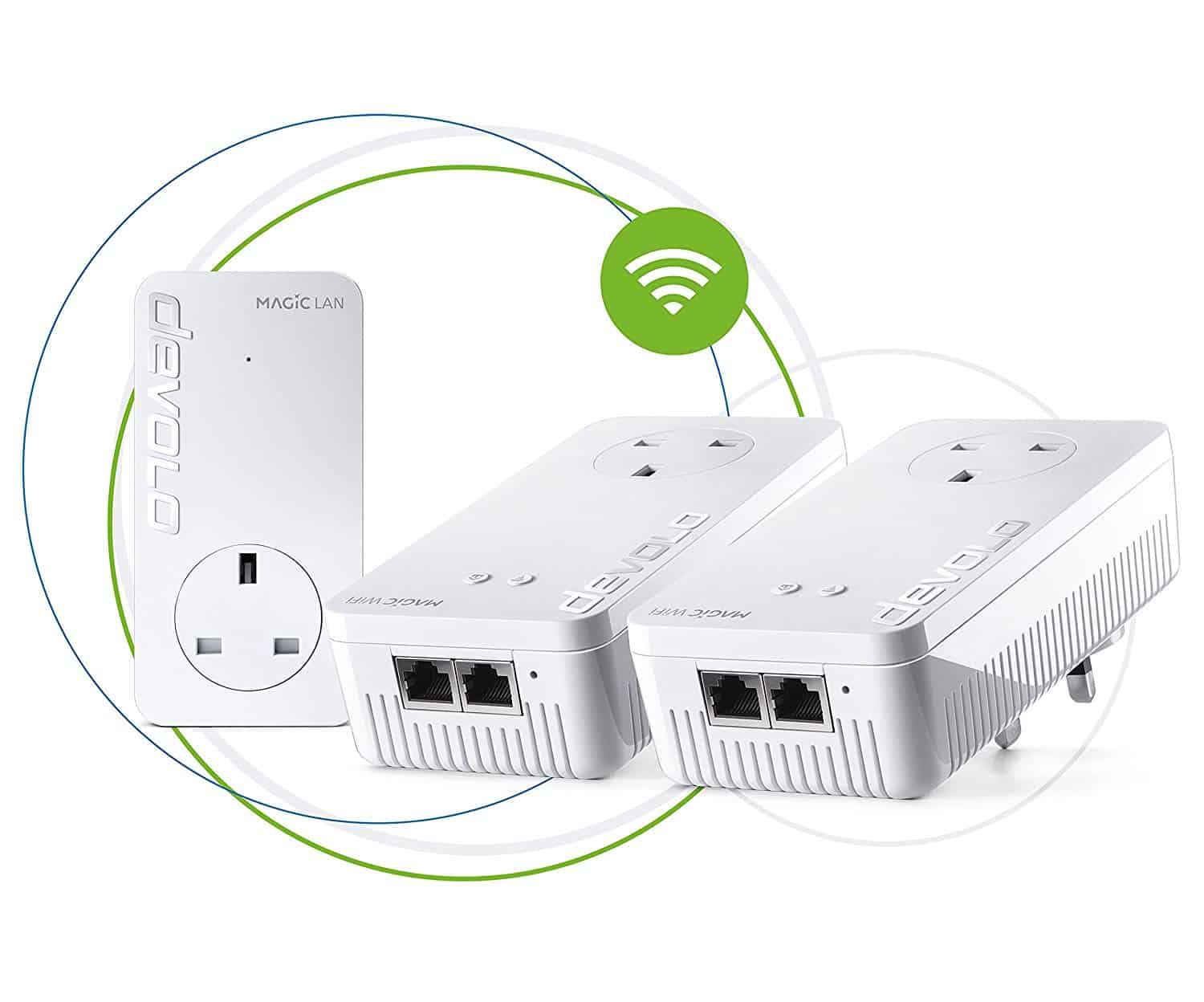 devolo Magic 2 Powerline Kit Review
Delivers fast networking, wired and wireless
Mesh wireless networking
Guest network
As a YouTuber and blogger, my home network speed can either be a help or a hinderance so I decided to upgrade to the devolo Magic 2 Powerline kit to squeeze out as much networking speed as possible.
For many years I've been using the TP Link AV1200 to connect my PC to my Virgin router. Virgin has kindly upped my internet speed over the years but I wasn't seeing the benefit on my PC.
devolo packaging proudly claims this is (currently) the "World's fastest powerline adapter" and at the time of review, it currently sits at the top of the Tech Rader Best Powerline Adapter list.
Whole Home Wi-Fi Kit
Available in a few variations, I opted for the devolo Magic 2 whole home kit which is a triple starter kit containing 2 Wi-Fi and one LAN only, so you'll need to think carefully where you'd like the wireless adapters to go.
White in colour, powerline adapters are designed to plug into a power outlet near your router and again where ever you're looking to extend your network. They use your home power cabling as network cabling, saving you from having to run your own additional cables around the home.
All 3 feature pass-through power plugs, an essential feature of any powerline adapter to allow you to continue to use whatever socket you plug these into.
A getting started guide and Ethernet cables are included with the adapters and use of the Magic 2 should allow you to cover up to 500m, perfect for sorting out my home network.
devolo Magic 2 Installation
I found the devolo 2 easy-ish to set up. They automatically pair with each other so it should just be a case of following the instructions, plugging them in and letting them do their thing. This was the case when using 2 adapters, but the simplicity didn't work when plugging in the 3rd.
In the end, I discovered there was a companion mobile app that helps with the setup and management of the Magic 2 adapters and I highly recommend getting it as the app also allows you to customise the unit names and setup up the WiFi/guest network.
Two adapters were placed in my house with a third placed in an outside cabin. approximately 15 meters from the Virgin Superhub 3 location.
Internet connection in the outside cabin has been poor, the Superhub 3 WiFi strength only gives a weak signal, one that can be slow and frustrating to use resulting in swapping to mobile data instead.
devolo Magic 2 SPEEEEEEEDDDDD
I've been using these adapters for just over a month and there is a huge difference in the network performance I'm getting. I have a 200Mbps connection via Virgin media with a 20Mbps upload speed.
The outside plug has supercharged the internet connection, with devices regularly getting around 170Mbps down and the full 20Mbps up. My PC has also benefited, originally I recorded a down speed of around 44Mbps, that has now jumped to almost 120Mbps! The PC also gets the full 20Mbps upload speed, a huge benefit to someone uploading large video files. I've also noticed an increase in speed when moving files around the network.
| | | |
| --- | --- | --- |
| | Without Magic 2 | devolo Magic 2 |
| PC connection download | c45 Mbps | c120 Mbps |
| PC connection upload | c17 Mbps | c20 Mbps |
| Cabin connection download | c4 Mbps | c118 Mbps |
| Cabin connection upload | c5 Mbps | c20 Mbps |
The devolo Magic 2 powerline kit is expensive, but for me it was worth the cost to remove delays in accessing the internet. Having fast internet access both in the house and in the outside cabin is also brilliant.
devolo Magic 2 speedy powerline kit
If you need the fastest powerline kit available, the devolo Magic 2 are the best choice possible.
PROS
Delivers fast networking, wired and wireless
Mesh wireless networking
Guest network
CONS
Expensive
A little fiddly to set up