Donnerberg NM089 Neck and Shoulder Shiatsu Massager Review
Can help with back pains
Very well made
Lots of options
The Donnerberg NM089 is designed for those who would like regular shiatsu massages without having to venture out to pay a professional.
The main unit consists of 2 sets of rotating balls, one set of 4 on the left, another on the right. The balls are different sizes and heights to provide the massage effect.
You hold the NM089 in place via a couple of arm bands and on one of these are controls for power, speed, heat and rotation direction change.
Along with the NM089 you get two power supplies, one for use with standard power outlets, the other for use in vehicles.
There is also a small instruction booklet, which is useful for demonstrating the different positions you can use this with. It's designed for use on your neck, upper and lower back and stomach.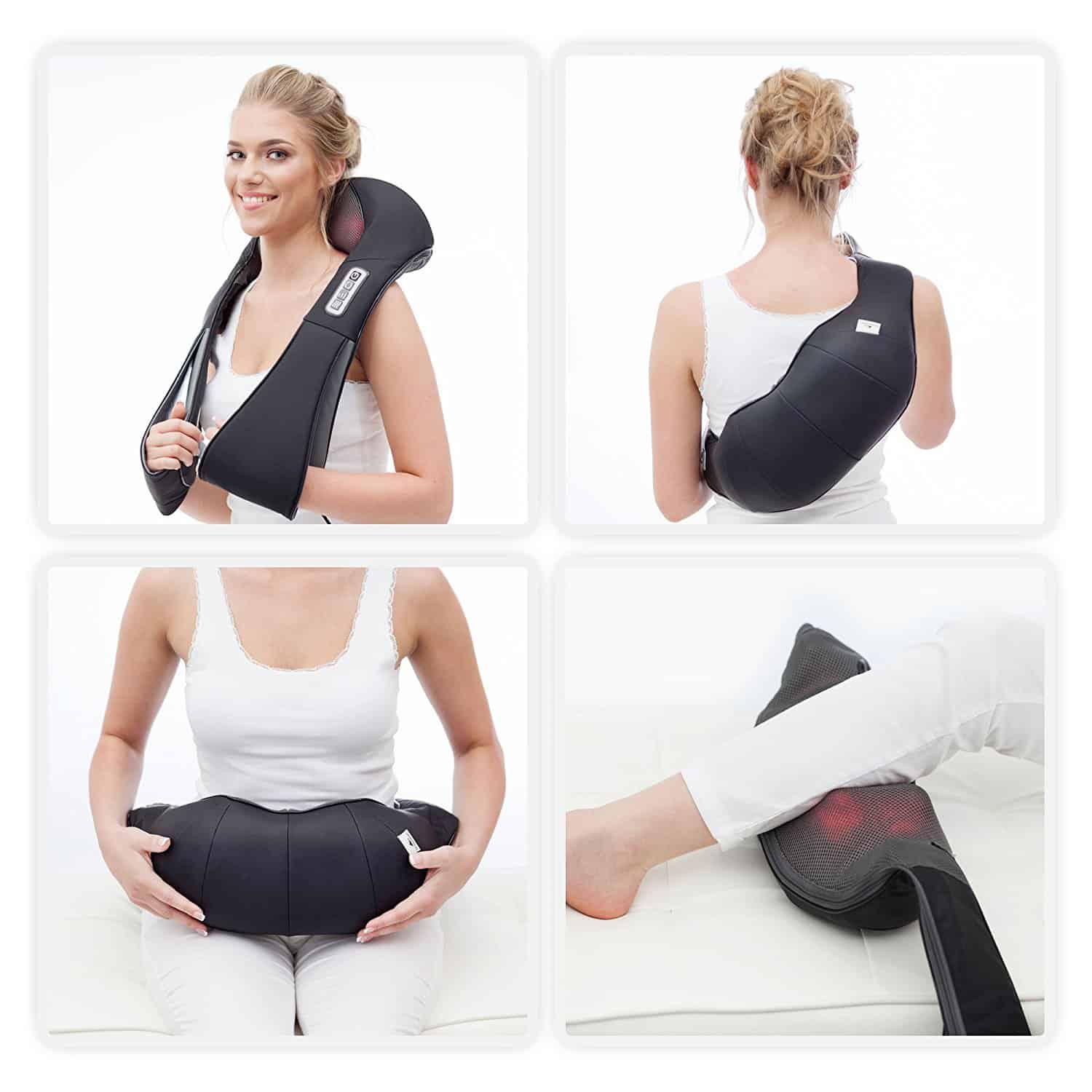 The idea of this is that you pop it on your neck/back etc, turn it on and get a nice massage. It's simple to turn on, but takes a bit of practice to find the most comfortable positioning, some will prefer standing, others will prefer sitting.
It's designed to give intensive massages and has an infrared heating function to improve blood circulation and relieve pain and tension.
Donnerberg NM089 Neck and Shoulder Shiatsu Massager Review
Quick review of the Donnerberg NM089 massage unit which is available from Available from Amazon UK: http://amzn.to/2m8FRLz Also available via eBay: ...
Although it's designed for use by people of all ages it isn't going to be for everyone. Trying it several times I personally didn't find it especially pleasant, it felt rather unusual and not not always comfortable despite relocating it to different areas and so this wasn't a product I'd personally use.
However, to give this a proper test I had several other people try this out and when tested some found this to be the most amazing gadget they'd ever tried, with them feeling they they were getting a massage and in some cases really helping their backs feel much better and working out the knots in their back.
An issue I didn't have but others did was operating the controls, the location didn't lend itself to easy access when you had your hands in the holding straps but there wasn't an urgent need for access to the controls, you can just turn it on before popping it on your back.
The only control you might want to use mid session reverses the rotation, but you don't actually need to press this as the rotation is automatically changed back and forth during the massage.
Overall there is no denying the Donnerberg NM089 is a really well made product, but it's not going to be for everyone. Out of the 4 people that tested it only 2 really liked it and would use it again, 1 warmed to it after using it seated instead of standing and as the 4th person I wouldn't use this myself.
The 2 that really liked it also had some back issues and said they felt much better for using this and therefore this is well worth trying if you think you could benefit from a regular, easy to self administer, massage.
Available from Amazon UK: http://amzn.to/2m8FRLz
Also available via eBay: http://www.ebay.co.uk/itm/Shiatsu-Massage-Belt-Electric-Kneading-Neck-And-Shoulder-Back-Foot-Body-Massager-/262348917914?var=&hash=item3d1536cc9a:m:mnJEtiV2TT5Hmx_dB6gDu1g
Donnerberg website: http://donnerberg.net/uk/en/massage <– Special offer: Use MD20MBS to also receive the Donnerberg back support.
Donnerberg NM089 Neck and Shoulder Shiatsu Massager
Get a back massage whenever you like
PROS
Can help with back pains
Very well made
Lots of options
CONS
Doesn't work for everyone
Awkward to put on
Back Massager Donnerberg® - Premium German Brand – Pain Relief for Neck and Back -Soothing Infrared Heat - deep kneading shiatsu Massage – 7 Years Warranty - Office, Home & Car use
2 new from £179.00
1 used from £ 160.05
Free shipping
Buy Now
Amazon.co.uk
Features
BACK MASSAGER- Based on the principle of shiatsu massage which involves stimulating specific points on the body in order to relieve your tight knots, muscle aches and pain. We will deliver you tranquillity and unforgettable experience with our massager at any time without need to book masseur
VERSATILE -Adaptable to any height and body part can be applied to neck, back, shoulder, lower back, upper back, feet, legs, belly. It can help you reduce: muscle stiffness and pain, headaches, PMS symptoms, fatigue, stress
GERMAN ORIGINAL BRAND - Our back massager is manufactured to German quality standards which prove TÜV certificate and recommendation by German Olympic Confederation and a 7-year warranty
EASY TO USE - massager simulate the finger-like motions of a real massage - ergonomic handles allow adjustable intensity making sure you're hitting the right spot every time
VIBRATION AND INFRARED HEAT - You have the option to add heat for a soothing sensation as well as vibration for the ultimate back relief. Use at home, office, car, anywhere. Nothing beats relaxing massage after a long stressful day!
Ebay.co.uk
Ebay.co.uk