DROCON Scouter Foldable Mini RC Drone Review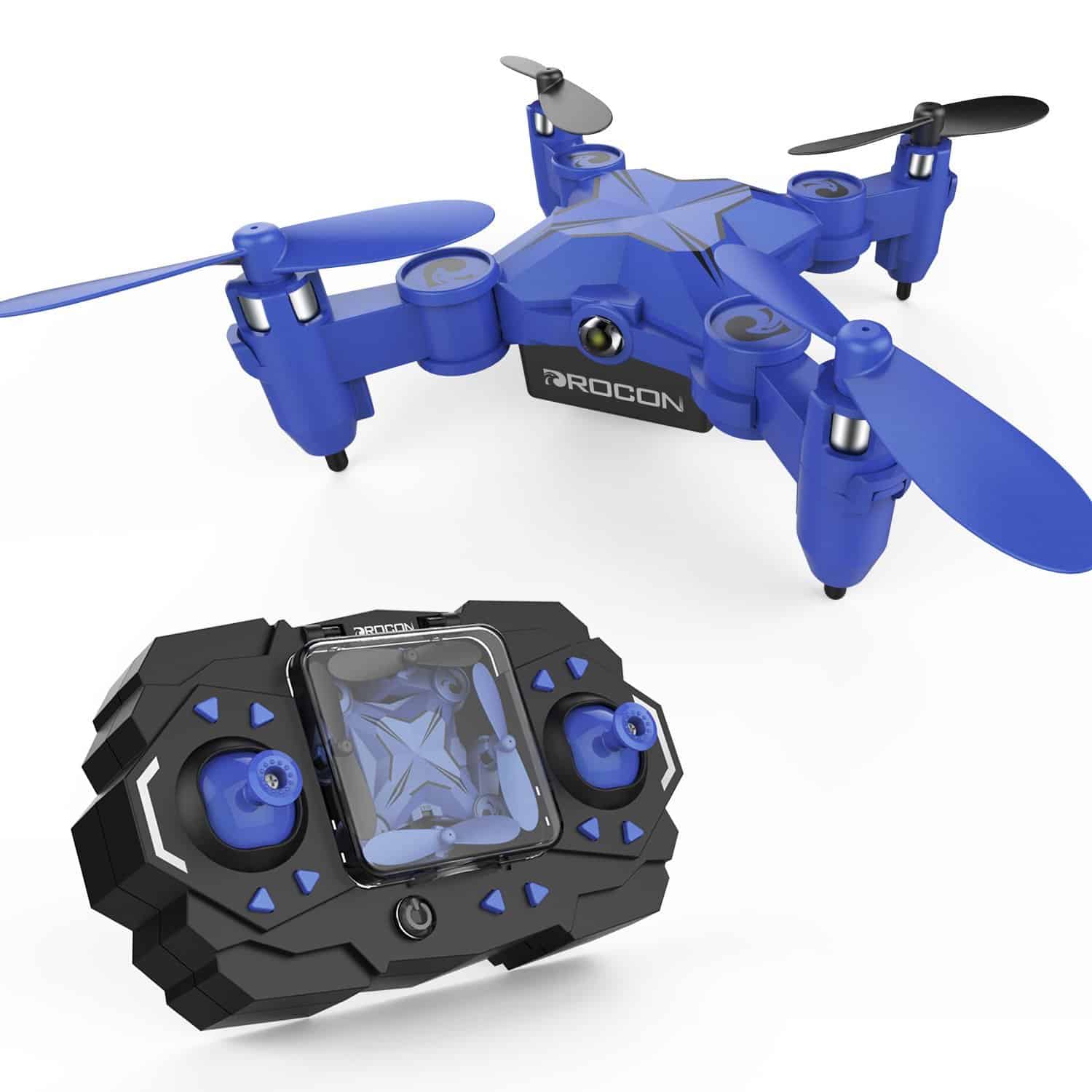 DROCON Scouter Foldable Mini RC Drone Review
The Drocon Scouter mini drone isn't for those looking to take sweeping vista videos with an on-board camera, no, this is for those who want an easy to control and great fun little drone.
The compact little drone comes with its own case, the controller. The Scouter folds down into a tiny cube that can be stored in the middle of the control unit.
There are also spare propellers should you damage the pre-fitted ones in a crash, as well as tools to service the Scouter and remove the controllers batter ports (which are screwed shut).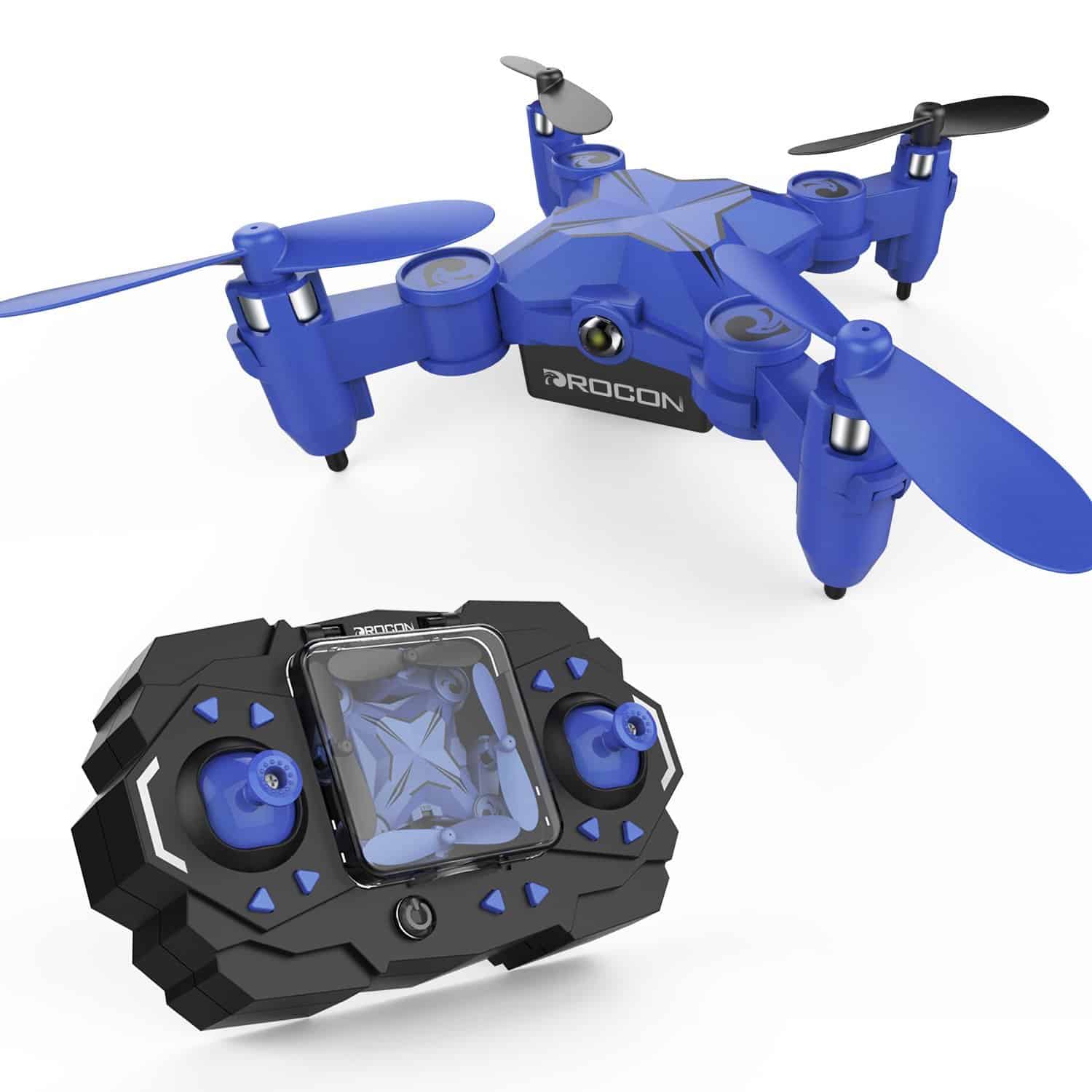 The controller can also be used to charge the Scouter from its 4 x AA batteries via a built-in charging cable, or it can be charged via a separate USB cable.
When taken out of the controller the Scouter doesn't have any propeller guards, these have to be manually added and removed each time you want to pack it away. Not adding the guards doesn't impact the flight experience, but for the safety of you, people around you and the drone they should be added.
The instruction manual explains what the numerous buttons do and it doesn't take long to get the Scouter zipping around.
It's great fun to fly, not too hard to get the hang of and it's very zippy. As well as basic flight you can make this fly in a circle by itself or you can make it do flips (forwards, backwards, left or right).
The Drocon Scouter is small enough to fly indoors (although not in a tiny enclosed space), but can also be flown outside as long as there isn't a strong wind, it's so small and lightweight it can be easily blown around.
This is a great fun little drone, the fold down design is brilliant, it's just a pity it excludes the optional propeller guards.
The DROCON Scouter is available from:
DROCON Scouter Foldable Mini RC Drone Video Review
Betheaces Flying Ball Toys Kids RC Flying Hover Disco Ball Toy Remote Control Helicopter Drone Infrared Induction Gifts for Boys Girls Teenagers Indoor Outdoor Handheld Games
Features
Easy to Control with Endless Fun: There are an induction launcher and induction receiver at the bottom of the ball. Turns on the switch, it will automatically begin to fly within 2 or 3 seconds. Just hold your hand underneath it to keep it in the air. It continuously detects your hand and moves away from it. Safe and fun!
Multiple Protections: 1. Flying protection: The ball will automatically sense the objects underneath and fly away when your kids switch the flying ball on,2. Power-on protection: The flying ball will be stationary for 3 seconds to ensure safety when you turn on the switch,3. Collision protection: It will shut down automatically to avoid damage when hits obstacles,4. Environmental protection: with high flexibility blades and propellers, made of non-toxic ABS material.
Colorful LED Light: Flashing LED light plus a glass ball appearance design which will emit bright shining and colorful light when it is on. It has a good visual appeal to any child. Especially at night or in a dark room.
Wireless Remote Control Operation: It will come with a remote controller which can let your kids control the operation wirelessly. Please make sure the direction of the indicator light is aligned with the induction area of the ball.
Suitable for Indoor & Outdoor: Not only a flying ball toys for your kids and his/her friends but also a communicative link between you and baby. Perfect for indoor and outdoor use. A great gift for kids birthday or Christmas.
Stomp Rocket 806006 20005 Junior Glow
6 new from £14.89
1 used from £13.79
Free shipping
Features
Amazing fun for all of the family
Can send the missiles up to 100 ft high
Suitable for indoor or outdoor use
Contains four missiles
Suitable for children aged three and over
Q10 Mini Drone for Kids with Camera 720P HD FPV, Foldable Quarcopter with Gravity Sensor Mode, Headless Mode, 3D Flips, w/Voice and Gesture Control, Kids Gift Toys for Boys Girls
Features
Drone with Camera: The mini foldable drone equipped with 720P HD 90°manual adjustable camera, which can captures high-quality video and clear aerial photos. You can watch a live video in your smart phone for beautiful scenery by wifi real-time transmission and upload videos and pictures to your social platforms with one button.
Drone for Kids beginners & Security Protection: This kids drone equipped with functions like altitude hold, one key take off/landing, which is the best choice for kids and the beginners. The case made by nontoxic soft plastic material perfectly decreases the impact of the falling aircraft collision and avoids the injury of playing.
Multiple Mode Flights: Q10 is a versatile drone, can perform stunts like 360°flip, headless mode, and gravity sensor mode etc. And you can also draw a path in your app interface, the drone will fly following the path accordingly, which is the newest technology.
Intelligent Voice & Gesture Control: Control your drone with simple voice commands like "fly", "land", "left", "right", "forward", "backward". Gesture control allows you to pose to the camera to trigger phone taking and video recording.
Foldable Design & Double Flight Time: Foldable, flexible and lightweight drone blades make the drone small and portable, makes it exceptionally easy to carry. Come with 2 batteries provide up to 18-21 mins flight, which makes your flight more exciting and interesting.