Lead magnets are an established method of giving potential customers value in return for their email address.  There are lots of tools available to create them, you can easily knock up a simple document in Google Docs, but how do you get something that looks great, and more importantly how does your potential customer swap their email address for it?
Enter Beacon.by, the total lead magnet solution. You use Beacon to create professional lead magnets, publish those lead magnets on your site and convert more website traffic into leads.  As well as designing your documents Beacon.by also hosts and distributes to visitors, and with integration into major sales funnel platforms it's the perfect solution to how you add desirable content to your website.
I've been using the service for some time now and with the recently release of an excellent new 'Resource Library' feature it's time for my review.
TL;DR: Beacon.by Video Review
What is a lead magnet?
If you're not too involved in websites you're probably wondering what a lead magnet is, perhaps thinking it's something you put on the fridge to keep Fido's lead close to hand?
While that sound like it might be a useful product, in web terms a lead magnet is something you give away to website visitors, usually in return for an email address.  It's a proven way of growing email lists and helping to build the know, like and trust factor with potential customers.
Example Lead Magnet Ideas
What sort of file will people want to download?  That depends on your websites topic, here are some general examples:
ebook
Workbook
Checklist
Planner
Resource guide
Email template
You get the idea, it's something that visitors to your site will gain value from, for example a workbook detailing how to complete a project.
What information do you have that website visitors will find helpful and be willing to give you their email address in return for it.
A key benefit of this approach is that you know the person downloading your resource is interested in that topic, making them the ideal candidate for a follow-up email offering additional resources or services.
The Lead Magnet Problem
There are 2 main problems to overcome for those new to offering lead magnets to website visitors:
How do you make them
How do you offer them
Beacon.by solves both of these issues by offering a full solution that covers design, storage and distribution.
How to Create a Lead Magnet to Promote Your Business
Beacon helps simplify the creation process, it offers a range of pre-designed types as a starting point.
Each of these is a preset template with pages suggesting content which you edit to suit your needs.
Blank – A blank canvas for you to create a resource from scratch
eBook – Create an eBook, by far the most popular info product magnet used
Checklist – A list of actionable tasks the user takes to achieve their goal
Resource Guide – A collection of things you recommend to achieve results, e.g. best cameras
Workbook – A document that can be completed, great for starting a fact finding process
You can make use of existing blog posts by importing them into the template.  Note that the import adds the content to the end of the template, you then need to format and edit your new resource.
After you've chosen the type you select a style from the template library, this sets up a cover and colour scheme for the resource.
You're then ready to edit your new masterpiece.  I found the editor took a little getting use to, the tools I have previously used tend to be drag and drop and that isn't a feature of this editor.  Instead, content cards are dragged on to the page and can be re-ordered via move buttons.
Once you get the hang of the editor it's very quick and simple to create content, if you're a total novice when it comes to design Beacon offers the perfect solution as it's simple to use and produces great looking results.
The process is made simpler still by the inclusion of template pages, you can add a blank page or you can pick from a range of great looking designs you just drop your content into.
Some may find the design functionality limited compared to a desktop application, personally I think Beacon has the perfect balance of being easy to use and producing great looking results.
If you're totally new to this sort of thing there is a great tutorial library included which guides you through how to build each of the different resource types and why they're useful, the videos aren't long but do a fantastic job of getting you started.
There are a huge range of alternatives that will help you create resources such as ebooks, but once created what do you do with it?  How do you get it into peoples inbox?  
Lead Magnet Delivery
Hit publish on your new lead magnet and something very special happens, you get options to enable lead capture, create a share link or download the file.
Downloading provides you with a PDF, you could email this to clients, use it offline, add it to an online course, whatever you want.
Get a share link keeps the resource in your account and allows others to access it via a dedicated link. Depending on your plan you can share this via a Beacon branded link or via a custom domain, e.g. resources.YOURDOMAIN.com/MAGNET
You need to set up a CNAME for this to work, if that sounds complicated don't worry, there is a simple-to-follow guide that walks you through it. 
Link sharing has a set of optional settings you can take advantage of:
Opt-in Form
The real star of the show is the opt-in form feature.  This is a customisable form that can be easily embedded into your website which offers your resource to visitors in return for an email address.
It's worth noting that the opt-in form and resource designer are two separate systems, and that means you're not restricted to using only resources made in Beacon.  Got an existing ebook you want to offer?  No problem, upload the file and use it with the Beacon lead capture forms.
I really like how offers can be presented to website visitors in a range of different ways: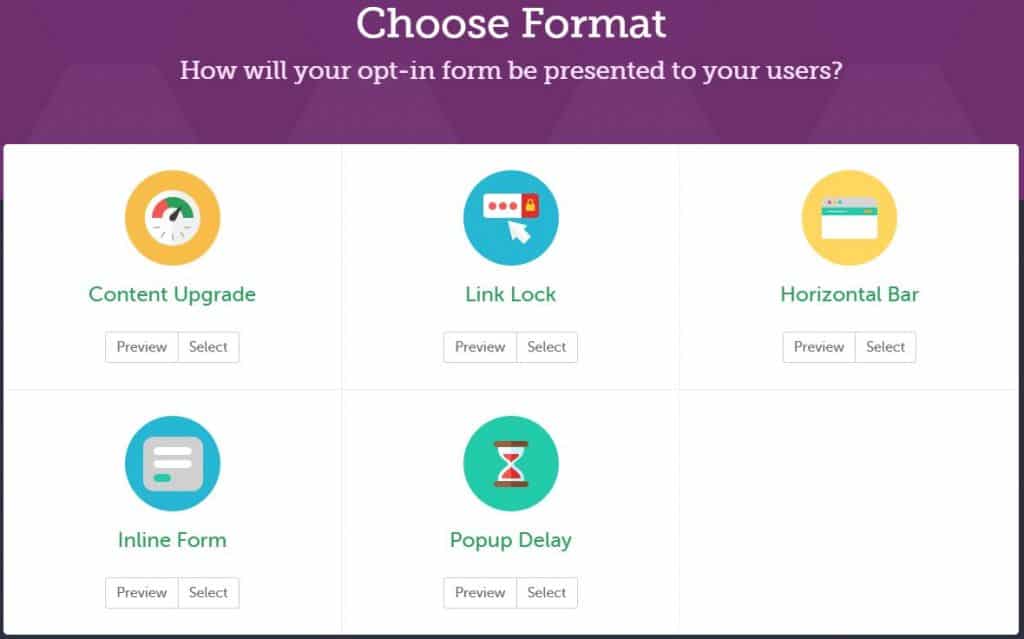 Content Upgrade – Call to action embedded into your webpage, opens a form to capture email address
Link Lock – Opens the resource directly once an email address is submitted
Horizontal Bar – Add an eye-catching bar to the top of the browser, button triggers email capture
Inline Form – Resource request form embedded into a web page, no pop ups, just enter details and the resource is sent via email
Popup Delay – A form pops up on screen offering the free resource
These options give you great flexibility in how you add this to your websitem and as a bonus because it's all stored online you can use the same resource across different websites without having to have multiple files.
As with the lead magnet designer, the form designer is very simple to use and comes with a range of ready-made templates in different styles and sizes.
Each can be customised in terms of look, images, text, colours.  
There are a lot of options during form setup but it never feels overwhelming, just follow the steps to create the form, thank you message and email confirmation and you'll be ready to add it to your site in a couple of minutes.
Integrations
Beacon handles everything from lead magnet creation to delivery, and is perfect for beginners, but what if you already have an existing system in place?  
Automation lovers are in for a treat, at the time of review you can integrate each individual opt-in form with one of the following services:
ActiveCampaign
Auomizy
Aweber v2
CampaignMonitor
ConvertKit
Drip
GetResponse
Hubspot
Integrately
MailChimp
MailerLite
Moosend
Pabbly
SendFox
Zapier
It's a great selection of services and means you can feed the prospects details into your system, perhaps to later send a follow-up email to further quality them as a lead.
Each service requires configuration setup, but once done it becomes available during the form creation, for example you can easily add people to a SendFox list when they download your magnet.
The final step is to integrate the form with your chosen website.  This involves grabbing a simple code and pasting it into your website.  
I've used this on WordPress as well as some website builders and it works perfectly.  Here's a working example of a resource I made in Beacon.
Resource Library
Offering single files is fine, but after a while you'll build up a collection of valuable resources, so how do you present them all to website visitors?
A recently launched feature neatly solves this problem: the resource library.
A library allows you to select multiple resources and present them for download on a single page.  As with the forms these can either be files created in Beacon or elsewhere.  
Quick tip, be sure to have a great front cover as this is used for the thumbnail in the library.
The library can be customised in terms of colours, layout and what items are included.  When you're happy with everything you can either direct people to the library via a link or embed it to your website in the same way you add the opt-in forms. 
I've created a couple of libraries, and they look great, you wouldn't think they weren't part of the main website.
Visitors can pick which item they're interested in and either enter an email address to download or you can offer access without requiring a sign up.
Beacon.by Pricing
At the time of review there are 3 pricing options:
$0 – Beginner: Unlimited lead magnets, smart PDFs and analytics
$49p/m – Professional: Full template library, PDF download, custom domain name
$99p/m – Agency: Team accounts and unlimited custom domains
I think it's brilliant there's a free option to get started, if you start to get value out of it upgrading to a paid plan is a very simple decision.
Do I recommend Beacon.by?
I've not come across a tool that let's you handle every stage of the lead magnet process from start to finish, one that is easy to use if you're a beginner and has power integration for advanced users.
With a free option to get started why wouldn't you sign up to give it a try?  If you found this article helpful please click here to sign up via my affiliate link, it costs you nothing but helps support the site.