The Edifier S350DV 2.1 speaker set offer a versatile system that can be used up close on a PC or further away on a TV when watching films.
This is a weighty set of speakers that arrive in a single, well packaged, box that you may require help (or a trolley) to carry.
As well as the left/right speaker and sub woofer you get all the cables to get setup.  The cables are a good length for the average user to use this with a PC or TV.
Unlike the recently reviewed Edifier Spinnaker speaker system the S350DB speaker set takes a more traditional approach to it's look, with a black front that exposes the speakers that are encased in a nice red wood enclosure.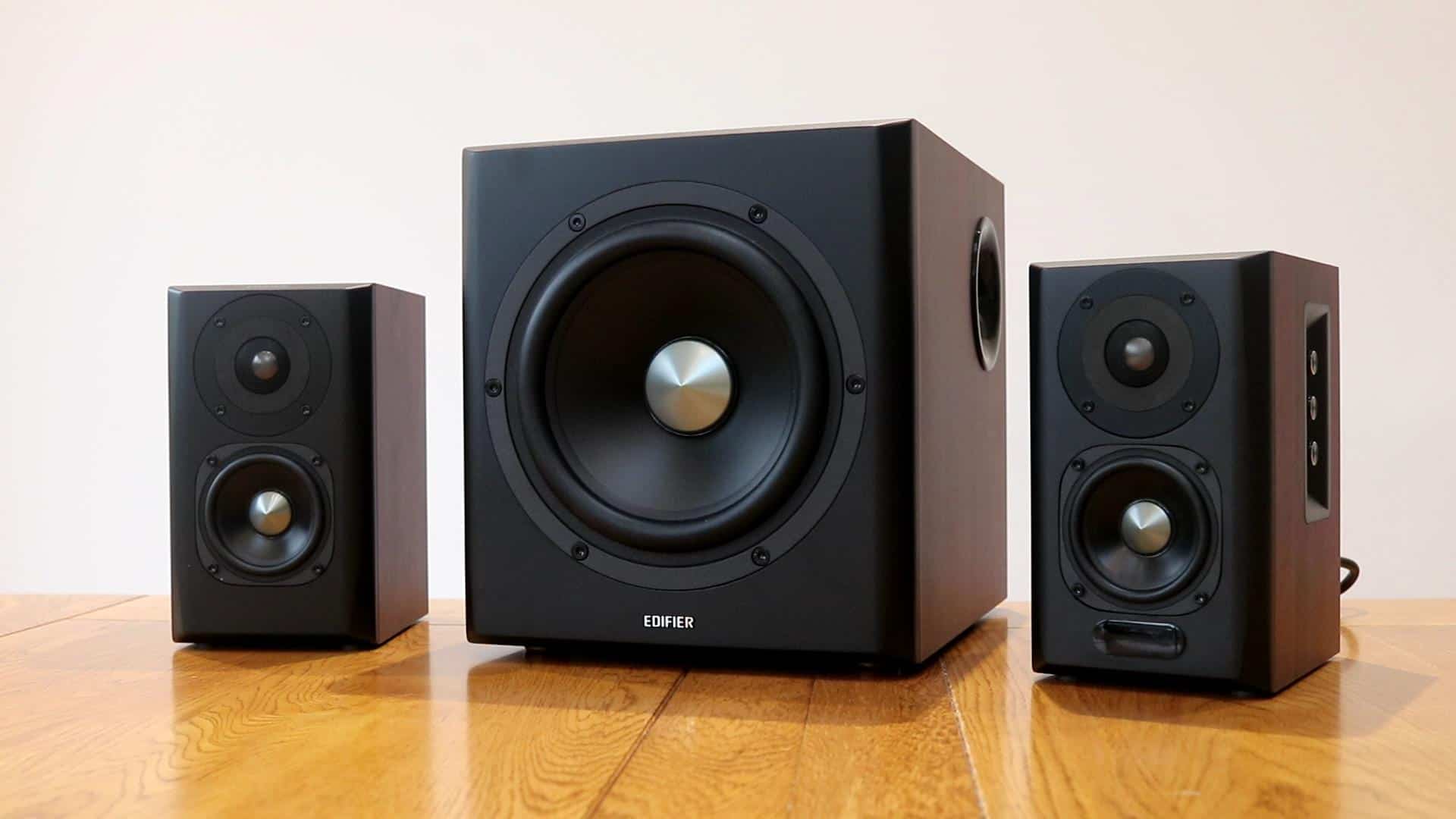 As well as the speakers and cables you also get a round remote control.  The remote takes a CR2025 battery (included with the speakers) and it allows you to change which input is used as well as the volume.
The right hand speaker also has controls for volume and input as well as additional controls to adjust the treble and bass levels.  It also features a small screen which displays the input source.
In terms of technical specs Edifier lists the following:
POWER OUTPUT:

R/L(treble): 15W+15W
R/L(midrange and bass): 25W+25W
SW: 70W

SIGNAL TO NOISE RATIO: R / L: ≥ 80dB (A) ; SW: ≥ 85dB

FREQUENCY RESPONSE: 

R/L: 160Hz -20KHz ; SW: 40Hz –160Hz

INPUT SENSITIVITY:

PC : R/L: 600±50mV ; SW: 270±20mV
AUX: R/L: 400±50mV ;
SW: 200±20mV
Optical/Coaxial:R/L: 400±50mFFS ;
SW: 200±20mFFS Bluetooth: R/L: 400±50mFF;
SW: 200±20mFFS

INPUT TYPE: 

PC AUX
Optical
Coaxial,
Bluetooth

DIMENSIONS:

Subwoofer: 312*265*298mm
Satellite: 222H x 127W x 156Dmm (8.75H x5W x 6Dinches)

WEIGHT: 19.1kg
The inputs are located around the back of the subwoofer and setup is very easy, just plug the two speakers into the sub and connect your audio source and you're done!
Once powered up your ears are in for a treat whatever the source, the S350DBs are great for music, movies, TV or gaming.  They've a great volume range, low enough to be comfortable sitting close up (for example using them with a PC), loud enough to fill a room with music or entertain you on the sofa while you watch the latest blockbuster.
Connection via Bluetooth was very simple and great if you're using these with a portable device such as a mobile, tablet or laptop.  You'll see a laptop playing a game in the video below, this was connected to the speakers via Bluetooth and there wasn't any noticeable lag in the audio compared to the on screen action.
Sound quality is very good, personal preference meant the bass and treble were set to the max to produces a lovely clear, and thumping, sound.  The speakers handled the thumping bass of Sugar by Editors, to the guitar backed harmonies of Turin Brakes without any issues at all.  Lyrics were clear, the bass, where required, kicked nicely and there was no noticeable distortion when turning up the volume, easily filling the room.
The Edifier S350DB speaker set are available from:
Amazon.co.uk: https://amzn.to/2KdpE02
Amazon.com: https://amzn.to/2Mh43nY
Amazon.ca: https://amzn.to/2K2HpmG
eBay: https://ebay.to/2JZpTzH
Edifier S350DB 2 1 Bookshelf Speaker and Subwoofer Video Review
Edifier S350DB Bookshelf Speaker and Subwoofer 2.1 Speaker System Bluetooth v4.1 aptX Wireless Sound For Computer Rooms, Living Rooms and Dens
8 new from £279.99
1 used from £225.00
Free shipping
Features
BLUETOOTH V4.1 APTX WIRELESS SOUND – True lossless sound from phones, tablets, laptops, and more
8-INCH SUBWOOFER – Achieve massive booming sound with the 8-inch subwoofer
AVAILABLE INPUTS – Plug into multiple sources of audio including AUX, RCA, optical and coaxial
WIRELESS REMOTE CONTROL – Control your sound remotely with the included wireless remote
Signal-Noise Ratio L/R:≥80dB(A); SW:≥85dB(A) Frequency Response: R/L: 160Hz-20kHz; SW: 40Hz-160Hz Power: 15W X 2 (Treble), 25W X 2(Mid-range and Bass) + 70W (Subwoofer)
Edifier R1280DB Powered Bluetooth Bookshelf Speakers - Optical Input - Wireless Studio Monitors - 4 Inch Near Field Speaker - 42w RMS - Black
9 new from £119.00
1 used from £105.00
Free shipping
Features
BLUETOOTH WIRELESS - Popular classic bookshelf speakers now can be enjoyed without the hassle of wires. Simply connection to an iPhone, Android, Tablet, PC or Mac.
STUDIO SOUND QUALITY - Naturally fine tuned sound reproduction from 4 inch bass and 13mm silk dome tweeter.
OPTICAL AND COAXIAL INPUTS - Digital inputs to enable lossless connection to most TV and computers.
REMOTE CONTROL - Adjust the volume and toggle inputs at your fingertips. Bass and treble control located on the side of main speaker.
Edifier S360DB 2.1 Control Speaker and Subwoofer Speaker System Bluetooth V4.1 aptX Wireless Sound for Study Living Room and Small Spaces
7 new from £349.99
2 used from £289.00
Free shipping
Features
| | |
| --- | --- |
| Part Number | S360DB |
| Model | S360DB |
| Color | wood |